Patient Case History: Sean
Lengthening and deformity correction of a femur malunion
Pre-Op
Patient Surgeon: S. Robert Rozbruch
Sean was hit by a car a few years back. Fracture of his femur healed with valgus deformity and 6cm of shortening.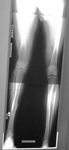 Post-Op
We performed an osteotomy (bone cut) of the femur and applied a monolateral frame to his leg to match the deformity. Gradual lengthening of 1mm daily led to a 6cm lengthening and correction of his deformity.
Follow-Up
He was in his frame for 6 months. Excellent bone healing occurred. He is very happy with his deformity and length correction.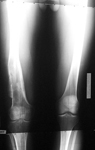 Return to
Patient Case Histories