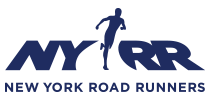 Hospital for Special Surgery has partnered with New York Road Runners since 2009 to help athletes hit the ground running as they prepare for various races throughout the running season including the United Airlines NYC Half, Oakley Women's Mini 10k, TCS Tune-Up Race and TCS New York City Marathon. The partnership gives HSS the opportunity to offer educational programming before, during and after each race. In addition, clinicians from the James M. Benson Sports Rehabilitation Center and Tisch Sports Performance Center offer race-day injury prevention and recovery tips at the HSS Recovery Zone.
Free Events, Open to the Public

Location: TCS NYC Marathon Pavilion
67th St. and Central Park West (NYC Marathon Finish Line)

MELT Seminar
Tuesday, November 1, 2016, 5:00 PM
Join Hospital for Special Surgery exercise physiologist and performance specialist Polly deMille as she teaches you this simple yet effective technique for self-myofascial release that can benefit your entire body and help prevent injury. Runners will have the opportunity to learn the self-treatment technique MELT (Myofascial Energetic Length Technique) to restore optimal integrity of the connective tissue.
Yoga for Runners
Tuesday, November 1, 2016, 5:30-6:30 PM
Turn on your CORE before your NYC tour. Join Hospital for Special Surgery physical therapist and yoga teacher Cara Ann Senicola as she takes you through an hour long vinyasa yoga class focused on opening up muscles used for your long training days, waking up your CORE through transitional movements, and end with 30 minutes of restorative yoga poses and relaxation breathing to calm your nerves before your big day. Modifications can me made throughout the class. We hope you join us.
Foam Rolling for Runners
Wednesday, November 2, 2016, 9:00 AM
Join Hospital for Special Surgery Certified Strength & Conditioning Specialist Jamie Osmak as he teaches runners how to use a foam roller to help reduce post-exercise muscle soreness and accelerate the return of muscle strength and power after a hard workout.
Strength Training for Runners
Wednesday, November 2, 2016, 5:00 PM
Join Hospital for Special Surgery Performance Specialists Pam Geisel & Tiffany Chag as they teach runners how to effectively strength train and prevent injury during Marathon training.