A standing room crowd of colleagues, friends, and family gathered in the Richard L. Menschel Conference Center at Hospital for Special Surgery in October 2010 to honor Sherry I. Backus, PT, DPT, MA, recipient of the 2010 Wholeness of Life Award.
This prestigious award is presented annually by the HealthCare Chaplaincy, a citywide multi-faith community of professionals from many cultures dedicated to caring for persons in spirit, mind, and body. The ceremony included many words of praise and appreciation for Dr. Backus, including a special video presentation filled with heartfelt congratulations from co-workers.
"We had a gem in our mix all these years," said C. Ronald MacKenzie, MD, Chair of Spiritual Care at HSS, in his welcome address. "Once Sherry's name was mentioned [during the award selection process], silence immediately filled the room and we knew the vote was over."
Balancing Work-Life, With a Smile
Wife, mother, daughter, colleague, mentor, and friend are just a few of the many hats Dr. Backus wears each day. For those who have the privilege to know and work with Sherry, all agree she balances her roles with a great deal of grace, pride and cheer.
"Sherry, everyone you touch receives your undivided attention," said Thomas Sculco, MD, surgeon-in-chief, who presented the award. "Your kindness and caring, combined with clinical expertise, exemplifies the importance of caring for the whole individual in body, mind, and spirit."
Louis Shapiro, FACHE, president and CEO added, "Sherry exemplifies the skill and compassion needed to provide the best care possible for our patients; we appreciate her example and many years of service to the HSS community."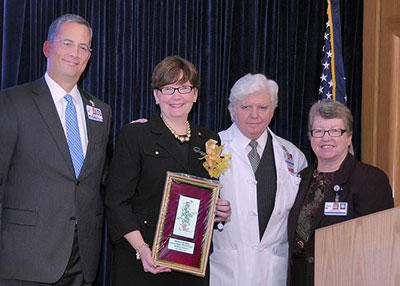 Sherry I. Backus, PT, DPT, MA (second from left) accepting the
2010 Wholeness of Life Award accompanied by, from left,
Louis Shapiro, Dr. Thomas Sculco, and Sister Margaret Oettinger.
As clinical supervisor of the Leon Root, MD Motion Analysis Laboratory at HSS, Dr. Backus is responsible for both clinical and research testing and design. She has expertise in strength testing, functional performance measures, and electromyography in individuals of all ages. With more than 25 years of service to HSS, Sherry's contributions have earned the admiration of staff and educators and have enhanced the lives of thousands of people with mobility issues. "Sherry is one of the top gait analyzers in the country," said Howard Hillstrom, Ph.D., Director of the Motion Analysis Laboratory. "She is our guru in the lab."
In addition to her work at HSS, Dr. Backus lectures on physical therapy, biomechanics, and gait analysis (both pediatric and adult orthopedics) at New York area universities and hospitals, and also holds an academic appointment at the University of Tennessee-Memphis. Her recent publications include investigations in leg muscle activation patterns in female soccer players, shoulder muscle activation patterns in adults, as well as several book chapters on gait analysis. She has spoken both nationally and internationally on gait analysis research and was the only two-term president of the Gait and Clinical Movement Analysis Society (GCMAS).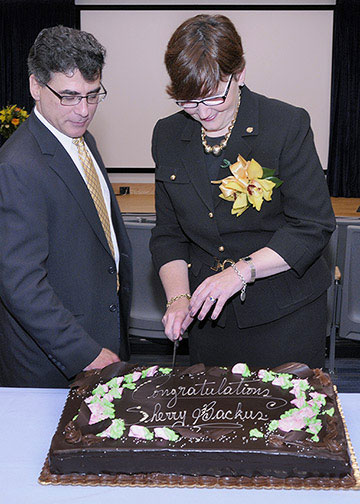 Sherry I. Backus, PT, DPT, MA cuts the cake at the
2010 Wholeness of Life Award ceremony
Her Secret to Success
A resident of Leona, New Jersey, Sherry received her degree in physical therapy from Marquette University in 1980 followed by an MA in pathokinesiology from New York University (1992). She later completed a doctorate in physical therapy from Massachusetts General Hospital Institute of Health Professions in 2005.
But throughout her hard work and achievements, Sherry is quick to point out that family support—at home and at HSS—is the foundation of her accomplishments.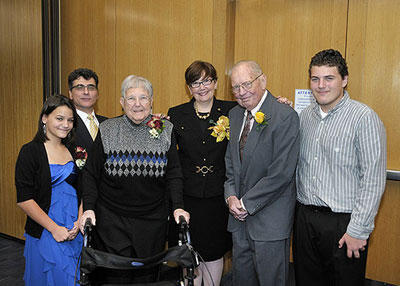 Sherry I. Backus, PT, DPT, MA (center) surrounded by family at the
2010 Wholeness of Life Award ceremony
"I share this award with my parents, husband, and two children, whose encouragement, understanding, and support allow me to do what I do every day," said Dr. Backus, "and that includes the exceptional people at my home away from home at HSS."
Wholeness of Life Honorees
| | |
| --- | --- |
| 2016 |  Elizabeth Coleman |
| 2015 |  David Wang |
| 2014 |  Don Foiles |
| 2013 |  Glenn W. Garrison, CPO |
| 2012 |  Jillian Rose, LMSW |
| 2011 |  Mary Ellen Zullo, PA-C |
| 2010 |  Sherry I. Backus, PT, DPT, MA |
| 2009 |  Edward Craig, MD |
| 2008 |  Barbara Wukovits, RN, BSNC |
| 2007 |  Janet Cahill, PT, CSCS |
| 2006 |  Janet J. James |
| 2005 |  Linda A. Russell, MD |
| 2004 |  Oheneba Boachie-Adjei, MD |
| 2003 |  Mary McDermott, RN |
| 2002 |  Douglas Green, MD |
| 2001 |  Stephen A. Paget, MD |
| 2000 |  Eulalee Green, RN |
| 1999 |  Mary Dolan, RN |
| 1998 |  Ometa Bourne-Ford |
| 1997 |  Valerie Gray, RN |
| 1996 |  Theresa Galsworthy, RN, ONC |
| 1995 |  Leon Root, MD |
| 1994 |  Geraldine Nicholson, RN, ONC |
| 1993 |  C. Ronald MacKenzie, MD |
| 1992 |  Marguerite Palmieri, RN |
| 1991 |  Roberta Horton, ASCW |
| 1990 |  Lorraine Mattes, RN |
| 1989 |  Anita von Hellens, RN |
| 1988 |  Michael D. Lockshin, MD |