A standing room crowd of colleagues, friends and family gathered in the Richard L. Menschel Conference Center at Hospital for Special Surgery, Friday, Oct. 8, to honor Mary Ellen Zullo, PA-C, recipient of the 2011 Wholeness of Life Award.
This prestigious award is presented annually by the HealthCare Chaplaincy, a citywide multi-faith community of professionals from many cultures dedicated to caring for persons in spirit, mind and body. Hosted by C. Ronald MacKenzie, M.D., the ceremony included many words of praise for Mary Ellen, including Louis Shapiro, president and CEO; Thomas Sculco, M.D., surgeon-in-chief; Mary Crow, M.D., physician-in-chief; Alexander Hughes, M.D., and Federico Girardi, M.D. In addition, there was a special video presentation filled with heartfelt appreciation.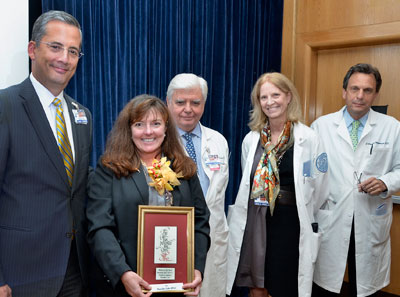 Louis Shapiro, president and CEO; Mary Ellen Zullo, PA-C; Thomas Sculco, M.D., surgeon-in-chief; Mary Crow, M.D., C. Ronald MacKenzie, M.D.
"This is more than I ever could've imagined," said Mary Ellen. "I was totally taken aback by it because I know how prestigious this award is. When I received the call from my supervisor asking to meet with me, 'I thought that I was being brought in to be told bad news.' When I walked into the room and saw all these people standing there and they told me the good news, I was just dumbfounded. I still can't believe that I was given this award for just doing my job."
Although the reasons for being selected the 2011 recipient weren't so apparent to Mary Ellen, to those who work with her it was no surprise. "It is fitting that Mary Ellen is receiving this award during National Physician Assistants Week," said Pamela Katkin, PA-C, director, Physician Assistants Department. "She truly cares about her fellow colleagues and tirelessly cares for patients with the most complex cases."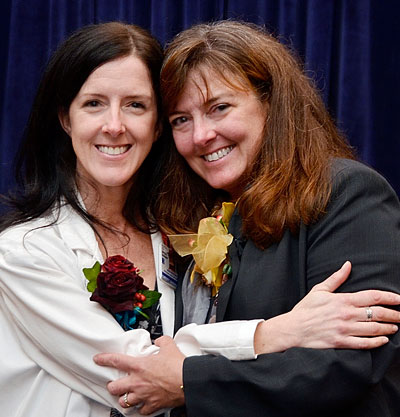 Christy Loughlin, PA-C, with her sister Mary Ellen Zullo, PA-C
"When you become a Physician Assistant you take an oath and our primary responsibility is the health, safety, welfare and dignity of all human beings and we also work with other members of the health care team to provide compassionate and effective care to our patients. In addition, we pledge to use our knowledge and experience to contribute to and improve community. Without a doubt, Mary Ellen has performed these values with dedication and compassion," she added.
Mary Ellen, who is the Physician Assistants service manager for the Spine Service, joined the HSS staff in 2005. Her background encompasses a lot of experience working in comprehensive physical medicine and rehabilitation with traumatic brain and spinal cord injuries, stroke victims and working with people with emotional needs and their families. When she came to HSS she knew she wanted to work with this patient population.
"I'm on the Spine Service and our patients are notoriously challenging—not just medically, but psychologically and emotionally," said Mary Ellen. "Some people say 'You're crazy because you have to give a lot of yourself' but my comforting them fulfills me. It's weird, I guess, to most people. I just treat them how I'd want to be treated. If you've ever been in a hospital bed or have had a loved one in a hospital bed, you appreciate it when someone comes in who really seems to care."
"I was on the other end of it once. Everybody just comes into the room, does what they do, and they leave. Nobody really connects – and you need that connection. I think it promotes better healing," she added. "I think I just connect really well to the patients. They feel something from me – I don't know what – but I'm able to connect with them. I'm able to bring them a little bit of calm and peace. Every time a patient thanks me or sends me a card it's very fulfilling and rewarding."
Mary Ellen resides in Massapequa, N.Y., with her husband Michael.
Wholeness of Life Honorees
| | |
| --- | --- |
| 2016 |  Elizabeth Coleman |
| 2015 |  David Wang |
| 2014 |  Don Foiles |
| 2013 |  Glenn W. Garrison, CPO |
| 2012 |  Jillian Rose, LMSW |
| 2011 |  Mary Ellen Zullo, PA-C |
| 2010 |  Sherry I. Backus, PT, DPT, MA |
| 2009 |  Edward Craig, MD |
| 2008 |  Barbara Wukovits, RN, BSNC |
| 2007 |  Janet Cahill, PT, CSCS |
| 2006 |  Janet J. James |
| 2005 |  Linda A. Russell, MD |
| 2004 |  Oheneba Boachie-Adjei, MD |
| 2003 |  Mary McDermott, RN |
| 2002 |  Douglas Green, MD |
| 2001 |  Stephen A. Paget, MD |
| 2000 |  Eulalee Green, RN |
| 1999 |  Mary Dolan, RN |
| 1998 |  Ometa Bourne-Ford |
| 1997 |  Valerie Gray, RN |
| 1996 |  Theresa Galsworthy, RN, ONC |
| 1995 |  Leon Root, MD |
| 1994 |  Geraldine Nicholson, RN, ONC |
| 1993 |  C. Ronald MacKenzie, MD |
| 1992 |  Marguerite Palmieri, RN |
| 1991 |  Roberta Horton, ASCW |
| 1990 |  Lorraine Mattes, RN |
| 1989 |  Anita von Hellens, RN |
| 1988 |  Michael D. Lockshin, MD |