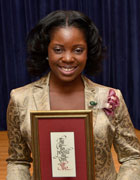 Jillian Rose, LMSW exemplifies Hospital for Special Surgery's commitment to providing outstanding and compassionate patient care. At a moving ceremony at the hospital on October 16, Rose received the Wholeness of Life Award for her many qualities and remarkable accomplishments.
At the standing-room only event, colleagues described Rose as "passionate, dedicated and fearless; smart and thoughtful; uniquely beautiful both inside and out; an outstanding role model; a visionary."
Rose, who manages the LupusLine® and Charla de Lupus® Programs, is the 25th recipient of the Wholeness of Life Award of the Hospital for Special Surgery(HSS)/Healthcare Chaplaincy. The prestigious award is presented annually to a member of the hospital staff who has made a significant contribution to the quality of patient care by understanding and responding to the needs of the whole person in body, mind and spirit.
C. Ronald MacKenzie, M.D. and Sister Margaret Oettinger, O.P., the director of the Spiritual Care Department, hosted the ceremony. In addition to her HSS colleagues, friends and family gathered to celebrate Rose's honor.
In selecting her for the 2012 award, Sister Margaret and the selection committee said, "Jillian's support for patients, families and communities is unique. She constantly raises the bar and goes far above and beyond to determine the critical needs of patients, their families, communities and staff – and equally important, goes about finding solutions. She asks the most important questions and is passionate in assuring the best outcomes in every situation."
Lou Shapiro, president and CEO, commended Jillian as an "outstanding colleague, leader, caregiver and person…who embodies the essence of what HSS is about."
Dr. MacKenzie described Rose as a "spectacular choice" for the award, and many of her colleagues noted her extraordinary ability to improve the lives of patients. "The lives Jillian touches are often challenged by sustained illness, loss, indifference, confusion, social injustice, and physical and emotional pain," said Roberta Horton, LCSW, ACSW, director, Department of Social Work Programs. "Jillian moves toward, not away, from these disruptions and intervenes with empathy, compassion, hope, strategic thinking and problem-solving. I have never met a person or professional with such an unwavering depth of caring and joyful determination, tireless and timeless."
Susan Flics, RN, MA, MBA, assistant vice president for Operations, said, "Jillian has the ability to touch everyone in some way as she enters any room, be it a professional meeting, a patient event or a social gathering. Her 'light' is far reaching… She works diligently with patients and staff to release any fear inside them."
Michael Lockshin, M.D., director of the Barbara Volcker Center for Women and Rheumatic Disease at Special Surgery, called Rose a "true miracle worker… with a beautiful and electric smile." Dr. Lockshin, who received the first Wholeness of Life Award at the hospital 25 years ago, said, "Her energy and ability to create new things in the way of outreach are outstanding," and noted that Rose has presented her research at national and international meetings.
Mary Crow, M.D., physician-in-chief and chair of the Division of Rheumatology, said in addition to recognizing how deserving Rose was of the award, it was important to acknowledge the positive effect she has had on patients not only at HSS, but throughout the country.
Stephen Paget, M.D. recalled his first meeting with Rose, sensing "that she had fallen from paradise for a single purpose: to make the lives of our lupus patients better, happier, fulfilled, free from fear and full of hope."
The ceremony included a video tribute by Rose's family and friends, and a report from a local television news organization about Charla de Lupus®.

Rose, who joined Special Surgery eight years ago, said she was truly humbled by the award. "I'm filled with emotion," she said, "because I love my job. I come to work every day, and I get paid to do this. How awesome and wonderful is that?"
Rose, who noted that religion has played a large part in her life, said, "I share this award with many, because caring for the whole person doesn't happen in a vacuum." She thanked her colleagues in departments all throughout HSS, emphasizing that her work is made possible by a team effort. She also thanked patients, volunteers, family and friends.
Rose said she's proud to be a part of HSS, which is like a family to her. "Special thanks to Lou Shapiro and the senior leadership team whose commitment to quality care is second to none. I'm very proud of that mission and that commitment."
Rose's list of accomplishments seems endless. She has already been recognized for her work with underserved communities. Under her direction, over a five-year period, Special Surgery's lupus peer support and education programs grew by nearly 40 percent and provided approximately 25,000 interventions to patients, families and communities affected by lupus.
This year, the Charla de Lupus/Lupus Chat® Program received the American Hospital Association's HAVE Award (Hospital Awards for Volunteer Excellence) for an outstanding volunteer program in the category of community outreach and collaboration.
In 2010, Rose received the Emerging Social Work Leader Award from the National Association of Social Workers, New York City Chapter.
She has planned, facilitated and conducted leadership training in cultural competency for HSS staff and has tailored programs for multiple departments. She served as co-developer and co-trainer for 200 HSS registrars in the collection of ethnic, race, and preferred language data, as part of a national initiative to decrease health disparities.
Another of Rose's strengths concerns teamwork at HSS. She is co-chair of the Employee On-Boarding Committee and a founding member of the Employee Engagement Committee. At the award ceremony, Bruce Slawitsky, vice president of Human Resources and Service Excellence, told the audience that Rose volunteers to be at HSS at 2 a.m. to provide engagement materials to the night staff. She attends breakfasts and orientations to welcome new employees.
He also praised her good judgment. "She's passionate, she cares, she's smart and she's thoughtful…When it comes to employee engagement, the question I most often ask is, 'What does Jillian think,' and then pretty much all the time I'll say, 'then that's what we'll do.'"
Despite her busy schedule, Rose still finds time to serve her community outside of HSS, volunteering at a housing shelter to feed the homeless. Every three months, she sponsors a dinner for more than 100 adults. She is also a founder/leader of the Sister 2 Sister Young Woman's Mentorship Program and a team organizer for the AIDS Walk in New York City.
Roberta Horton recalls how she once asked Rose how she could agree to volunteer for yet another activity, as her plate was already so full. She smiled and said, "Well, maybe I'll just have a bigger plate."
Wholeness of Life Honorees
| | |
| --- | --- |
| 2016 |  Elizabeth Coleman |
| 2015 |  David Wang |
| 2014 |  Don Foiles |
| 2013 |  Glenn W. Garrison, CPO |
| 2012 |  Jillian Rose, LMSW |
| 2011 |  Mary Ellen Zullo, PA-C |
| 2010 |  Sherry I. Backus, PT, DPT, MA |
| 2009 |  Edward Craig, MD |
| 2008 |  Barbara Wukovits, RN, BSNC |
| 2007 |  Janet Cahill, PT, CSCS |
| 2006 |  Janet J. James |
| 2005 |  Linda A. Russell, MD |
| 2004 |  Oheneba Boachie-Adjei, MD |
| 2003 |  Mary McDermott, RN |
| 2002 |  Douglas Green, MD |
| 2001 |  Stephen A. Paget, MD |
| 2000 |  Eulalee Green, RN |
| 1999 |  Mary Dolan, RN |
| 1998 |  Ometa Bourne-Ford |
| 1997 |  Valerie Gray, RN |
| 1996 |  Theresa Galsworthy, RN, ONC |
| 1995 |  Leon Root, MD |
| 1994 |  Geraldine Nicholson, RN, ONC |
| 1993 |  C. Ronald MacKenzie, MD |
| 1992 |  Marguerite Palmieri, RN |
| 1991 |  Roberta Horton, ASCW |
| 1990 |  Lorraine Mattes, RN |
| 1989 |  Anita von Hellens, RN |
| 1988 |  Michael D. Lockshin, MD |