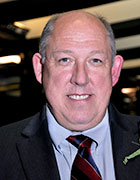 Glenn W. Garrison, CPO, director of Prosthetics & Orthotics was recognized with the HealthCare Chaplaincy's 2013 Wholeness of Life Award. "Each year, this award is a source of inspiration for all who come to work at HSS every day and have the privilege of playing a role in the healing process," said C. Ronald Mackenzie, M.D., as he opened the 26th annual Wholeness of Life Ceremony on October 22. "Glenn exemplifies all of the characteristics of the Wholeness of Life award with his open and generous heart and willingness to share his time, expertise and kindness with everyone he meets."
Dr. MacKenzie and Sr. Margaret Oettinger, O.P., the director of the Spiritual Care Department, hosted the ceremony where HSS colleagues, friends and family gathered together to honor Garrison. Throughout the ceremony, colleagues described him as "unique, dedicated, passionate, talented, creative and a gentle giant."
"I can't think of a better person to carry the Wholeness of Life torch than Glenn," said Lou Shapiro, president and CEO. "Anyone can clearly see the passion he has for what he does, the extraordinary manner in which he treats others, the way people are inspired by him, the work he did to help develop the Ellen and Joe Wright Prosthetic and Orthotic Fund and his efforts with Dr. Boachie at FOCOS in Ghana. These are all reasons why he was selected to join the amazing group of people who have received this award. Congratulations Glenn!"
Shapiro then continued on to read the Wholeness of Life Citation, describing Garrison's many accomplishments and contributions that go far beyond the walls of HSS.
Thomas P. Sculco, M.D., surgeon-in-chief, who presented the award to Garrison, referenced the Hospital's 150th anniversary. When the institution was founded as the Hospital for the Ruptured and Crippled, much of the work done focused on restoring children who suffered from diseases like tuberculosis and polio to active function with devices and appliances so they could walk. "I think it's appropriate on this 150th anniversary that Glenn, who is the epitome of everything this Hospital represents, should receive this award." Dr. Sculco, who met Garrison 26 years ago, described him as extremely talented and creative and a genuinely good person. "Glenn immediately puts patients at ease when they walk into the Prosthetics and Orthotics Lab. He has the warmest and most human way about him – he is truly a unique person and the embodiment of what HSS is all about."
Leon Root, M.D., medical director of Rehabilitation, took the podium next to share his sentiments. "Everything they say about you, Glenn, is very true." Dr. Root went on to explain that the Wholeness of Life plaque is displayed on the eighth floor near the Chapel and how each year honorees are added. "We treasure traditions at Special Surgery," he said, "and you are part of that tradition."
HSS colleagues continued sharing their own experiences with Glenn over the years. JeMe Cioppa-Mosca, P.T., MBA, vice president of Rehabilitation, who has worked with Garrison for the past 25 years, talked about how he grew up in North Carolina, his interests and experiences, how he came to Manhattan to pursue his career in Prosthetics and Orthotics and about the incredible colleague and friend he has been. "He is totally in the zone when he has the opportunity to be creative and there are no textbook answers to the problems he has to solve. Glenn's talent and selfless nature leave such a huge impression on everyone who sees him in action. He is what makes Special Surgery special – he is humble, he is an unsung hero and the work he does has a profound effect on all the lives he touches."
Ibadete Thaqi, an HSS colleague and previous patient of Garrison, knew him long before she became a part of the HSS family. Thaqi, who first came to HSS after losing both her legs during the war in Kosovo, met Garrison in the year 2000 as a young girl. "My parents wanted nothing more than to see me walk again and be able to go to school like any other normal teenager, so Glenn did his magic and made my very first prosthetic legs. He taught me how to take my first steps, climb up and down the stairs and the hardest thing, which was how to get up after falling down," she recalled. "He became my best friend inside and outside the Hospital, even giving up the very little time off he had to take me with his family to places around the City. Glenn is one of a kind; he goes out of his way to help people. As humans we do random acts of kindness on a daily basis, but Glenn does at least 100 acts of kindness a day."
Oheneba Boachie-Adjei, M.D., founder of FOCOS, reflected on Glenn's many contributions in Ghana during multiple trips over the years. Dr. Boachie described his work through a presentation including photos of the effects the traction device Glenn built has had on patients with spinal deformities in Ghana significantly improving their conditions. The presentation wrapped up with photos of Glenn in Ghana to the song, "Imagine" by John Lenin. "What makes Glenn amazing is his imagination," said Dr. Boachie. He then quoted St. Francis of Assisi: "Start by doing what is necessary, then do what is possible and suddenly you are doing the impossible. That identifies Glenn," he said.
Garrison's list of contributions in addition to his work at HSS and FOCOS are numerous. He is an active member of his community and the First Presbyterian Church in Englewood, New Jersey. He is also a member of the Board of Education and is on the Board of a Senior Citizen Independent Living facility.
In his address to the audience, Garrison talked about what it means to him to be chosen for the award and his experience at HSS over the past 26 years. He reflected on beginning at the Hospital and how he learned a new definition of family. "Over the years, I have been blessed to witness and learn about the unbridled compassion and care given by HSS staff members from all corners of the institution."
Garrison thanked Ellen and Joe Wright for their generous contributions to the Prosthetic and Orthotic Fund, which helps provide care to patients who wouldn't normally have access due to gaps in insurance coverage and thanked them for offering continued advice, direction and learning opportunities. Garrison then referred to Ellen as his "guardian angel." He thanked colleagues in departments across the Hospital, including Lou Shapiro and the Hospital's Leadership Team, the Rehabilitation team, Spiritual Care and many others, emphasizing that his work is made possible by a team effort. "I am but a reflection of all of you; we each have a role in caring for the whole person. We as a team make HSS the wonderful place it is," he said. "I may be receiving this recognition today, but a part of this award belongs to all of you."
"If I can give back to our patients even a fraction of what has been given to me, I will consider my time here at HSS a success."
Wholeness of Life Honorees
| | |
| --- | --- |
| 2016 |  Elizabeth Coleman |
| 2015 |  David Wang |
| 2014 |  Don Foiles |
| 2013 |  Glenn W. Garrison, CPO |
| 2012 |  Jillian Rose, LMSW |
| 2011 |  Mary Ellen Zullo, PA-C |
| 2010 |  Sherry I. Backus, PT, DPT, MA |
| 2009 |  Edward Craig, MD |
| 2008 |  Barbara Wukovits, RN, BSNC |
| 2007 |  Janet Cahill, PT, CSCS |
| 2006 |  Janet J. James |
| 2005 |  Linda A. Russell, MD |
| 2004 |  Oheneba Boachie-Adjei, MD |
| 2003 |  Mary McDermott, RN |
| 2002 |  Douglas Green, MD |
| 2001 |  Stephen A. Paget, MD |
| 2000 |  Eulalee Green, RN |
| 1999 |  Mary Dolan, RN |
| 1998 |  Ometa Bourne-Ford |
| 1997 |  Valerie Gray, RN |
| 1996 |  Theresa Galsworthy, RN, ONC |
| 1995 |  Leon Root, MD |
| 1994 |  Geraldine Nicholson, RN, ONC |
| 1993 |  C. Ronald MacKenzie, MD |
| 1992 |  Marguerite Palmieri, RN |
| 1991 |  Roberta Horton, ASCW |
| 1990 |  Lorraine Mattes, RN |
| 1989 |  Anita von Hellens, RN |
| 1988 |  Michael D. Lockshin, MD |