In front of colleagues, friends, and family gathered in his honor, Edward Craig, MD, accepted the HealthCare Chaplaincy's 2009 Wholeness of Live Award in the Richard L. Menschel Conference Center, Oct. 22.
"This is a shared award," explained Dr. Craig. "I would like to thank Dr. Russell Warren for bringing me here and Dr. Thomas Sculco for keeping me here.
"I am thankful to the HSS pastoral care committee for this honor and grateful for this award in a hospital where so many people are deserving. Care for the person is just as important as care for the disease," added Dr. Craig.
The award was presented to Dr. Craig by Louis Shapiro, HSS's president and CEO, and Dr. Thomas Sculco, HSS surgeon-in-chief.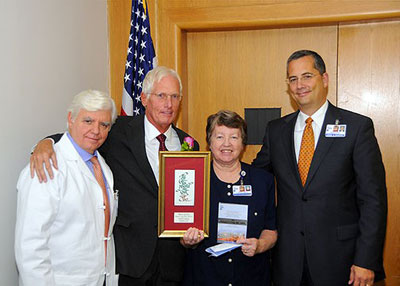 From left, Dr. Thomas Sculco, Dr. Edward Craig, Sister Margaret Oettinger, and Louis Shapiro
"No one is more deserving of this award," said Mr. Shapiro. "I constantly receive letters from Dr. Craig's patients saying how grateful they are that Dr. Craig is their orthopedic surgeon."
"This is a very special event," said Dr. Sculco. "One of the most important events in this hospital. The award honors those who go the extra mile in taking care of patients. The list of Wholeness of Life award winners is a reflection of the best people in Hospital for Special Surgery."
Sister Margaret Oettinger, OP, director of Spiritual Care, and Rita V. Foley, trustee, Health Care Chaplaincy, introduced the honoree. Sister Margaret noted "Dr. Craig, God danced the day you were born. I will always remember your skill and compassion. Dr. Craig is the epitome of a great doctor. People don't always remember what you said, but they always remember what they felt."
Jo A. Hannafin, MD, PhD, a fellow Old Greenwich practice member and orthopedic director at the Women's Sports Medicine Center, said, "Ed wants to improve patients' quality of life. He is also a compassionate mentor. He offers his students a lot of moral support. Ed always has lots of time for his family, too.
"We practice together every Friday in Hospital for Special Surgery's affiliated physician office in Old Greenwich. It's like a family practice in a small town. We have lunch together most of the time," Dr. Hannafin continued.
Thomas Wickiewicz, MD, an old friend and Dr. Craig's practice partner, also offered his congratulations, although he noted, "Ed and I never have lunch together."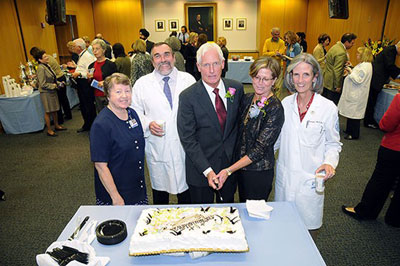 From left are Sister Margaret Oettinger, Dr. Thomas Wickiewicz, Dr. Craig, Kathy Craig, and Dr. Jo Hannafin
There were many well-wishers attending the award ceremony. The welcoming and closing remarks were delivered by C. Ronald MacKenzie, MD. The opening prayer was offered by Reverend Arnd Braun-Storck, chaplain, Spiritual Care, and the final blessing was given by Rabbi Ralph Kreger, also a chaplain from Spiritual Care. Both chaplains stressed that the Wholeness of Life Award recognizes the spiritual dimension of health care.
There was also a video presentation that included congratulations from his daughter, MacKenzie Craig, who said her father "...is a great guy. Smart and compassionate." NBC Nightly News Anchor Brian Williams, Dr. Craig's next door neighbor, remarked tongue-in-cheek in a surprise video that he can't keep Dr. Craig out of his kitchen and shared other humorous insights. The video also included comments from Dr. Craig's staff members, as well as patient and HSS volunteer Doris Barth.
Wholeness of Life Honorees
| | |
| --- | --- |
| 2016 |  Elizabeth Coleman |
| 2015 |  David Wang |
| 2014 |  Don Foiles |
| 2013 |  Glenn W. Garrison, CPO |
| 2012 |  Jillian Rose, LMSW |
| 2011 |  Mary Ellen Zullo, PA-C |
| 2010 |  Sherry I. Backus, PT, DPT, MA |
| 2009 |  Edward Craig, MD |
| 2008 |  Barbara Wukovits, RN, BSNC |
| 2007 |  Janet Cahill, PT, CSCS |
| 2006 |  Janet J. James |
| 2005 |  Linda A. Russell, MD |
| 2004 |  Oheneba Boachie-Adjei, MD |
| 2003 |  Mary McDermott, RN |
| 2002 |  Douglas Green, MD |
| 2001 |  Stephen A. Paget, MD |
| 2000 |  Eulalee Green, RN |
| 1999 |  Mary Dolan, RN |
| 1998 |  Ometa Bourne-Ford |
| 1997 |  Valerie Gray, RN |
| 1996 |  Theresa Galsworthy, RN, ONC |
| 1995 |  Leon Root, MD |
| 1994 |  Geraldine Nicholson, RN, ONC |
| 1993 |  C. Ronald MacKenzie, MD |
| 1992 |  Marguerite Palmieri, RN |
| 1991 |  Roberta Horton, ASCW |
| 1990 |  Lorraine Mattes, RN |
| 1989 |  Anita von Hellens, RN |
| 1988 |  Michael D. Lockshin, MD |