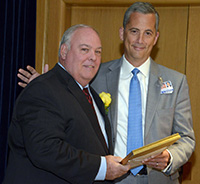 Don Foiles, director of Security, was recognized with the HealthCare Chaplaincy's 2014 Wholeness of Life Award. HSS colleagues, friends and family gathered together to honor Don at the 27th annual Wholeness of Life Ceremony, which opened with a special bagpipe performance celebrating Don's Irish background. Sr. Margaret Oettinger, OP, was the MC of the event and Chaplains Margo Heda and Margaret Tuttle led attendees in opening and closing prayers during the ceremony. C. Ronald Mackenzie, MD, addressed the audience – he described the Wholeness of Life award and shared some comments from Don's team members reflecting on his leadership. Dr. Mackenzie added, "Don looks after all of us providing a comforting and safe environment for us to work in."
Lou Shapiro, president and CEO, congratulated Don and welcomed the many family members who joined the celebration in his honor. "I have had the privilege to work with and get to know Don over the past almost eight years," he said. "Throughout this time, I have experienced his commitment, professionalism, and absolute drive to ensure the safety of our patients, visitors and colleagues. It is evident that the same qualities he demonstrates have been instilled in our Security team. These are all reasons why Don was selected to join the amazing group of people who have received this award." Lou then presented Don with the Wholeness of Life award. Ralph Bianco, vice president of Operations, read the Wholeness of Life Citation that highlighted Don's accomplishments and the attributes for which he was selected as this year's recipient.
Todd J. Albert, MD, surgeon-in-chief, then presented Don with the name plaque that will be posted in the chapel next to the past 26 recipients of the award. "In my short time here I have noticed an amazing sense of welcoming at HSS – it begins every morning when I walk in the door with members of your team Don, and it's because of the tone you set," he said. "Thank you so much for all you do for HSS. I'm proud to be a part of this and to honor you with this plaque."
Colleagues from across the Hospital then spoke about their experiences with Don over the years – which echoed the sentiments shared during the ceremony.
Security Officer Jack Roeser recalled his first interaction with Don after he started working at HSS ten years ago. "Don told the team in a meeting, 'You're here to help people' and I remember thinking how remarkable it was that someone with the burden of overseeing an entire security department that his priority was helping people. When you have people leading the way like Don, you know the moral compass is always pointing in the right direction."
Joanne Parnofiello, senior director of Employment, talked about heroes and how Don displays the characteristics of a hero each and every day."Don raises the bar for best practice in ordinary life. He is a stellar human being, who puts himself last always, and puts the safety and best interests of others first. His love and compassion know no boundaries. Don, you are so very dear to so many of us at HSS and beyond and so deserving of this prestigious award."
HSS's 2013 Wholeness of Life honoree, Glenn W. Garrison, CPO, director of Prosthetics & Orthotics, said, "I was thrilled to hear Don was this year's recipient and remember congratulating him. Like so many who receive this award, he said, 'I don't deserve it.' Don, you not only deserve it, but you raise the bar for the rest of us. On behalf of past Wholeness of Life honorees I welcome you to our group, you certainly belong and congratulations!"
Stephanie J. Goldberg, MSN, RN, NEA-BC, senior vice president, Patient Care Services and chief nursing officer, spoke of Don and the Security Department's collaboration with Nursing over the years. "You and your team have always worked so closely with leaders in my department not only to make things better for the patients, but for our staff. Because of your efforts and work with my team, you were awarded the prestigious Friend of Nursing in 2011 which honors a person in the organization who has always been an asset to our Department. Not only are you an asset, but Don you will always be our friend."
A childhood friend of Don's, George Nixon, shared a few comments, "Don and I became fast friends and he's been a stand up guy since the day I met him. He loves this job and he talks very highly of all of you – I've never seen someone so happy at their job."
In his address to the audience, Don talked about what it means to him to be chosen for the award, "I am both humbled and honored to be included and recognized with the past recipients of this award. I accept this award on behalf of all of the other employees who are deserving of this recognition." Don thanked colleagues in departments across the Hospital, including Lou, Lisa Goldstein, executive vice president and COO, Ralph and the Leadership Team, the Wholeness of Life Committee, and many others, emphasizing that his work is made possible by a team effort. "Success doesn't happen in a vacuum – it is the result of working with and for good people."
Wholeness of Life Honorees
| | |
| --- | --- |
| 2016 |  Elizabeth Coleman |
| 2015 |  David Wang |
| 2014 |  Don Foiles |
| 2013 |  Glenn W. Garrison, CPO |
| 2012 |  Jillian Rose, LMSW |
| 2011 |  Mary Ellen Zullo, PA-C |
| 2010 |  Sherry I. Backus, PT, DPT, MA |
| 2009 |  Edward Craig, MD |
| 2008 |  Barbara Wukovits, RN, BSNC |
| 2007 |  Janet Cahill, PT, CSCS |
| 2006 |  Janet J. James |
| 2005 |  Linda A. Russell, MD |
| 2004 |  Oheneba Boachie-Adjei, MD |
| 2003 |  Mary McDermott, RN |
| 2002 |  Douglas Green, MD |
| 2001 |  Stephen A. Paget, MD |
| 2000 |  Eulalee Green, RN |
| 1999 |  Mary Dolan, RN |
| 1998 |  Ometa Bourne-Ford |
| 1997 |  Valerie Gray, RN |
| 1996 |  Theresa Galsworthy, RN, ONC |
| 1995 |  Leon Root, MD |
| 1994 |  Geraldine Nicholson, RN, ONC |
| 1993 |  C. Ronald MacKenzie, MD |
| 1992 |  Marguerite Palmieri, RN |
| 1991 |  Roberta Horton, ASCW |
| 1990 |  Lorraine Mattes, RN |
| 1989 |  Anita von Hellens, RN |
| 1988 |  Michael D. Lockshin, MD |