Sources of Comfort and Meaning
We hope to bring comfort and help to find meaning for patients, their loved ones and caregivers who are coping with the spiritual distress that accompanies illness and loss. We offer words of reflection, multifaith prayers and grief support.
The Dominican Friars Healthcare Ministry of New York
The heath care ministry of the Dominican Friars of St. Catherine of Siena Church and Priory in New York is deemed one of the primary frontier centers in the world by the Dominican Order. The ministry's mission is to promote the dignity of the human person and the healthy ministry among parishioners, heath care professionals, patients, and their families through spiritual care, education, research, and ethics consultations at Hospital for Special Surgery, Memorial Sloan Kettering Cancer Center, NewYork-Presbyterian Weill Cornell Medical Center, and Rockefeller University Hospital.
Lay Ministers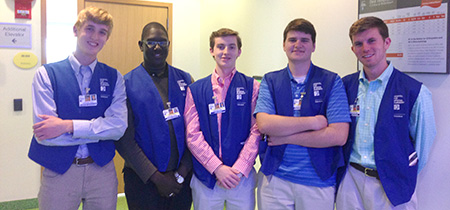 Lay ecclesial ministers are dedicated to serving their church and community. They are volunteers and are experienced in patient care. They visit the patients and make sure each patient can meet his or her spiritual needs everyday. We also have a dedicated group of students from Regis High School who serve as Eucharistic Ministers as part of their Christian Service.
The Annual Spirituality Forum
The Spirituality Forum is an opportunity for all hospital employees to attend a one hour presentation about relevant spirituality and health topics. The Spirituality Forum brings in a new lecturer each year who is an expert in his or her field of study. Each lecturer gives his or her unique perspective on how spirituality and health topics interrelate in the healthcare profession.
2019 Spirituality Forum
Tuesday, June 6, 2019 at 11:00am
Richard L. Menschel Conference Center
Speaker:
Rev. Kevin Massey, BCC
Vice President for Mission and Spiritual Care
Advocate Lutheran General Hospital, Park Ridge, IL