The Sky's the Limit After Hip Resurfacing
Arizona resident Dr. Scott Clark loves to be outside. Whether it's climbing the world's highest peaks in the Himalayas, rock climbing in his home state, or scuba diving in foreign seas, he's in his element. So when his degenerative hip pain began to prevent him from lacing his boots before his climb, or even putting on his fins before a dive without his wife's help, he faced the facts. His hip, which had been deteriorating for nearly a decade, would require surgery.
As an anesthesiologist, Dr. Clark knew how to seek the highest level of expertise and patient care for his procedure. He wanted to maintain his activity level while preserving as much of his joint as possible – after all, at 45, he was still young – and after the procedure was done, he wanted to recover as quickly as he could. With this criteria in mind, his search led him to Edwin P. Su, MD, one of the leading hip resurfacing surgeons in the country, who happens to practice at the top orthopedic hospital in the country: Hospital for Special Surgery.
"I remember that one of his concerns was being well enough in his recovery to go on a scuba diving trip one month after surgery," says Dr. Su. "Having surgery was clearly a quality of life issue for him, and his candidacy for the hip resurfacing procedure really would allow him to maximize his potential."
In the weeks and months before and after his surgery, says Dr. Clark, Dr. Su has been there for him whenever he's had a question or concern. "He's been very communicative, which can be rare in our day of medicine," he says. "I've experienced a variety of hospital settings. I had high expectations, and HSS truly surpassed them."
After the procedure, he recovered extremely quickly, experienced no pain as soon as the surgery was finished, and was walking with help from a walker on the same day of surgery. He quickly advanced through all the physical therapy goals, and soon resumed his activities.
On a recent scuba diving excursion to Turks and Caicos, Dr. Clark fit in several days of 7-8 mile walks on his newly resurfaced hip. "My recovery has been fantastic," he says. "I am now three months postoperative, and I feel as strong and as young as 10 years ago!"
After training on a 9-mile, 3000 ft. climb in Tucson, he returned to high altitude climbing on some of the toughest peaks in Bhutan. True to his promise, he sent us photos of himself hoisting the HSS banner at 16,500 ft.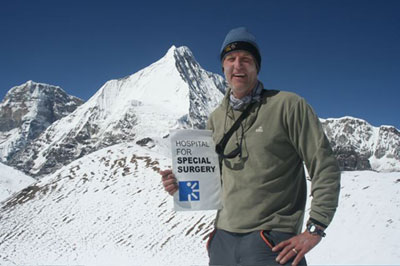 In July of 2009, Dr. Clark sent more photos of himself climbing Mt. Hood in Oregon (below). He also plans to send shots from his upcoming trip to a 23,400 ft. peak in Krygyzstan.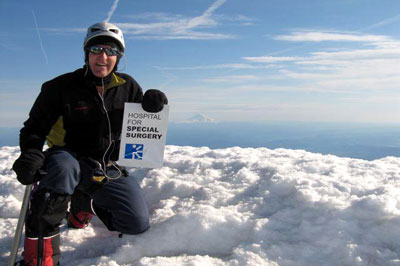 Now that he has his life back, the sky's truly the limit.