In 2008, the Hospital established the Inflammatory Arthritis Center based on "best evidence medicine" with the following intersecting tenets:
to provide comprehensive care to patients with RA and spondyloarthropathies
to educate medical students from the Weill Cornell Medical College, residents from NewYork-Presbyterian Hospital, and fellows and attendings from HSS
to facilitate translational research by enhancing communication between basic science researchers and clinicians and formulate the foundations for clinical research at HSS
to promote basic and clinical collaborations with the pharmaceutical industry and participate in the development of novel therapeutics for patients with inflammatory arthritis
As part of its commitment to providing optimal care to patients, the IAC conducts a weekly clinic, followed by a conference involving rheumatology attendings, a radiology attending, medical students, residents, fellows, and social workers in an interdisciplinary discussion of patients with diverse clinical problems so as to highlight evidence-based therapeutic decisions and assessment of outcomes. The Center has developed and implemented a comprehensive computerized registry and a database of patients with rheumatoid arthritis. Registries in other inflammatory conditions, including ankylosing spondylitis and psoriatic arthritis, are being developed. In addition, the Center serves as a site of the national Consortium of Rheumatology Researchers of North America (CORRONA).
The Early Arthritis Initiative, a component of the IAC, educates both physicians and patients on the benefits of early diagnosis and treatment of inflammatory arthritis, with an emphasis on the concept of the "window of opportunity;" enroll patients with early inflammatory arthritis in the IAC database; and participate in basic and clinical studies related to early inflammatory arthritis.
Three clinical trials that were incorporated into the IAC are nearing completion, and two new studies are soon to be launched. Proposals for several investigator initiated trials have been submitted on several topics including the use of a new anti-biological agent, certolizumab. In addition, several national and international database collaborations are being explored. An effort to promote a closer interaction between clinical and basic science research at HSS has been initiated. This translational approach has encompassed several activities, including a project on the characterization of cytokines and dendritic cells in patients with psoriatic arthritis. Two new Fellowship research studies have been proposed that require the facilities of the IAC.
As the Inflammatory Arthritis Center continues to develop, the primary objectives will be to continue to build the respective registries so as to begin generating hypotheses, research studies, and publications that cross the basic science and clinical platforms.
Conversations With Experts
Optimal Therapy: Triple Therapy Versus Methotrexate Plus an Anti-TNF Medication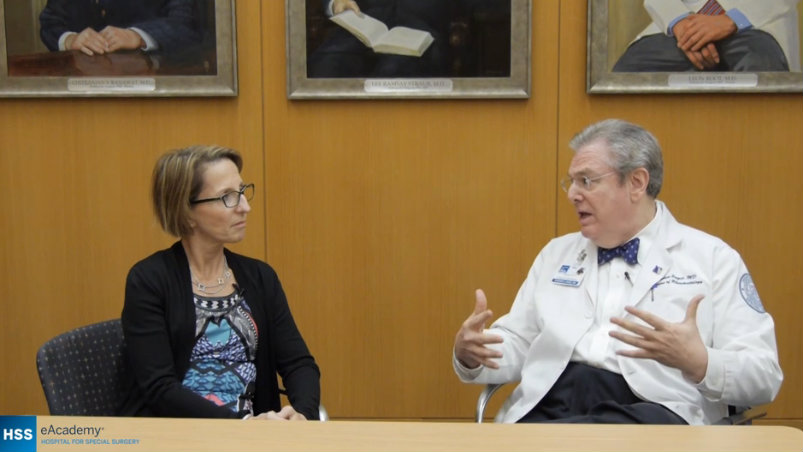 Vivian P. Bykerk, BSc, MD, FRCPC with Stephen A. Paget, MD, FACP, FACR