By Hospital for Special Surgery Rehabilitation Department
Editors:
JeMe Cioppa-Mosca, PT, MBA
Janet B. Cahill, PT, CSCS
John T. Cavanaugh, PT, MEd, ATC
Deborah Corradi-Scalise, PT, DPT, MA
Holly Rudnick, PT, Cert MDT
Aviva L. Wolff, OTR/L, CHT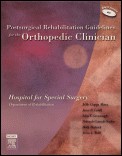 The Rehabilitation Department is proud to announce that a new, pocket-sized handbook version of the widely well-received Postsurgical Rehabilitation Guidelines for the Orthopedic Clinician has been published!
The handbook highlights the easy-to-follow phase-guideline tables found in the original textbook, encapsulating crucial information into phases of healing and rehabilitation that incorporate Goals, Precautions, Treatment Strategies, and Criteria for Advancement. This pocket guide makes a perfect companion piece to the original textbook, and we are pleased to offer this resource to you in a format that will allow you to apply what you've learned in your day-to-day treatment plans.
Please keep in mind that this booklet is intended as a companion to, and by no means a replacement of, the didactic, evidence-based content found in the original textbook. We strongly recommend that the concepts introduced in Post-Surgical Rehabilitation Guidelines for the Orthopedic Clinician be thoroughly read and understood before the information outlined in the handbook is put into practice.
You will also find the original text an invaluable resource for addressing questions and troubleshooting, in addition to the award-winning, not-to-be-missed DVD featuring over 60 minutes and over 100 clips of video presentations demonstrating specific treatment strategies, tests, and measures.
Table of Contents
I. Arthroplasty Rehabilitation
Total Hip Arthroplasty
Carmen Young Tucker, PT, Amie Diamond, PT

Total Knee Arthroplasty
Janet B. Cahill, PT, CSCS, Lisa M. Kosman, PT, MSPT

Total Shoulder Arthroplasty
John T. Cavanaugh, PT, MEd, ATC, Janet B. Cahill, PT, CSCS

Total Elbow Arthroplasty
Aviva Wolff, OTR/L, CHT

Metacarpophalangeal Joint Arthroplasty
Carol Page, PT, DPT, CHT

Hip Fractures
Sandy B. Ganz, PT, DSc, GCS
II. Hand Rehabilitation
Elbow Fractures and Dislocations
Aviva Wolff, OTR/L, CHT

Radial Head Replacement
Aviva Wolff, OTR/L, CHT

Conrtacture Release of the Elbow
Aviva Wolff, OTR/L, CHT, Emily Altman, PT, DPT, CHT

Hinged Dynamic External Fixation of the Elbow
Aviva Wolff, OTR/L, CHT, Emily Altman, PT, DPT, CHT

Distal Radius Fractures
Coleen T. Gately, PT, DPT, MS

Scaphoid Fractures
Coleen T. Gately, PT, DPT, MS

Phalangeal and Metacarpal Fractures
Carol Page, PT, DPT, CHT

Flexor Tendon Repairs
Kara Gallagher, MS, OTR/L, CHT

Extensor Tendon Repairs
Kara Gallagher, MS, OTR/L, CHT

Flexor Tenolysis
Amy Barenholtz-Marshall, OTR, CHT

Upper Extremity Surgical Intervention in Patients with Cerebral Palsy: Musculotendinous Procedures
Kara Gallagher, MS, OTR/L, CHT, Jennifer P. Lewin, OTR/L

Ulnar Nerve Transposition
Amy Barenholtz-Marshall, OTR, CHT

Thumb Carpometacarpal Joint Arthroplasty
Carol Page, PT, DPT, CHT

Ulnar Collateral Ligament Repair
Coleen T. Gately, PT, DPT, MS

Volar Plate Arthroplasty
Aviva Wolff, OTR/L, CHT

Proximal Interphalangeal (PIP) Joint Replacement
Emily Altman, PT, DPT, CHT

Dynamic External Fixation of the Proximal Interphalangeal (PIP) Joint
Emily Altman, PT, DPT, CHT

Dupuytren's Fasciectomy
Carol Page, PT, DPT, CHT
III. Pediatric Rehabilitation
Lower Extremity Surgical Intervention in Patients with Cerebral Palsy: Bone and Musculotendinous Procedures
Deborah Corradi-Scalise, PT, DPT, MA, Cathi Wagner, PT, MBA, Amanda R. Sparrow, PT

Spinal Fusion in Adolescent Idiopathic Scoliosis
Loretta Amoroso, DPT, Kelly Sindle, PT

Congenital Muscular Torticollis
Deborah Corradi-Scalise, PT, DPT, MA, Amanda R. Sparrow, PT, Loretta Amoroso, DPT
IV. Spine Rehabilitation
Lumbar Microdiscectomy
Todd Gage, PT, CSCS

Osteoporosis (Including Kyphoplasty)
Holly Rudnick, PT, Cert MDT, Kataliya Palmieri, PT, MPT

Adult Lumbar Spinal Fusion
Charlene Hannon, PT, MBA
V. Sports Medicine Rehabilitation
Hip Arthroscopy
Theresa A. Chiaia, PT, Matthew D. Rivera, PT, MPT, CSCS

Microfracture Procedure of the Knee
John T. Cavanaugh, PT, MEd, ATC, Heather Williams, PT, DPT

Patellar and Quadriceps Tendon Repair
Greg Fives, PT, MSPT, SCS

Proximal and Distal Realignment
Theresa A. Chiaia, PT

Anterior Cruciate Ligament Reconstruction
John T. Cavanaugh, PT, MEd, ATC

Posterior Cruciate Ligament Reconstruction
John T. Cavanaugh, PT, MEd, ATC

Meniscal Repair and Transplantation
John T. Cavanaugh, PT, MEd, ATC, Coleen T. Gately, PT, DPT, MS

Achilles Tendon Repair
Robert Maschi, PT, DPT, CSCS, Heather M. Cloutman, PT, MSPT, CSCS, Nicole Fritz, PT, DPT

Lateral Ankle Reconstruction
Jaime Edelstein, PT, MSPT, CSCS, Dennis J. Noonan, ATC, CMT

Rotator Cuff Repair: Arthroscopic and Open
Robert A. Maschi, PT, DPT, CSCS, Greg Fives, PT, MSPT, SCS

Subacromial Decompression
Lee Rosenzweig, PT, DPT, CHT, Adam Pratomo, PT, MSPT

Anterior Stabilization Surgery
Mickey Levinson, PT, CSCS

Posterior Stabilization Surgery
Mickey Levinson, PT, CSCS

Superior Labrum Anterior to Posterior (SLAP) Repair
Mickey Levinson, PT, CSCS

Ulnar Collateral Ligament Reconstruction
Mickey Levinson, PT, CSCS