A Presentation in Honor of National Professional Social Work Month, 2013
Family caregivers were once thought of as adult children and spouses of older adults, and their caregiving involved emotional support and household and personal care tasks. Today, family caregivers encompass a broader informal network and caregiving at home has increased to include medical and nursing tasks.
This presentation will address the diversity of present day caregivers, the challenges they have traditionally faced, and the more recent demands placed upon them by a changing health care system. Strategies will be offered for responding to a variety of family caregivers and their situations and promoting a productive partnership on behalf of the patient and family.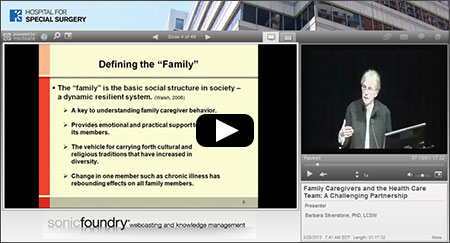 Learning Objectives:
Recognizing the diverse spectrum of family caregivers of older adults.
Increasing awareness of the critical roles played by family caregivers in health care.
Acquiring strategies for assessing the family situation and engaging family caregivers in the fast-paced medical setting.
Reviewing helpful interventions with families including emotional and practical support and empowering them as advocates.

About Barbara Silverstone, PhD, LCSW
Barbara Silverstone's career has spanned direct practice, teaching, and administration with an unflagging interest in family caregiving. Currently a consultant to health and social service organizations, she served as President and CEO of Lighthouse International from 1984 to 2005. Dr. Silverstone is a former president of the Gerontological Society of America and was awarded the 1988 Outstanding Leadership Award by the American Society on Aging. Among her numerous publications are You and Your Aging Parent, first published in 1976 to popular acclaim. A fourth updated edition was released in 2008 by Oxford University Press.
Presented: 3/28/2013
Published: 1/31/2014