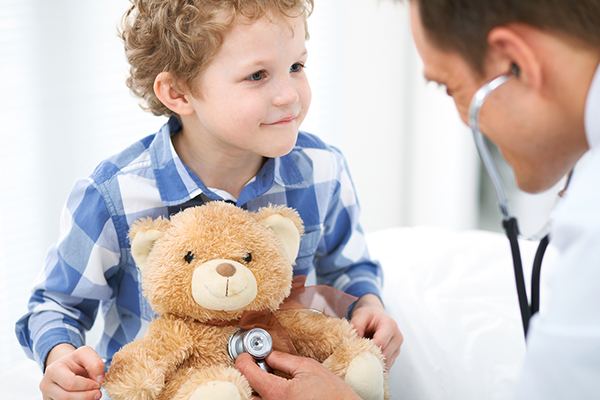 It's important for young people to be active to promote health and well-being. Newly released federal guidelines call for at least an hour of moderate to vigorous physical activity each day for school-aged children and teenagers.
Running, jumping and active playing for young children promote growth and development. Older kids and teenagers should be encouraged to engage in age-appropriate athletic activities they enjoy.
On occasion, young people are injured. A fall from the monkey bars; a bicycle accident; a twisted knee or blow to the shoulder while playing a sport. When an injury is serious, it can be agonizing for a parent. Nobody likes to see their child in pain.
Care for Common Injuries
For common injuries such as a sprained ankle or pulled muscle, most doctors recommend an over-the-counter medication such as ibuprofen or acetaminophen for pain relief. "With the opioid epidemic in this country, most health professionals now know that it's inappropriate to prescribe narcotic medication for an injury that isn't severe enough to require hospitalization or surgery," says Dr. Peter Fabricant, a pediatric orthopedic surgeon specializing in sports medicine at Hospital for Special Surgery. "We prescribe rest, over-the-counter analgesics, ice and elevation of the injured limb to control pain and enable healing. Before returning to a sport, it's important to make sure adequate healing has taken place and that the child has undergone physical therapy to ensure that strength and flexibility has returned to prevent recurrent injuries."
Pain Management for Severe Injuries
When a child or teen is hurt badly enough to require hospitalization or surgery, safe, evidence-based practices for pain management are a top priority at HSS. "Pediatric orthopedic surgeons work as a team with the Department of Anesthesiology to ensure that patients receive the appropriate pain medication, in the proper dose, for the right amount of time," Dr. Fabricant explains.
At HSS, doctors and researchers have studied pain management in depth to develop best practices that will benefit patients. The result is a multifaceted pain management system for those who have surgery.
Dr. Fabricant says the first step is patient and parent education so they know what to expect. It's normal to experience some pain after surgery. The goal is to make it manageable so that patients are comfortable and can rest and recover.
During surgery, HSS anesthesiologists use nerve block anesthesia that can be long-acting. This limits the amount of systemic narcotic pain medication required during and after surgery, and therefore reduces its side effects, such as nausea.
Is Opioid Medication Ever Needed?
It's not uncommon for patients to be prescribed opioid medication for the first day or the first few days after surgery. When prescribed carefully and appropriately, it is highly effective in managing severe pain.
"Many patients and their parents are fearful of opioid medication, and with all the news reports, it's understandable," Dr. Fabricant says. "But opioid medication is often considered medically necessary to treat pain after surgery, and under these circumstances, when prescribed and used appropriately, it has not been shown to be addictive. At HSS, we seek to prescribe the lowest dose possible for the shortest amount of time."
Pain that is poorly controlled after surgery could lead to a more serious pain situation and even slow the healing process if a joint becomes stiff or a patient is unable to participate in physical therapy. Rehabilitation is a critical factor in healing after surgery for a torn anterior cruciate ligament, a fracture, a dislocated shoulder or other serious injury.
On the first day or two after surgery, the physician, patient and parents determine if narcotic medication is still needed to control pain, or if a lower dose might be appropriate, Dr. Fabricant says. At this point, acetaminophen or ibuprofen may be sufficient. If the patient is at home, parents are urged to contact their physician's office if they need additional guidance.
Each patient is an individual, and people experience pain differently. Some recover more quickly than others. Good practices, including appropriate medication for pain, using ice, and getting adequate rest, give patients the best chance for a full recovery with the least amount of discomfort.