Co-Chairs
Alexander and Erica Crisses
Kate Doerge
Peter D. Fabricant, MD, MPH
Monica Keany
Lara Lerner
Roger F. Widmann, MD
Benefit Committee
Jennifer Argenti
Lindsery and Duke Barnett
Jamie and David Baron
Kenna Brockriede
Kimberly Cantor
H. Susan Cha, MD
Sheree Chiou and Jason Kirschner
Erica Christensen
Catherine Corry
Laura Dartnall
Paige Daly and Stephen DeBlasi
Mary Ann Deignan
Violeta Dela Cruz-Paluszek
Emily Dodwell, MD, MPH
Meredith and Carl Doerge
Shevaun Doyle, MD
Stephanie Drescher-Gorman
Randall Flinn
Bill and Susan Foley
John and Diana Fredericks
Sarah Jane and Trevor Gibbons
Megan and Tim Grant
Daniel W. Green, MD, and Brenda Green
The Grover/Scher Family
Kenneth V. Handal and Mary Francina Golden
Charissa Huan and Russel Huang, MD
Lisa S. Ipp, MD, and Kurt V. Voellmicke, MD
Jessica Ritt Jacobs
Neil and Sarita Jairath
Elisabeth Jones-Hennessy
Kristen Klabin
Blair Klaff
Kim Klimczak
Kristy and Jonathan Korngold
Mariko and Matthew LeBaron
Aliza Licht
Michelle Marra
Deirdre McGraw
Son McLaren, MD, MS
Noel Momsen
Nitika and Patrick Moran
Mary Kathryn Navab
Samantha and Bryce O'Brien
Brian and Emilia Pfeifler
Dana Ranawat
Kristin Reynolds
Hanna Richheimer
Paula Root
Jennifer Sauer
Emily and David Schaible
David M. Scher, MD, and Nancy B. Scher
Dr. and Mrs. Thomas P. Sculco
Michael Shweky
Sara Story
Liz and Ed Swenson
Rosanna Troiano
Sara Weiner, PhD
Miriam Widmann
McCartney and Jay Wilkins
Julie and Sam Zarou
Soofian Zuberi and Dr. Fatima Zuberi
Benefactor Sponsors
Luanne Spadea-Nachmann and Marc Nachmann
Champion Sponsors
Monica Keany and Dan Zwirn
McCartney and Jay Wilkins
Gold Sponsors
BlackRock
Kimberly and Matt Cantor
Citi
Mary Ann Deignan
Kate and Chad Doerge
Kenneth V. Handal and Mary Francina Golden
Johnson & Johnson
Kim and Sean Klimczak
Lara Lerner
Thomas H. and Amanda Lister
Mary Kathryn Navab
RBC Capital Markets
Skadden, Arps, Slate, Meagher, and Flom LLP
Olivia Voellmicke
Kendrick R. Wilson III and Ann Jackson
Silver Sponsors
Ameriprise
Sheree Chiou and Jason Kirschner
Catherine Corry and Dereck McNulty
Bernard and Cynthia Curry
Michael P. and Wendy Esposito
Allison Schneirov Fisch and Steven Fisch
Flipp Corporation
Bill Ford and Marigay McKee
Fried, Frank, Harris, Shriver and Jacobson LLP
General Atlantic Foundation
GE Healthcare
The Grover/Scher Family
iStar
Jessica and Todd Jacobs
Paul, Weiss, Rifkind, Wharton and Garrison LLP
Hanna and Bret Richheimer
Jennifer and Claudio Sauer
The Wagner Family
Sara and Scott Weiner
Wix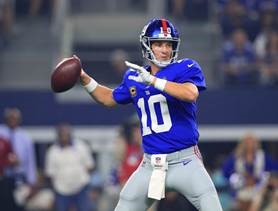 Exclusive Auction Item
Virtual Visit with Eli Manning
New York Giants Superstar
Give your child a once-in-a-lifetime opportunity to meet Eli Manning at a virtual visit to their school class or birthday party in 2021.
For 15 minutes, they will have the chance to ask one of the best quarterbacks in NFL history about his career, his passions, advice on how to be successful, and to tell Eli all about themselves as well.
Value: Priceless
Starting Bid: $2,000
Auction closes on Saturday, November 14, 2020 at 9:00 PM Eastern
Whether on the playground or on the ball field, children are susceptible to bone injury. When it comes to fast-growing bones, there's no time to lose. Early diagnosis and the right treatment are of utmost importance for a child's long-term health and mobility. For those children with some of the most debilitating musculoskeletal conditions, such as cerebral palsy, brittle bone disease, and juvenile rheumatoid arthritis, treatment by specialists who are the best in the world makes all the difference. That is why so many parents entrust the care of their children to the Lerner Children's Pavilion at HSS – for the specialized skill, expertise, and experience that only we can offer.
Nationally ranked No. 1 in orthopedics and as a best children's hospital for pediatric orthopedics in New York City by U.S.News & World Report (2020-2021), HSS has been helping kids get safely back in the game of life for more than 150 years. Today, we continue to be dedicated to the treatment and rehabilitation of children, with over 50,000 pediatric patient visits per year. HSS is proud to provide all-star care for athletes in the Big Leagues and the Little Leagues, serving as the Official Hospital of the Brooklyn Nets, New York Giants, New York Knicks, and New York Mets, and overseeing care for athletes in virtually every sport and at every level of play.
Our vision at HSS is to create a better future for every child who needs us through unparalleled care and research. Every day, our scientists are conducting groundbreaking orthopedic research that is helping to dramatically improve surgery, making procedures more accurate and less invasive for children. Our researchers are discovering and developing innovative therapies and promising new treatments, with the goal of one day ridding the world of these disabling conditions.
Please join us for this year's virtual HSS Family Benefit to help us create a better future for the children we serve. If you are unable to participate, we hope you will consider making a donation.