Benefit Co-Chairs
Alexander and Erica Crisses
McCartney and Jay Wilkins Roger F. Widmann, MD
Kate Doerge Jessica H. Heyer, MD Monica Keany Lara Lerner Sara Weiner, PhD
Benefit Committee
All-Star Sponsorship
BlackRock
McCartney and Jay Wilkins
Junghyun Yoo
Champion Sponsor
William E. Ford
Marc and Florencia Gabelli
ICE
Jefferies
Monica Keany and Dan Zwirn
Deirdre and Ryan McGraw
RBC Capital Markets
State Street
Gold Medal Sponsor
BNY Mellon
Citi
Alexander and Erica Crisses
Mary Ann Deignan
Steven and Roberta Denning
Kate and Chad Doerge
Kenneth V. Handal and Mary Francina Golden
Kim and Sean Klimczak
Lara Lerner
Thomas H. and Amanda Lister
Skadden, Arps, Slate, Meagher & Flom LLP
Sara and Scott Weiner
Silver Medal Sponsor
Ameriprise Financial
Bank of America
Anonymous
BNP Paribas
Boston Consulting Group
Breakthru Beverage
Catherine Corry and Derek McNulty
John and Andra Ehrenkranz
Envestnet
Allison Schneirov Fisch and Steven Fisch
General Atlantic Foundation
The Grover/Scher Family
Harry Winston, Inc.
iCapital
Jones Lang LaSalle Brokerage, Inc.
Blair Klaff
KPMG, LLP
The Leticia and Eduardo Azar Foundation
Mr. and Mrs. H. Irwin Levy
LSE Group
New York Life
Northern Trust
Andrew and Darcy Nussbaum
Paul, Weiss, Rifkind, Wharton & Garrison LLP
Jennifer and Claudio Sauer
Stephen & The Linchpins
Story Garschina Foundation
Unqork
VaynerMedia
Verizon
Bronze Medal Sponsor
Jamie and David Baron
Laura and Karim Belkhayat
Kimberly and Matthew Cantor
Sheree Chiou and Jason Kirschner
Andrew and Elizabeth Cohen
Department of Anesthesiology, Critical Care & Pain Management / East River Medical Associates, P.C.
Kevin and Anja Dreyer
William and Susan Foley
Marjorie Hirshberg
Jon Hlafter and Claudia Hamilton
ITC Infotech
Jessica and Todd Jacobs
Kristy and Jonathan Korngold
Medtronic
Celene Menschel & Alex Egan
Microsoft
Stephen and Beverly Mills
New York Red Bulls
Brian and Emilia Pfeifler
Anupama Poole
PwC
Hanna and Bret Richheimer
Stifel
Rosanna and John Troiano
Warburg Pincus
West Monroe
Gavin White
Dr. and Mrs. Roger F. Widmann
Robert D. Yaffa
Join us for Hospital for Special Surgery's All-Star Family Benefit!
Play basketball, soccer, and football
Hit in the batting cages
Scale the rock climbing wall
Do Gymnastics
Land a layup with NY Knicks Legend John Wallace
Throw a touchdown pass with New York Giants Legend, David Tyree
Carnival games, face painting, art projects
Food and drinks for all ages!
Take a picture with Mr. Met, Dale the Eagle, and Ellie the Elephant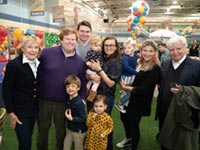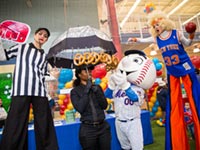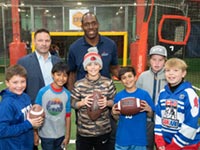 Whether on the playground or on the ball field, children are susceptible to bone injury. When it comes to fast-growing bones, there's no time to lose. Early diagnosis and the right treatment are of utmost importance for a child's long-term health and mobility. For those children with some of the most debilitating musculoskeletal conditions, such as cerebral palsy, brittle bone disease, and scoliosis, treatment by specialists who are the best in the world makes all the difference. That is why so many parents entrust the care of their children to the Lerner Children's Pavilion at HSS – for the specialized skill, expertise, and experience that only we can offer.
The Lerner Children's Pavilion at HSS consists of a team of specialty-trained pediatric orthopedic surgeons, rheumatologists, anesthesiologists, and pediatricians that attend to over 50,000 pediatric patient visits per year and is recognized as one of the few institutions with the skill and expertise to care for children living with complex and devastating bone and joint conditions. The Lerner Children's Pavilion is now recognized as a top 10 hospital nationwide and is once again ranked the number one hospital in the New York tri-state region for Pediatric Orthopedics by U.S. News & World Report.
Funds from the Annual Pediatric Benefit will support ground-breaking research initiatives, access to medical care for disadvantaged families, and enhancements to the Child Life program to help make our patients feel at ease during their visit. Please share your support to help us create a better future for the children we serve.