Well Worth It: Referral from Olympic Gold Medal Champion Brings Russian Businessman to HSS for Hip Replacement
When 50-year-old Alexander Brum from Moscow needed a total hip replacement for severe arthritis, he turned to his Russian friend Alexei Yagudin for advice. Yagudin, one of the most popular Olympic gold-medal figure skaters of all time, did not hesitate. He told him about Dr. Geoffrey Westrich at Hospital for Special Surgery. Yagudin had surgery with Dr. Westrich several years ago and did quite well.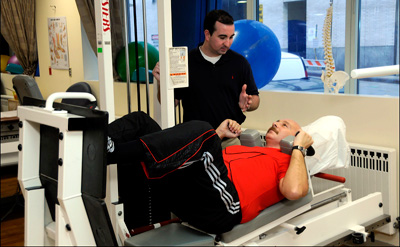 Mr. Brum was looking for the best doctor, hospital, and rehabilitation program he could find, so he made the long trip to the U.S. for an initial consultation with Dr. Westrich in February. The Russian businessman was impressed with the doctor and came back in October for hip replacement surgery. He brought six family members and friends, some of whom speak fluent English. They stayed across the street from HSS at the hospital's Belaire Guest Facility, a convenient and comfortable location catering to patients who come from out of town.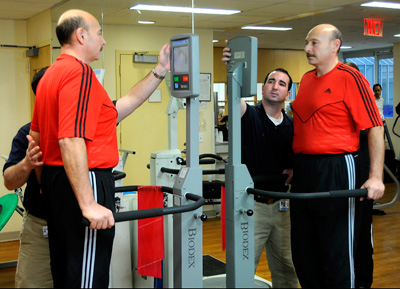 Mr. Brum says his decision to come to HSS "was a wise choice." He is very pleased with the care he received from Dr. Westrich and with his rehabilitation following surgery. Although there are excellent surgeons in Russia, the post-surgical care and physical therapy are not on the same level, according to Mr. Brum. After joint replacement in Russia, patients spend most of the next two weeks in bed. At HSS, patients are generally out of bed and walking the day after total hip replacement. Recovery would take much longer in Russia.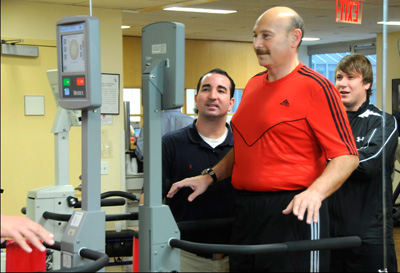 Mr. Brum is so enthusiastic about his rehabilitation at HSS, he decided to go five days a week. "He is very motivated, he works very hard, and has done very well," says Charles Fisher, PT, MPT, the physical therapist working with Mr. Brum at the Hospital's Joint Mobility Center, which is part of the Rehabilitation Department. The Center specializes in rehabilitation following joint replacement.
"Mr. Brum enjoys coming here, and although he doesn't speak English, he often says 'super' and gives me a thumbs-up," Charles adds. Communication is never a problem, because an interpreter is always present at the physical therapy sessions.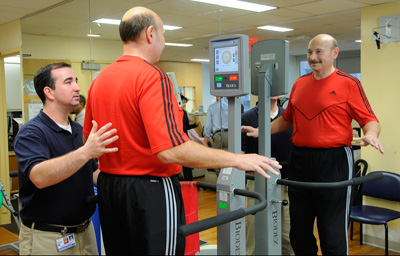 Rehabilitation is critical after joint replacement. Mr. Brum begins his session with a warm-up on the bicycle and then does supervised strengthening, stretching, and balance exercises. "Physical therapy teaches people the basics of what they can and cannot do after surgery. It gives them exercises to help them get as strong as possible, as quickly as possible, so people can return to their everyday lives, free of pain," Charles explains.
After years of suffering with severe arthritis, Mr. Brum is now pain-free and looking forward to getting back to normal activities. He says the trip to HSS for surgery was well worth it.