Welcome to the HSS PACS portal. As one of our valuable referring physicians and/or healthcare providers to HSS patients, this site is being provided to help you continue to provide the best possible care to your patients. When using this link to view your patient's images, it is imperative that you adhere to the mandated HIPAA safeguards and hospital policies and procedures regarding patient information and patient privacy. To satisfy this requirement, a secure password is necessary.
Requesting Access to HSS PACS
If you are a first time user, you will need to obtain a username and secure password.
To obtain your secure password, please call the HSS PACS Team at 212.606.1629.
If you ever encounter technical difficulty at any time, please contact Positive Networks at 1.800.393.7969.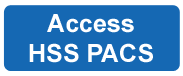 Your PACS Support Team
The Department maintains a PACS Team to assist you. The PACS Team is available to you from 7AM to 7PM, Monday-Friday. Should you encounter a problem accessing PACS or have a question on its use, please give us a call, we're here to help. Before and after these hours, there is support from the HSS IT Helpdesk at 212.606.1446.
Tai Denunzio
Assistant Director, Radiology IT Systems
212.774.7236

Angelo Ginos
Systems Administrator
212.774.2752

Maria Toro
PACS Administrator
212.774.7230

Sean Faison
PACS Analyst
646.797.8752

Tyruel Hinds
RIS Analyst
212.774.7287

Catherine Killian
Quality Assurance Manager
212.774.7238
Note to Our Patients
HSS PACS is medical system for physician use only. If you are a patient and seeking copies of your medical images, please contact our File Room at 212.774.7356.