New York, NY—February 5, 2015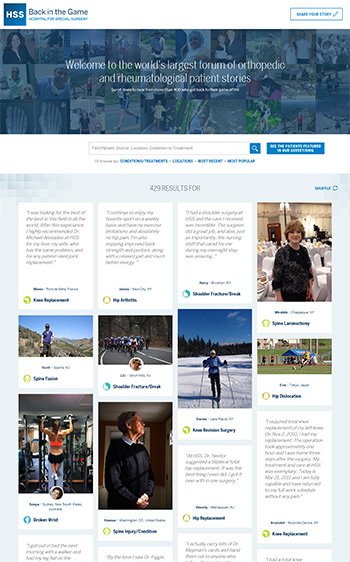 Recognizing that consumers rely on the experience of others when choosing elective care, the top-ranked orthopedic hospital today introduced an unprecedented online forum where hundreds of patient-submitted stories are searchable by type of care, physician, and patients' hometown. Because patients come to Hospital for Special Surgery (HSS) from 105 countries and all 50 states, the stories cover a wide range of afflictions, aspirations, and outcomes. The site (hss.edu/backinthegame) debuts with more than 400 stories, but that number is expected to rise quickly as it becomes known to the nearly 30,000 patients served by HSS annually.
"This new forum connects our patients' desire to share their experiences with the desire of those considering similar care to hear from people they can relate to -- beyond the handful of testimonials that every physician touts," said John Englehart, Chief Marketing Officer at Hospital for Special Surgery. "It demonstrates that while many associate HSS with maintaining the performance of top professional athletes, that same quality of care is helping essentially anyone to get back to doing whatever they need and want to do."
Visitors to the site can easily filter stories to find the ones most relevant to their needs, and can share them with friends and family on social media -- either directly from the site or by using the hashtag #BackintheGame.
"We know that physical ailments can take an emotional toll on anyone," added Englehart. "We also know that, often, people want to talk about their experiences; they want to connect, share, and relate with others who may be afflicted in the way they once were. As a leader in the field, we have a responsibility and opportunity to help, using the digital and social media consumers use every day."
How Kevin Love, Forward, Cleveland Cavaliers Got Back in the Game
"Every professional athlete's worst fear is getting injured and being unable to play the game they love. In January 2013, I broke my hand twice in one season and had to have surgery to fix my third and fourth metacarpal bones. I saw Dr. Michelle Carlson at Hospital for Special Surgery who performed a successful surgery. The level of care and service I received at HSS had me confident when I stepped back on the court in the fall, and after my surgeries at HSS I had my best season in the NBA by far."
Check out Kevin's full story at https://backinthegame.hss.edu/story/kevin-love/.
How Paul Dlug of Miller Place, NY Got Back in the Game
At a dance I tripped on a chair, fell on my left side, and my left femur separated from my hip. Being in much pain, the local fire department took me to a nearby hospital in Long Island where I was operated on the next day for a partial hip replacement…after five weeks I developed a staph infection that put me back in the hospital for 25 days... My eldest son of four children did some research and found on the internet that Dr. Geoffrey Westrich of Hospital for Special Surgery who did reconstructive hip surgery and advised me to go into the city to have it performed. I saw Dr. Westrich and after looking at my x-rays and with a consultation with him, he decided to take my case… everyday (I) am feeling stronger and better."
Check out Paul's full story at https://backinthegame.hss.edu/story/paul-dlug/.
For more information on "Back in the Game" visit hss.edu/backinthegame.
About HSS | Hospital for Special Surgery
HSS is the world's leading academic medical center focused on musculoskeletal health. At its core is Hospital for Special Surgery, nationally ranked No. 1 in orthopedics (for the ninth consecutive year) and No. 3 in rheumatology by U.S.News & World Report (2018-2019). Founded in 1863, the Hospital has one of the lowest infection rates in the country and was the first in New York State to receive Magnet Recognition for Excellence in Nursing Service from the American Nurses Credentialing Center four consecutive times. The global standard total knee replacement was developed at HSS in 1969. An affiliate of Weill Cornell Medical College, HSS has a main campus in New York City and facilities in New Jersey, Connecticut and in the Long Island and Westchester County regions of New York State. In 2017 HSS provided care to 135,000 patients and performed more than 32,000 surgical procedures. People from all 50 U.S. states and 80 countries travelled to receive care at HSS. In addition to patient care, HSS leads the field in research, innovation and education. The HSS Research Institute comprises 20 laboratories and 300 staff members focused on leading the advancement of musculoskeletal health through prevention of degeneration, tissue repair and tissue regeneration. The HSS Global Innovation Institute was formed in 2016 to realize the potential of new drugs, therapeutics and devices. The culture of innovation is accelerating at HSS as 130 new idea submissions were made to the Global Innovation Institute in 2017 (almost 3x the submissions in 2015). The HSS Education Institute is the world's leading provider of education on the topic on musculoskeletal health, with its online learning platform offering more than 600 courses to more than 21,000 medical professional members worldwide. Through HSS Global Ventures, the institution is collaborating with medical centers and other organizations to advance the quality and value of musculoskeletal care and to make world-class HSS care more widely accessible nationally and internationally.