Earns Acclaim as "America's Best Hospital for Orthopedics"
NEW YORK, N.Y.—July 13, 2007
Hospital for Special Surgery (HSS) has been named the top hospital in the nation in orthopedics by U.S.News & World Report in its 2007 "America's Best Hospitals" survey. Hospital for Special Surgery also ranked third in the nation for rheumatology. For the 17th consecutive year, HSS has ranked above all other hospitals in the Northeast in orthopedics and rheumatology.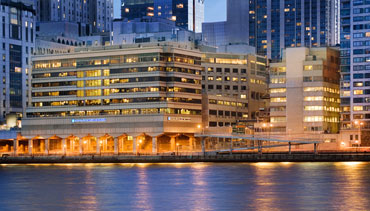 Hospital for Special Surgery

Download the high quality image
(right-click, choose "Save Target As" or "Download Linked File")
"Our number one position on U.S.News & World Report's Best Hospitals list in orthopedics is not only a tremendous honor but underscores the talent and commitment of the HSS staff," said Louis Shapiro, President and CEO of Hospital for Special Surgery. "The increasing number of people who choose to come to HSS was recognized as a factor for our first place ranking. It also confirms the quality of the excellent patient experience here, which we all work hard to instill each day."
"This is a tremendous honor for the orthopedic staff and HSS and it is the result of the excellence in clinical care, research and education that we provide," said Thomas P. Sculco, M.D., surgeon-in-chief. "This recognition would not be possible without the incredible Hospital staff and administration that provide the superb care and environment for orthopedics."
To further illustrate Hospital for Special Surgery's leadership in orthopedics, the Hospital is featured in an exclusive photo essay on knee replacement. Hospital for Special Surgery's innovation in the field of knee replacement is well chronicled - it pioneered total knee replacement and has perfected minimally invasive knee procedures to speed recovery and reduce patients' hospital stay. Last year, HSS performed more than 2,500 knee replacements, which is the greatest number of knee replacements in the nation.
Surgeons at HSS perform more than 18,000 orthopedic surgeries per year. Physicians from its Sports Medicine and Shoulder Service are associated with major professional sports teams including the New York Mets, New York Football Giants, New York Knicks, Nets Basketball, New York Liberty Basketball, New York Red Bulls, the Association of Tennis Professionals and the U.S. Rowing Team. Additionally, the Hospital has established a number of specialty centers including innovative centers for Women's Sports Medicine and Osteoporosis Prevention. Other special services include the Mary Kirkland Center for Lupus Research, the Barbara Volcker Center for Women and Rheumatic Disease, the Gosden-Robinson Early Arthritis Center, and the Center for Skeletal Dysplasias.
"This recognition is not only a great achievement by our orthopedic surgery and rheumatology departments," said Mr. Shapiro. "They are also crowning achievements for all our services who work hand in glove with these departments, including but certainly not limited to physical medicine and rehabilitation, anesthesiology, radiology, nursing, and all the members of the HSS family who support these departments."
U.S.News & World Report's "America's Best Hospitals" is a resource for consumers seeking the highest quality care in 16 medical specialties. With more than 5,000 hospitals evaluated nationwide, rankings are based on reputation and such measures of quality as patient volumes and mortality rates as well as nursing care and technology services.
About Hospital for Special Surgery
Hospital for Special Surgery (HSS) is the world's leading academic medical center focused on musculoskeletal health. HSS is nationally ranked No. 1 in orthopedics and No. 2 in rheumatology by U.S. News & World Report (2016-2017), and is the first hospital in New York State to receive Magnet Recognition for Excellence in Nursing Service from the American Nurses Credentialing Center four consecutive times. HSS has one of the lowest infection rates in the country. HSS is an affiliate of Weill Cornell Medical College and as such all Hospital for Special Surgery medical staff are faculty of Weill Cornell. The hospital's research division is internationally recognized as a leader in the investigation of musculoskeletal and autoimmune diseases. Hospital for Special Surgery is located in New York City and online at www.hss.edu.