Brian Williams Hosts Gala Event
New York, NY—June 17, 2014
Hospital for Special Surgery (HSS) paid tribute to William R. Salomon, honorary chairman of Citigroup, in celebration of his 100th birthday and longstanding relationship with HSS at the hospital's 31st Annual Tribute Dinner on June 16 at the Waldorf=Astoria.
The gala also honored Jo A. Hannafin, MD, PhD, attending orthopedic surgeon and director of Orthopedic Research at HSS, with the Lifetime Achievement Award. A three-time national rowing champion and silver medalist at the 1984 World Championships, Dr. Hannafin now serves as the official doctor for a number of professional sports teams.
Brian Williams, anchor and managing editor of NBC Nightly News, served as toastmaster of the black-tie gala, which hosted more than 1,000 guests. The event raised 3.6 million dollars for education, research and patient care at Hospital for Special Surgery.
The crowd sang a chorus of "Happy Birthday" to Mr. Salomon, and a decorative birthday cake was presented for the occasion. "Hospital for Special Surgery is a wonderful place and I'm so appreciative of this great honor," he said.
"It gives us great pleasure to have the opportunity to honor Billy Salomon, a dedicated HSS Board member for decades and one of the hospital's most revered and generous friends," said Louis Shapiro, president and CEO of HSS.
The event also paid tribute to one of the most distinguished women in the field of orthopedic surgery today. "Dr. Jo Hannafin has been able to reach levels of success and excellence beyond what most orthopedic surgeons achieve," said Thomas P. Sculco, MD, HSS Surgeon-in-Chief.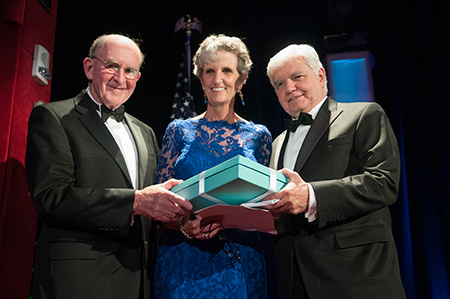 (Left to Right) Dr. Russell Warren, Chief Emeritus Sports Medicine Service, Dr. Jo A. Hannafin, director of Orthopedic Research and Dr. Thomas P. Sculco, Surgeon-in-Chief
"I am honored and equally humbled to receive this award. HSS is an extraordinary institution with a singular focus on musculoskeletal diseases and injury," Dr. Hannafin said. "Because of this focus we are able to provide outstanding patient care, innovative research, and educational opportunities for medical students, residents, fellows, and orthopedic surgeons from around the world."
William (Billy) Salomon
Mr. Salomon, known as Billy, has long been a cherished member of the HSS family as an ardent supporter and Life Trustee after joining the Board more than 35 years ago. His exceptional philanthropy has improved the lives of countless patients through his support of The Virginia F. and William R. Salomon Rehabilitation Department and the endowed research chair in his name. Over the course of nearly half a century, he has participated in the growth and evolution of HSS with exceptional service and dedication.
Mr. Salomon was born and raised in New York City. At age 19, he joined his father's firm, Salomon Brothers. During the 1960s and 1970s, he served as senior managing partner, leading the firm's transformation from a small bond-trading house to one of the largest and most profitable investment banks in the U.S.
He has led a distinguished life of public service. He joined the U.S. Army Air Forces during World War II and volunteered with various nonprofit boards during his career in investment banking.
Jo A. Hannafin, MD, PhD
Dr. Hannafin, who specializes in sports medicine, is director of Orthopedic Research at Hospital for Special Surgery and orthopedic director of the Women's Sports Medicine Center at HSS. The Center, which she co-founded in 1997, was the first such facility of its kind in the United States.
Dr. Hannafin focuses on injury treatment and prevention in athletes and active individuals. She was the first clinician-scientist at HSS with a research program in ligament physiology. She has published more than 80 papers in peer-reviewed journals, written 20 book chapters and co-authored the book, "Say Goodbye to Knee Pain."
She is currently head team physician for the Women's National Basketball Association New York Liberty. A lifelong rower and a physician for the U.S. Olympic Rowing team, she also serves as a team physician for the United States Rowing Team. She is a member of the FISA Medical Commission and is vice president of the Board of Trustees of the National Rowing Foundation.
Last July, Dr. Hannafin became the first female president of the prestigious American Orthopaedic Society for Sports Medicine. In March 2013, she was honored by Castle Connolly Medical Ltd. as a Physician of the Year.
She has treated numerous first responders from the New York City Fire Department, and they will be among those honoring her at the HSS gala.
Hospital for Special Surgery paid tribute to William R. Salomon, honorary chairman of Citigroup and Orthopedic Surgeon, Jo A. Hannafin, MD, PhD, at the hospital's 31st Annual Tribute Dinner on June 16 at the Waldorf=Astoria.