Student fundraises for Haiti
Times Herald-Record Online—Middletown, N.Y.—May 27, 2010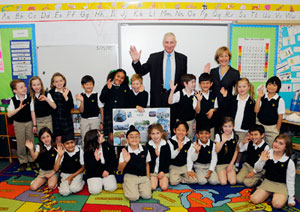 Tuxedo Park School first-grader Matthew Bellaurdo, 6, told his friends he didn't want birthday presents this year.
Instead, he asked them to donate money to the New York City-based Hospital for Special Surgery's Haiti Relief Fund. Together, they raised $2,000.
After traveling to Haiti in January to aid victims of the earthquake, orthopedic trauma surgeon David Helfet and a member of his surgical team, nurse practitioner Patricia Donohue, came to the school earlier this month to thank the students for their generosity.
Helfet and Donohue gave the class a poster with photos from their trip to Haiti, talked with them about what their financial contribution did, and answered questions about how they perform their jobs.

Read the full article at recordonline.com.
<!IoRedDot_hdl_pageTitle>
Media Contacts
<!IoRedDot_hdl_pageTitle>
Social Media Contacts