New York—December 12, 2011
Steven R. Goldring, M.D., chief scientific officer, has been named the first Richard L. Menschel Research Chair at Hospital for Special Surgery. A gift of $5 million from an anonymous donor will permanently endow the position of the Hospital's chief scientific officer.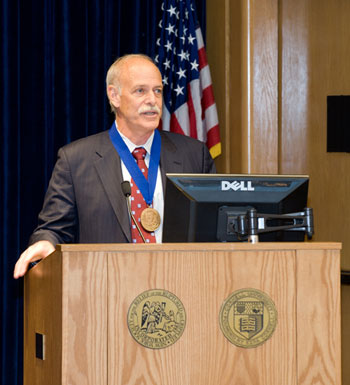 Steven R. Goldring, M.D.
This chair honors Richard L. Menschel, Hospital for Special Surgery chairman emeritus and a senior director, The Goldman Sachs Group, L.P., who has been a vital proponent of the Hospital's focus on research. In addition to providing leadership for the HSS Research Division, Dr. Goldring's research objective is to translate basic research into new therapies for people with mobility disorders, with a focus on expanding the Hospital's clinical registries and advancing its Osteoarthritis Initiative.
"Extraordinary advances in medicine can be accomplished when there are partnerships between visionary leaders like Richard Menschel and scientific innovators like Dr. Steven Goldring," said Louis A. Shapiro, president and CEO of Hospital for Special Surgery.
Dr. Goldring is a strong advocate of the physician-scientist. He has led the recruitment of talented scientists in the areas of arthritis and tissue degeneration, autoimmunity and inflammation, musculoskeletal integrity, and tissue engineering, regeneration and repair.
"I am truly honored to be the first holder of the Richard L. Menschel Research Chair at Hospital for Special Surgery," said Dr. Goldring. "I began my career as a clinician, but I was also fortunate enough to be in an environment that supported and promoted the great importance of research. While our focus is how best to define disease mechanisms, the ultimate goal is to apply what we learn to patient care."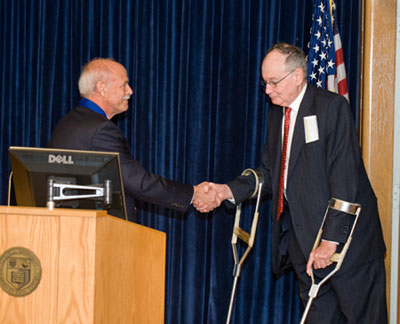 Richard L. Menschel congratulates Steven R. Goldring, M.D., following the investiture ceremony
A major initiative that Dr. Goldring will oversee is the expansion of Hospital for Special Surgery's clinical patient registries. These powerful research tools provide the foundation of clinical trials, providing an ongoing collection of confidential clinical and demographic information that can be analyzed to examine health care issues that are critical to understanding the outcome of patient care and refining treatments.
"During his tenure Dr. Goldring has taken the Research Division to new levels," said Thomas Sculco, M.D., surgeon-in-chief at Hospital for Special Surgery. "His exceptional background as a physician and researcher in arthritic conditions and bone and joint disorders makes him uniquely qualified to lead the Hospital in all areas of investigation."
"A priority for any first-rate medical institution is to have a world-class research program," said Mr. Menschel. "Dr. Goldring has led Hospital for Special Surgery into a new era of clinical and translational research."
Dr. Goldring's research focuses on understanding the cellular and genetic mechanisms involved in the regulation of bone remodeling - the process of bone recycling that occurs normally in the body, but is often impaired and altered in certain bone disorders. The ultimate goal of his research is to develop more effective approaches for some of our most difficult to treat orthopedic disorders, including osteoporosis, rheumatoid arthritis and osteoarthritis, the most common form of arthritis.
Hospital for Special Surgery's Osteoarthritis Initiative is focused on preventing and treating this chronic debilitating illness that limits the mobility and impairs the quality of life of 27 million Americans. The Initiative aims to achieve advances in understanding, preventing, diagnosing and treating osteoarthritis through a multidisciplinary approach that involves collaboration among specialties.

Dr. Goldring came to Hospital for Special Surgery in 2006 from Harvard Medical School where he was chief of rheumatology at Beth Israel Deaconess Medical Center and New England Baptist Hospital, Boston. In addition, he served as professor of medicine at Harvard Medical School. He was also director of research at the New England Baptist Bone and Joint Institute at Harvard Institutes of Medicine.