New York—April 27, 2012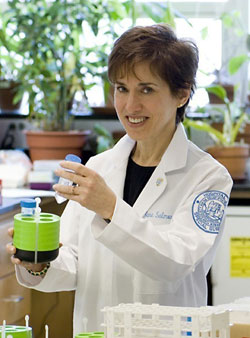 A leading Hospital for Special Surgery research scientist, Jane Salmon, M.D., was chosen to give a presentation at the 25th anniversary celebration for the National Institute of Arthritis and Musculoskeletal and Skin Diseases (NIAMS). This lecture, now archived on the NIAMS anniversary symposium web site, described how unconventional hypotheses can lead investigators to discoveries that have great impact on patient care.

Such an unconventional, "outside the box" approach developed data in animal models about the critical role of complement proteins that allowed Dr. Salmon and her laboratory to launch the PROMISSE Study, an initiative that has expanded knowledge about pregnancy in patients with lupus. According to Dr. Salmon, Collette Kean Research Chair at HSS, PROMISSE (Predictors of Pregnancy Outcome: Biomarkers in Antiphospholipid Syndrome and Systemic Lupus Erythematosus) has identified biomarkers that predict poor pregnancy outcomes in lupus patients and has shown that women with lupus are likely to have a healthy pregnancy if their lupus is stable at conception.
"PROMISSE validates the importance of using animal models to study human disease. Without our findings in mice, nobody would have considered complement as a mediator of pregnancy complications in lupus patients," said Dr. Salmon. "This was entirely unconventional. Complement proteins have been considered as useful primarily to fight off infections. The notion that they could play a key role in pregnancy complications was revolutionary."
Lupus, which predominantly presents in women during their reproductive years, is a chronic autoimmune inflammatory disease in which the body's immune system attacks tissues in the body. Various genetic mutations make a person more susceptible to the disease, which may relate to one's response to environmental factors such as viruses. Historically, women with lupus have been advised to avoid becoming pregnant because of risks to their own health and the health of their fetus. Pregnant women with lupus often develop hypertension and preeclampsia, which can lead to fetal loss and threaten the life of the mother.
In an effort to understand the mechanisms of the disease, and with funding from NIAMS, researchers at HSS developed a mouse model of lupus by injecting pregnant mice with antiphospholipid antibodies (aPLs). "Antiphospholipid antibodies are the strongest predictor of pregnancy loss and complications in lupus," said Dr. Salmon. In experiments in mice that were deficient in different proteins that cause inflammation, researchers made strides in understanding the disease. "What we discovered unexpectedly was that the complement cascade was critical to mediating damage," said Dr. Salmon, explaining that the cascade involves 30 proteins. "When there is inappropriate complement cascade activation, there can be tissue damage." Further research showed that by inhibiting complement, they could save pregnancies in mice.
This research led to the prospective observational PROMISSE study that involves nine centers including HSS and roughly 700 patients with lupus and/or aPLs. Participants are monitored with monthly checkups and research laboratory studies looking at genes and circulating proteins that may predict the course of pregnancy. The study has led to a number of key findings. First, the prevalence of poor pregnancy outcomes in patients with lupus is lower than expected. Second, mild to moderate and severe lupus flares are extremely infrequent in pregnant lupus patients who are clinically stable at conception and these patients go on to have normal pregnancies. "We can counsel patients that it is important to wait until their lupus is stable before embarking on pregnancy, and we can predict that at that point their outcomes are likely to be good," Dr. Salmon said.
Researchers have also discovered that lupus anticoagulant, a type of aPL, is the most powerful predictor of poor outcomes in lupus patients. This supports close monitoring of patients with these antibodies and allows doctors to avoid aggressive and potentially dangerous treatments in other lupus patients. Researchers also now know that circulating anti-angiogenic factors – substances that inhibit the placenta from developing properly - are biomarkers that predict preeclampsia in patients with lupus and/or aPL antibodies. "We have learned that activation of complement early in pregnancy can be detected in the blood of women destined to have preeclampsia, and these are women may benefit the most from newly developed drugs that target the complement cascade," said Dr. Salmon.
A final key finding is that genetic mutations that are associated with uncontrolled complement activation present in some lupus patients who develop preeclampsia. "We studied non autoimmune patients with preeclampsia and found mutations in the same pathway," said Dr. Salmon. "Thus, we now have an understanding of a manifestation of a relatively uncommon disease that can be very important for a major public health problem, preeclampsia, which occurs in up to 4 percent of women in their first pregnancy."
The ongoing PROMISSE study was launched in 2003 and will continue through 2013. It has been supported by $12.3 million in support from NIAMS and the Office of Research in Women's Health.
To watch Dr. Salmon's presentation visit, www.niams.nih.gov/25th_anniversary/symposium.asp.
About HSS | Hospital for Special Surgery
HSS is the world's leading academic medical center focused on musculoskeletal health. At its core is Hospital for Special Surgery, nationally ranked No. 1 in orthopedics (for the ninth consecutive year) and No. 3 in rheumatology by U.S.News & World Report (2018-2019). Founded in 1863, the Hospital has one of the lowest infection rates in the country and was the first in New York State to receive Magnet Recognition for Excellence in Nursing Service from the American Nurses Credentialing Center four consecutive times. The global standard total knee replacement was developed at HSS in 1969. An affiliate of Weill Cornell Medical College, HSS has a main campus in New York City and facilities in New Jersey, Connecticut and in the Long Island and Westchester County regions of New York State. In 2017 HSS provided care to 135,000 patients and performed more than 32,000 surgical procedures. People from all 50 U.S. states and 80 countries travelled to receive care at HSS. In addition to patient care, HSS leads the field in research, innovation and education. The HSS Research Institute comprises 20 laboratories and 300 staff members focused on leading the advancement of musculoskeletal health through prevention of degeneration, tissue repair and tissue regeneration. The HSS Global Innovation Institute was formed in 2016 to realize the potential of new drugs, therapeutics and devices. The culture of innovation is accelerating at HSS as 130 new idea submissions were made to the Global Innovation Institute in 2017 (almost 3x the submissions in 2015). The HSS Education Institute is the world's leading provider of education on the topic on musculoskeletal health, with its online learning platform offering more than 600 courses to more than 21,000 medical professional members worldwide. Through HSS Global Ventures, the institution is collaborating with medical centers and other organizations to advance the quality and value of musculoskeletal care and to make world-class HSS care more widely accessible nationally and internationally.