Vermont Sports—August 27, 2008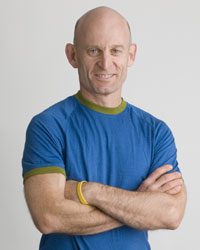 Age: 53
Residence: Marlboro
Family: Wife, Lauren; daughter Ariel, 23; son Harry, 19
Occupation: Assistant director for the estate of artist Jules Olitski
Primary Sport: Running
VS: You're a longtime marathoner who has just had his hip resurfaced. What was the nature of the injury that led you to surgery?
BP: I don't know specifically, but back in the early '90s, when my wife and I first moved here, I fell and really damaged my coccyx. I have heard that could possibly lead to some hip displacement. I had pain, and I guess like most people who have pain, you try to manage. By the end of 2001, I couldn't run anymore, it was just too painful. By that time I had already done 37 marathons and hundreds of other races, so I switched to mountain bike races. I couldn't run, but I could ride for hours. Finally I started looking into treatment.
VS: How did the surgery go?
BP: Hip resurfacing is the same procedure Floyd Landis had. They smooth out the femur and put a cap on it, and a metal sleeve inside. When I came out of the operating room, the grinding bone-on-bone pain was completely gone. I had been told that would happen. I had surgery pain, but not that ongoing pain, at all. I had spent a number of years thinking I was going to get a hip replacement. I ended up going with Dr. Edwin Su at Hospital for Special Surgery in New York. He is one of the foremost doctors in hip replacing. The resurfacing surgery has only been approved for a few years in the United States. I was supposed to have the operation in January '07, but there was a cancellation the week before November 15, 2006. They called and asked if I wanted to do it early. I said, "Let's do it!" At the time my father-in-law was going through chemo for cancer, and was in New York, also. I was there for five days. I didn't do any rehab. I was out cycling in two weeks and in five weeks I flew out to Tucson, AZ, and did a 400-mile week-long bike ride. I started running around three months later. I did the Mount Washington race seven months after my operation.
VS: Were you nervous to undergo surgery and about your athletic future?
BP: I had never expected to run again. I was just nervous about the operation, because I had never had major surgery. There's a website called Surface Hippies I found through surfing the Internet. It's a really good support group of people who had the operation and know a lot about it. It helped me feel more comfortable. I really wanted to get rid of the kind of pain I was having, which anyone who has had hip surgery can relate to. And I didn't realize how much pain I was in until after surgery. When I started running again, I was doing it very slowly and easily. Although I guess Mount Washington wasn't going slowly. My doctor was really surprised about that.
VS: You've done 39 marathons; which has been the most memorable?
BP: It took me 18 marathons to qualify for Boston. I can't remember what year it was, but it was the Vermont City Marathon, when I got under 3:20, and I knew I qualified for Boston. That was pretty significant. Then I did 3:03 at Bay State, which was my top time.
VS: What do you enjoy about long-distance races?
BP: I like to tell people it sort of keeps me sane. I was doing long-distance cycling earlier this summer—150-mile, 200-mile rides. There's a certain kind of trance that doing long distances seems to put me in. My background is as an actor, and I've been in theater my whole life. There's a play called "Cat on a Hot Tin Roof," and in that play, there's a character named Brick who is an alcoholic. The other character asks him why he drinks so much. He says, "I have to drink until I hear the click, and it takes longer and longer to hear the click." I have found that the longer I ran and the longer I cycled, the longer it took to hear that click.