New York, NY—November 3, 2017
Today, Press Ganey, a nationally recognized private company that measures patient experience, named Hospital for Special Surgery (HSS) a 2017 Press Ganey Guardian of Excellence Award® Winner. The Press Ganey Guardian of Excellence Award® was presented to HSS during their annual conference in Orlando, Florida.
"HSS is a world leader in orthopedics and rheumatology because we constantly strive for the highest standards of clinical excellence, through advanced research, innovation and our commitment to value," said Louis A. Shapiro, president and CEO at HSS. "We are honored to have earned this prestigious award for the fifth consecutive year, and we will use this momentum to continue our journey to increasingly better patient care."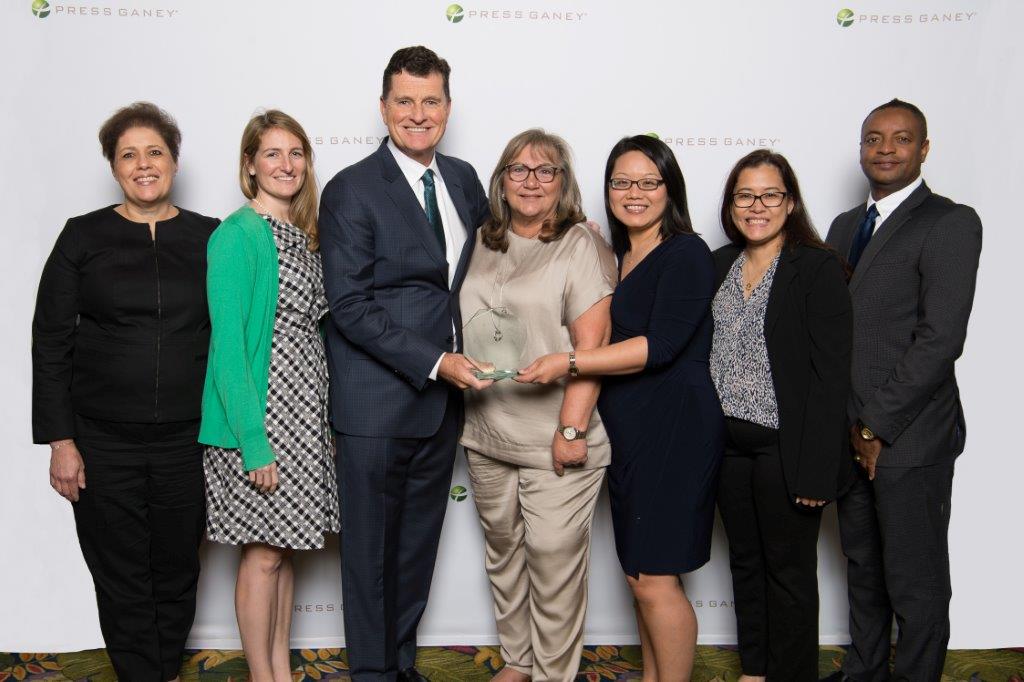 "We are proud to partner with HSS," said Patrick T. Ryan, CEO of Press Ganey. "This award is a testament to the organization's leadership in delivering patient-centered care. By achieving and sustaining this level of excellence, HSS continues to demonstrate their commitment to reducing patient suffering and advancing the overall quality of health care."
The Press Ganey Guardian of Excellence Award® is a nationally recognized achievement for those who have sustained performance in the top 5 percent for patient experience during the course of a year of data. HSS has been awarded this recognition for five consecutive years due to consistently delivering exemplary service to inpatients.
"My priority is to ensure each HSS patient achieves their best possible outcome, most reliably and efficiently," said Todd J. Albert, MD, surgeon-in-chief and medical director at HSS. "HSS physicians believe that by discussing options, questions and lifelong goals with their patients, a customized treatment road map can be created to suit each individual's need."
Press Ganey partners with more than 11,000 health care organizations, including more than half of all U.S. hospitals, to measure and improve the patient experience.
"This award is a huge milestone for HSS and an example of our dedication to treat patients with musculoskeletal conditions from near and far," said Chao Wu, chief patient experience officer at HSS. "From the first visit to follow up appointments, our team works to make each interaction special and with purpose, so our patients can go back to doing what they love."
About Press Ganey
Press Ganey is a leading provider of patient experience measurement, performance analytics and strategic advisory solutions for health care organizations across the continuum of care. With more than 30 years of experience, Press Ganey is recognized as a pioneer and thought leader in patient experience measurement and performance improvement solutions. Our mission is to help health care organizations reduce patient and caregiver suffering while improving the safety, quality and experience of care.
About HSS | Hospital for Special Surgery
HSS is the world's leading academic medical center focused on musculoskeletal health. At its core is Hospital for Special Surgery, nationally ranked No. 1 in orthopedics (for the ninth consecutive year) and No. 3 in rheumatology by U.S.News & World Report (2018-2019). Founded in 1863, the Hospital has one of the lowest infection rates in the country and was the first in New York State to receive Magnet Recognition for Excellence in Nursing Service from the American Nurses Credentialing Center four consecutive times. The global standard total knee replacement was developed at HSS in 1969. An affiliate of Weill Cornell Medical College, HSS has a main campus in New York City and facilities in New Jersey, Connecticut and in the Long Island and Westchester County regions of New York State. In 2017 HSS provided care to 135,000 patients and performed more than 32,000 surgical procedures. People from all 50 U.S. states and 80 countries travelled to receive care at HSS. In addition to patient care, HSS leads the field in research, innovation and education. The HSS Research Institute comprises 20 laboratories and 300 staff members focused on leading the advancement of musculoskeletal health through prevention of degeneration, tissue repair and tissue regeneration. The HSS Global Innovation Institute was formed in 2016 to realize the potential of new drugs, therapeutics and devices. The culture of innovation is accelerating at HSS as 130 new idea submissions were made to the Global Innovation Institute in 2017 (almost 3x the submissions in 2015). The HSS Education Institute is the world's leading provider of education on the topic of musculoskeletal health, with its online learning platform offering more than 600 courses to more than 21,000 medical professional members worldwide. Through HSS Global Ventures, the institution is collaborating with medical centers and other organizations to advance the quality and value of musculoskeletal care and to make world-class HSS care more widely accessible nationally and internationally.