New York, NY—November 3, 2016
Today, Press Ganey, a nationally recognized private company that measures patient satisfaction, named Hospital for Special Surgery (HSS) a 2016 Guardian of Excellence Award® Winner. The Press Ganey Guardian of Excellence Award is a nationally-recognized symbol of achievement in health care.
"In an environment where measuring everything from clinical outcomes to whether patients would recommend a hospital, taking into account the hospital experience is key to improving performance," said Louis A. Shapiro, president and CEO at HSS. "Every interaction with a patient is important, and well-defined measures are critical to improving what we know to be an already unparalleled experience."
"We are proud to partner with Hospital for Special Surgery," said Patrick T. Ryan, CEO of Press Ganey. "This award is a testament to the organization's leadership in delivering patient-centered care. By achieving and sustaining this level of excellence, Hospital for Special Surgery continues to demonstrate their commitment to reducing patient suffering and advancing the overall quality of health care."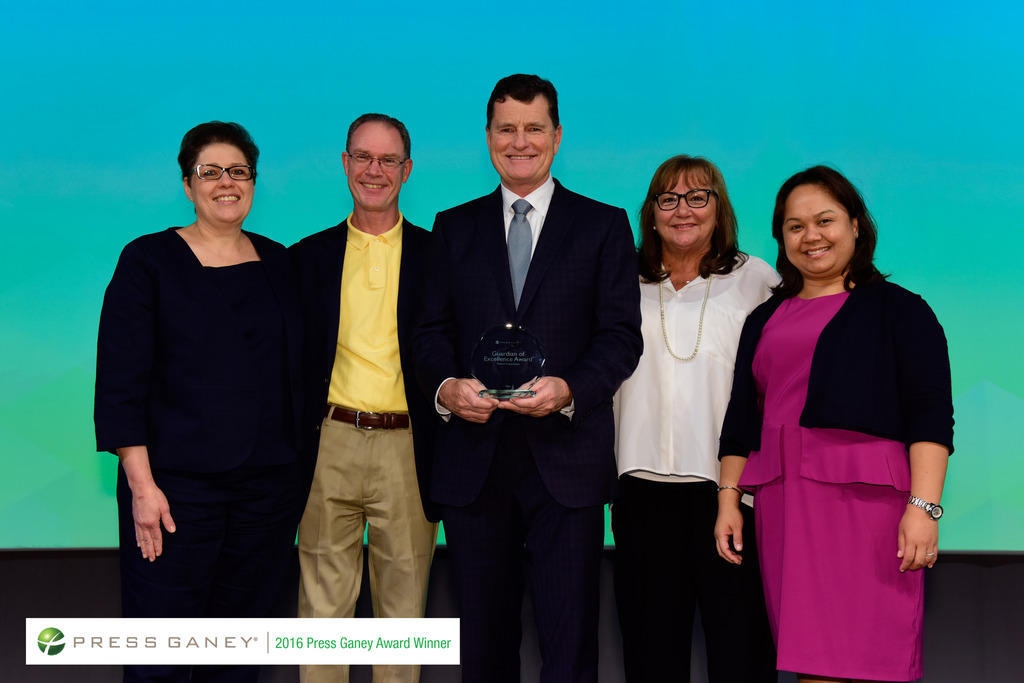 Presented annually, the award honors clients who consistently sustained performance in the top 5 percent of all Press Ganey clients for each reporting period during the course of one year. HSS has been awarded this recognition for four consecutive years for delivering outstanding service for inpatients.
"HSS physicians strongly believe in giving patients the opportunity to be active participants in their healthcare – an educated patient is a successful patient," said Todd Albert, MD, surgeon-in-chief and medical director at HSS. "This shared decision making has a direct correlation to high patient satisfaction."
"Patients chose to come to HSS from all 50 states and over 100 countries, most because of word-of-mouth endorsement," said Chao Wu, chief patient experience officer at HSS. "The commitment and world class service provided by all members of the interdisciplinary team has enabled HSS to meet and exceed the expectations of our patients and visitors to HSS."
About Press Ganey
Press Ganey is a leading provider of patient experience measurement, performance analytics and strategic advisory solutions for health care organizations across the continuum of care. With over 30 years of experience, Press Ganey is recognized as a pioneer and thought leader in patient experience measurement and performance improvement solutions. Our mission is to help health care organizations reduce patient suffering and improve clinical quality, safety and the patient experience. As of January 1, 2016, Press Ganey served more than 26,000 health care facilities. For more information, visit www.pressganey.com.
About HSS | Hospital for Special Surgery
HSS is the world's leading academic medical center focused on musculoskeletal health. At its core is Hospital for Special Surgery, nationally ranked No. 1 in orthopedics (for the ninth consecutive year) and No. 3 in rheumatology by U.S.News & World Report (2018-2019). Founded in 1863, the Hospital has one of the lowest infection rates in the country and was the first in New York State to receive Magnet Recognition for Excellence in Nursing Service from the American Nurses Credentialing Center four consecutive times. The global standard total knee replacement was developed at HSS in 1969. An affiliate of Weill Cornell Medical College, HSS has a main campus in New York City and facilities in New Jersey, Connecticut and in the Long Island and Westchester County regions of New York State. In 2017 HSS provided care to 135,000 patients and performed more than 32,000 surgical procedures. People from all 50 U.S. states and 80 countries travelled to receive care at HSS. In addition to patient care, HSS leads the field in research, innovation and education. The HSS Research Institute comprises 20 laboratories and 300 staff members focused on leading the advancement of musculoskeletal health through prevention of degeneration, tissue repair and tissue regeneration. The HSS Global Innovation Institute was formed in 2016 to realize the potential of new drugs, therapeutics and devices. The culture of innovation is accelerating at HSS as 130 new idea submissions were made to the Global Innovation Institute in 2017 (almost 3x the submissions in 2015). The HSS Education Institute is the world's leading provider of education on the topic on musculoskeletal health, with its online learning platform offering more than 600 courses to more than 21,000 medical professional members worldwide. Through HSS Global Ventures, the institution is collaborating with medical centers and other organizations to advance the quality and value of musculoskeletal care and to make world-class HSS care more widely accessible nationally and internationally.