Reconstructive Surgery Performed by HSS Doctor Enables Her to Walk Again
New York—April 30, 2010
For months, Joan Campbell was confined to a wheelchair and doubted she would ever walk again. Mrs. Campbell, who lives in Binghamton, New York, suffered complications following double knee replacement surgery. Her orthopedic surgeon in Binghamton tried to fix the problem with a second surgery on both knees, but Mrs. Campbell, who is 76, ended up in worse shape. Not only could she no longer walk, she could not stand or straighten her legs. She was confined to a wheelchair and in terrible pain.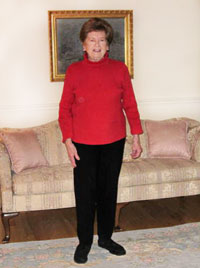 "When I went back to see the doctor in Binghamton, I felt he wasn't taking it seriously," Mrs. Campbell says. "He sent in a nurse practitioner to tell me there was nothing more he could do. The doctor would not see me."
Fortunately, a friend of Mrs. Campbell's niece told her about Hospital for Special Surgery. The friend's father needed a second surgery to fix a problem following knee replacement. A doctor at HSS was able to help him, and he was very happy with the result.
Mrs. Campbell made the four-hour trip from Binghamton to HSS in a special van her son rented to accommodate her wheel chair. She saw Dr. Alejandro Gonzalez Della Valle, a specialist in hip and knee replacement.
"Without Dr. Della Valle I'd still be in a wheelchair. He was wonderful," she says.
After a comprehensive examination, Dr. Della Valle found that Mrs. Campbell had suffered a very rare complication following joint replacement: a rupture of the patellar tendon in both her knees. That explains the "pop" she had heard, first in one knee, and then in the other, not long after she had the knee replacement surgeries.
The patellar tendon is a critical structure in the front part of the knee. It works with the kneecap and the muscles in the front of the thigh to enable us to straighten our legs. The patellar tendon attaches the bottom of the kneecap, or patella, to the top of the shinbone, or tibia. When the tendon ruptures, there is often a tearing or popping sensation, which is what Mrs. Campbell experienced.
"The kneecap and the tendons in the front part of the knee allow the patient to straighten the knee, to stand up, to go up and down stairs, and to walk," Dr. Della Valle explains. "When the patellar tendon tears completely, it's impossible to do any of these things."
Dr. Della Valle's plan to fix Mrs. Campbell's problem entailed major reconstructive surgery and a very lengthy recovery. He would perform a rare transplant operation called an "extensor mechanism allograft." Dr. Della Valle would replace the patellar tendon and kneecap in both of Mrs. Campbell's legs. He would also replace part of the joint replacement implant in her right knee. It would be her best and last hope of ever walking again.
"It's a challenging recovery, and some patients are not up for it," Dr. Della Valle noted. "But Mrs. Campbell was very stoic and enthusiastic, and she wanted to walk again."
She felt confident in Dr. Della Valle. "He was very easy to talk to. Any time I wanted to talk to him, he'd be available," she says.
Mrs. Campbell had two operations, one week apart, and both were successful. After surgery, her legs needed to be straight and immobilized so her knees could heal. Both of her legs were in a cast from her ankles to her hips for four weeks. After the casts came off, she had braces on and several months of physical therapy.
When the braces came off, she took her first steps. "I didn't think I could walk, but I did walk. I couldn't believe it," recalls Mrs. Campbell who usually uses a cane. "It makes me feel really good and my family is very happy. I can walk, go up steps, I have no pain."
Dr. Della Valle is also very pleased with the result. "I'm very happy for her. People have their knees replaced because they want to be able to move around and they want to walk. Then suddenly they're in a wheelchair, and they're told they're going to be in a wheelchair forever. Imagine how devastated that patient can be," he says. "It's very rewarding to see Mrs. Campbell coming back with a smile."
For Mrs. Campbell, the wheelchair is past history. "When I was in the wheelchair, I couldn't do anything by myself. Now I can do almost everything. I cook, I clean the house, I get around. It takes me a little while to do it, but I do it. I've been doing very well."
About HSS | Hospital for Special Surgery
HSS is the world's leading academic medical center focused on musculoskeletal health. At its core is Hospital for Special Surgery, nationally ranked No. 1 in orthopedics (for the eighth consecutive year) and No. 3 in rheumatology by U.S. News & World Report (2017-2018). Founded in 1863, the Hospital has one of the lowest infection rates in the country and was the first in New York State to receive Magnet Recognition for Excellence in Nursing Service from the American Nurses Credentialing Center four consecutive times. The global standard total knee replacement was developed at HSS in 1969. An affiliate of Weill Cornell Medical College, HSS has a main campus in New York City and facilities in New Jersey, Connecticut and in the Long Island and Westchester County regions of New York State. In 2017 HSS provided care to 135,000 patients and performed more than 32,000 surgical procedures. People from all 50 U.S. states and 80 countries travelled to receive care at HSS. In addition to patient care, HSS leads the field in research, innovation and education. The HSS Research Institute comprises 20 laboratories and 300 staff members focused on leading the advancement of musculoskeletal health through prevention of degeneration, tissue repair and tissue regeneration. The HSS Global Innovation Institute was formed in 2016 to realize the potential of new drugs, therapeutics and devices. The culture of innovation is accelerating at HSS as 130 new idea submissions were made to the Global Innovation Institute in 2017 (almost 3x the submissions in 2015). The HSS Education Institute is the world's leading provider of education on the topic on musculoskeletal health, with its online learning platform offering more than 600 courses to more than 21,000 medical professional members worldwide. Through HSS Global Ventures, the institution is collaborating with medical centers and other organizations to advance the quality and value of musculoskeletal care and to make world-class HSS care more widely accessible nationally and internationally.