Bloomberg.com—November 5, 2012
Staten Island, where the marathon was scheduled to begin, was one of the hardest hit areas when Sandy reached New York, accounting for about half the city's 41 fatalities. The storm left 4.8 million people in the region without power and caused as much as $50 billion in damage. As of last night, New Jersey's power losses dropped to 999,927, according to the U.S. Energy Department.
The cleanup effort may be hampered by another depression forming off the coast of Florida that's forecast to reach the New York area by Nov. 8. The system may dump two to three inches of rain on the region and bring wind gusts of about 50 miles per hour with temperatures in the low 30s Fahrenheit. Snow is also possible.
Mayor Cancels
Mayor Michael Bloomberg canceled the race -- for which about 47,000 participants had registered, including about 20,000 from overseas -- late in the afternoon of Nov. 2, two days after saying it would go ahead as planned. It's the only time since the first edition in 1970 that the marathon hasn't been run.
Sports medicine doctor Jordan Metzl was all geared up for his 30th marathon before the mayor, the founder and majority owner of Bloomberg LP, acceded to rising anger among residents and city officials and stopped the event.
By 1 a.m. on Nov. 3, Metzl -- still wearing his white coat after finishing work at Hospital for Special Surgery in New York -- had helped create the New York Runners in Support of Staten Island on Facebook. When he awoke later in the morning, the site had more than 3,000 hits.
"Our first reaction was it's a shame and then we wondered what can we start to do to help," said Metzl. "Let's run into Staten Island."
15 Miles
Metzl spent about $250 on goods to hand out to islanders and figured he'd cover about 15 miles (24 kilometers) yesterday. With a 15-pound (6.8 kilogram) backpack, he expected the course to be more challenging than the 26.2-mile marathon.
"That's only a minor inconvenience," he said. "Marathon No. 30 is going to have to wait."
As many as 500 runners, wearing their orange marathon shirts and carrying backpacks stuffed with items including baby wipes, personal hygiene items, medicine, garbage bags, hats and gloves, traveled on the 8:30 a.m. ferry to Staten Island yesterday.
Runners were thanked by residents including Anthony Demott as they arrived on the island before splitting into small groups and running to distribution centers around the borough.
Read the full story at bloomberg.com.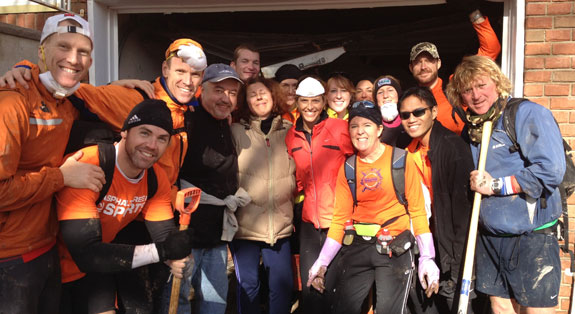 ---
Runners volunteer to help Sandy victims in NYC
ESPNW - November 4, 2012
Redirecting efforts
Tens of thousands of runners no longer had plans on the first Sunday of November; they had no outlet for their energy, endurance and months of training.
"It was insane," said Jordan Metzl, a New Yorker, longtime marathoner and sports physician at Hospital for Special Surgery. "As soon as it was canceled, I started emailing with friends. We created a Facebook page for runners like us who, instead of asking for money, could run on Staten Island with things that could be donated."
The #SupportStatenIsland hashtag came to life.
*****
Marathoners, most of whom were already going wild on social media, started passing messages of community service to one another as well as spreading the word via chat boards and Twitter feeds.
*****
Metzl's Facebook page had more than 4,000 "likes" as of Sunday morning.
The full story appeared on espn.go.com.
~~~~~~~~~~~~~~~~~~~~~~~~~~~~~~~~~~~~~~~~~~~~~~~~~~~~~~~~~~~~~~~~~~~~~~~~~~~~~~~~~
Hundreds Of Would-Be Marathon Runners Deliver Relief Supplies On Staten Island
NY1 - November 4, 2012
Sunday's morning ferries brought about 1,300 would-be marathon runners to Staten Island as they geared up to bring supplies and other aid to distressed residents.
It may not have been the 26.2 miles they trained for, but runners took off from St. George to Millers Field in New Dorp, carrying backpacks and bags to meet with many more volunteers boxing up supplies.
"There was a perception runners are selfish," said Dr. Metzl. "That they were not listening to the needs of people around them. And that really bothered me because there is no bigger group of people that give to others that I know of."
Often runners participate in races to raise money for charities, but on Sunday, they were seen moving furniture and carrying provisions into the devastated community of Cedar Grove.
It may be years before some of these neighborhoods completely rebuild, but residents are sure to remember those who used their legs and their hearts to get people back on their feet.
Read the full story and watch the video at ny1.com.
~~~~~~~~~~~~~~~~~~~~~~~~~~~~~~~~~~~~~~~~~~~~~~~~~~~~~~~~~~~~~~~~~~~~~~~~~~~~~~~~~
NYC Marathon Runners Find Their Own Way to Run — and Give Back
Time.com - November 4, 2012
The group, organized over Facebook by Dr. Jordan Metzl, a sports-medicine physician at New York City's Hospital for Special Surgery, met early Sunday morning and divided into groups to run the supplies to the most severely damaged neighborhoods on the island. Metzl, who carried a backpack filled with batteries, says he had expected about 300 runners, but was surprised by the overwhelming number of volunteers who showed up.
"It is one of the most compelling things I've ever seen in my life," Metzl says. "Part of the myth of this whole thing was that runners were callous to the suffering and just wanted to run their marathon. Nothing could be further from the truth."
On a bright, sunny day with cool temperatures perfect for racing, the runners disembarked from the ferry with a kickoff cheer, but it didn't take long before the route transformed into a somber reminder of why city councilmen and New Yorkers suffering power outages and flood damage vehemently argued the marathon should not continue.
*****
Metzl and a group of runners completed a 15-mile route, distributing supplies along the way and then stopped to clear out the home of Alexandre Bersenev and his wife near Midland Beach. "We walked into his house, and there was a disgusting, rotting smell from all their furniture and books. It looks like someone exploded a bomb inside the house," says Metzl. "We have a runner from England and a runner from Scotland who came to New York to run their first marathon and found out about this over Twitter. They've never even heard of Staten Island, and for them to come out here and spend the day cleaning this man's home is one of the most moving things I've ever seen in my life."
This year's race would have marked Metzl's 30th marathon, but he says the cancellation was unsurprising given the wreckage. "It wasn't even a question to come here," he says. "This is the right thing to do. It's more gratifying than any run I have ever done."
Read the full story at healthland.time.com.
~~~~~~~~~~~~~~~~~~~~~~~~~~~~~~~~~~~~~~~~~~~~~~~~~~~~~~~~~~~~~~~~~~~~~~~~~~~~~~~~~
Running to Bring a City Back
Wall Street Journal - November 4, 2012
Dr. Jordan Metzl, in photo at right, addresses a crowd of runners who would have run the New York City Marathon on Sunday at the Staten Island ferry terminal.
Read the full story at online.wsj.com.
~~~~~~~~~~~~~~~~~~~~~~~~~~~~~~~~~~~~~~~~~~~~~~~~~~~~~~~~~~~~~~~~~~~~~~~~~~~~~~~~~
NYC Marathon runners fill unexpected free time
Associated Press - November 3, 2012
Some runners organized their own impromptu marathon routes this weekend. Others will gather on Staten Island on Sunday morning as they would have for the marathon. They'll take off running — to deliver supplies to residents devastated by the storm.
"We initially were bummed, but also saddened by the perception that runners were indifferent to the needs of other people," said Jordan Metzl, a sports medicine doctor at Hospital for Special Surgery in New York. "We wanted to turn a negative to a positive."
~~~~~~~~~~~~~~~~~~~~~~~~~~~~~~~~~~~~~~~~~~~~~~~~~~~~~~~~~~~~~~~~~~~~~~~~~~~~~~~~~~
NYC Marathoners Organize to Aid Staten Island
Forbes.com - November 3, 2012
"A bunch of runner friends started e-mailing about running to raise money," explains one of the organizers, Dr. Jordan D. Metzl, a runner/doctor of sports medicine at Hospital for Special Surgery. "We were all in the Marathon and felt badly it was cancelled, but we also really wanted to help."
The initial plan is to meet at the Staten Island Ferry Terminal at 8:30 a.m. on Sunday morning and launch a run to distribute food and supplies both in relief centers and door to door throughout Staten Island. Runners of all levels are welcome to participate. The group welcomes any donations from food and clothing companies as well. Organizers request that participants wear orange-colored clothing if possible to make identification easier. They also ask participants to bring their own backpacks stocked with the following items:
Non-perishable food
Pet food
Flashlights
Trash bags
Infant Formula
Warm Clothing
Baby wipes
Batteries
Pre-paid cell phones
"We all felt so badly about the aftermath of hurricane Sandy," says Metzl. "The running community has a long history of supporting charitable causes and as soon as the race was cancelled, we came up with this idea. We're really excited about turning a negative into a positive."
Read the full story at forbes.com.