FDA selected Hospital for Special Surgery's Center for Musculoskeletal Outcomes and Patient Oriented Research to facilitate joint arthroplasty register.
Orthopedics Today—January 14, 2011
Hospital for Special Surgery in New York recently formed a new Center for Musculoskeletal Outcomes and Patient Oriented Research to translate information collected from extensive patient populations into clinical studies that will guide experts in preventing, diagnosing and treating musculoskeletal conditions, according to a Hospital for Special Surgery press release.
The mission of the center is to incorporate rigorous research investigation into the delivery of orthopedic and rheumatology patient care and the outcomes of that care. Such research will result in the publication of peer-reviewed health reports discussing the prevention, diagnosis and treatment of bone, joint, muscle and auto-immune disorders, according to HSS.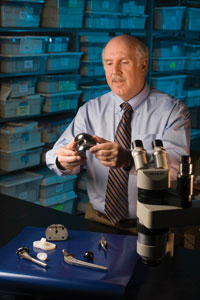 Timothy Wright, PhD, said HSS will take a leadership role in harmonizing data from international total joint arthroplasty registers by spearheading the International Consortium of Orthopedic Registries effort.
Emphasis on HSS registries
Timothy Wright, PhD, who co-heads the center with Art Sedrakyan, MD, PhD, formerly with the FDA, views the new center as an avenue for improving the quality of musculoskeletal clinical research conducted at HSS. "The idea here is to take what we have done in terms of building our registries and begin to build an academic center around it," he told Orthopedics Today.
Last year about 26,000 surgeries were completed and about 300,000 patient visits were conducted at HSS, Wright said.
"This is a way to leverage our size to answer some really interesting questions."
Registry consortium
According to Wright, one of the initial activities of the center's researchers, which is already underway, involves leading the development of an International Consortium of Orthopedic Registries (ICOR). The ICOR project is the result of an FDA-awarded contract that HSS received in 2010.
Through HSS leadership, the international consortium will work toward creating a registry network to provide a worldwide view of orthopedic patient outcomes and to compare differences among treatment options, HSS noted in the release. HSS and Kaiser Permanente are working together with the FDA to plan the first consortium meeting, which is expected to include U.S. and international scientists involved with the more than a dozen arthroplasty.
Similar to Europe
According to Wright, the consortium will be similar to how the European Arthroplasty Register operates to foster networking and communication among those involved in Europe's many arthroplasty registers. "The objective here is not to pull data in from other registries and hone it somewhere and have it sitting somewhere. It's to have a distributed network and to reach into the registries with mutual approval from all the registries to answer questions," he said.
Among areas that are expected to be addressed once the consortium gets underway, either at its first meeting this year or soon thereafter, are ways to collect patient outcome data besides the need for revision surgery to explore why some patients not requiring a revision remain dissatisfied with their total joint arthroplasty.
"That is hard to do in registries, but it is certainly a conversation worth having," Wright said.
This story originally appeared at orthosupersite.com.