HSS, Boachie, Open Orthopedic Hospital in Ghana
Orthopedics This Week—May 15, 2012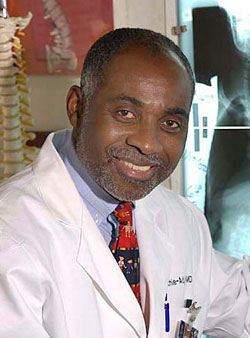 Ghana…where the dreams of one orthopedist converge with the hopes of those needing care. Hospital for Special Surgery (HSS) and Oheneba Boachie-Adjei, M.D., chief of the scoliosis service at Hospital for Special Surgery and founder and president of the Foundation of Orthopedics and Complex Spine (FOCOS), have announced the opening of a 50-bed specialty hospital providing comprehensive musculoskeletal care for adults and children in Ghana, Africa.
"FOCOS's mission is to provide affordable orthopedic care to those who would not otherwise have access to such treatment," explained Dr. Boachie-Adjei in the April 26, 2012 news release. Dr. Boachie-Adjei was born in Kumasi, Ghana, and immigrated to the United States in 1972. "The patients we treat both surgically and nonsurgically have disabling musculoskeletal disorders including complex spine deformities and pediatric orthopedic problems."
"As a world leader in musculoskeletal medicine, Hospital for Special Surgery is committed to national as well as international outreach," said Louis A. Shapiro, FACHE, president and CEO, Hospital for Special Surgery. "We are proud to have supported Dr. Boachie in his efforts to make the FOCOS Orthopaedic Hospital a reality."
Looking to the future, Dr. Boachie-Adjei commented to OTW, "A year from now we hope to be fully operational with a regular surgical schedule beside the quarterly mission trips. We want the local surgeons to use the facility to treat orthopedic patients."
<!IoRedDot_hdl_pageTitle>
Media Contacts
<!IoRedDot_hdl_pageTitle>
Social Media Contacts