Hospital's International Center Works to Facilitate Their Stay
New York, NY—November 6, 2009
Over the years, increasing numbers of Americans have been going abroad for medical treatment, including surgery, a phenomenon known as "medical tourism." It works both ways. Hospital for Special Surgery (HSS) is seeing its own brand of medical tourism, attracting international patients seeking out the hospital for the best possible surgical care. The highly-regarded specialty hospital, dedicated exclusively to orthopedics and rheumatology, has an International Center devoted to meeting the needs of foreign patients.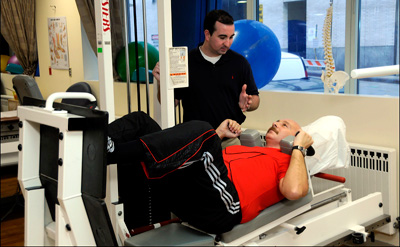 Fifty-year-old Alexander Brum from Moscow is one such patient. He made the long trip to the U.S. for a consultation with Dr. Geoffrey Westrich at HSS, after finding out about the doctor from his friend, Alexei Yagudin, the Olympic gold-medal figure skater. Yagudin had surgery with Dr. Westrich several years ago, was happy with the outcome and recommended him to Mr. Brum, who needed a hip replacement because of severe arthritis.
Mr. Brum made his first trip to see Dr. Westrich in February. The Russian businessman said he was impressed with the doctor and came back in October for hip replacement surgery. He brought six family members and friends, some of whom speak fluent English. They stayed across the street from HSS at the hospital's Belaire Guest Facility, a convenient and comfortable location catering to patients who come from out of town.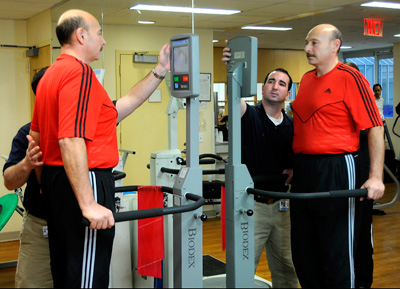 Dr. Westrich, co-director of joint replacement research at HSS, has had patients from South America, as well. "Patients say they come here because they are seeking the best care possible," he says. "It is really a 'small world,' thanks to the Internet. Patients can find a wealth of information about doctors and hospitals in the U.S. by going on line, provided they understand English."
The International Center at HSS works to meet the needs of foreign patients and their families, with cultural sensitivity to ensure a high standard of care, according to hospital administrators. Services include scheduling and confirming medical appointments, preparing cost estimates, coordination of billing and payment arrangements, reservations in the Belaire Guest Facility and arranging for medical interpreters. In any given year, the Center may serve patients from more than 100 countries.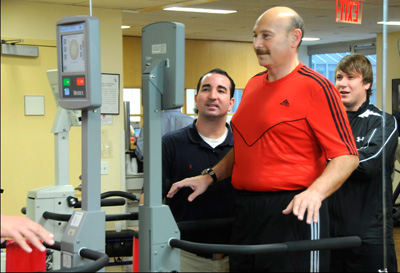 Mr. Brum says his decision to come to HSS "was a wise choice." He is very pleased with the care he received from Dr. Westrich and with his rehabilitation following surgery. Although there are excellent surgeons in Russia, the post-surgical care and physical therapy are not on the same level, according to Mr. Brum. After joint replacement in Russia, patients spend most of the next two weeks in bed. At HSS, patients are generally out of bed and walking the day after total hip replacement. Recovery would take much longer in Russia.
Mr. Brum is so enthusiastic with his rehabilitation at HSS, he decided to go five days a week. "He is very motivated, he works very hard and has done very well," says Charles Fisher, PT, MPT, the physical therapist working with Mr. Brum at the hospital's Joint Mobility Center, which is part of the Rehabilitation Department. The Center specializes in rehabilitation following joint replacement. "Mr. Brum enjoys coming here, and although he doesn't speak English, he often says "super" and gives me a thumbs-up," Charles adds. Communication is never a problem, because an interpreter is always present at the physical therapy sessions.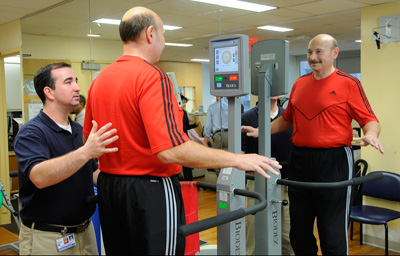 Rehabilitation is critical after joint replacement. Mr. Brum begins his session with a warm-up on the bicycle and then does supervised strengthening, stretching and balance exercises. "Physical therapy teaches people the basics of what they can and cannot do and it gives them exercises to help them get as strong as possible, as quickly as possible, so people can return to their everyday lives, free of pain," Charles explains.
After 10 years of suffering with severe arthritis, Mr. Brum is now pain-free and looking forward to getting back to every day activities. He says the trip to HSS for surgery was well worth it.
About HSS | Hospital for Special Surgery
HSS is the world's leading academic medical center focused on musculoskeletal health. At its core is Hospital for Special Surgery, nationally ranked No. 1 in orthopedics (for the eighth consecutive year) and No. 3 in rheumatology by U.S. News & World Report (2017-2018). Founded in 1863, the Hospital has one of the lowest infection rates in the country and was the first in New York State to receive Magnet Recognition for Excellence in Nursing Service from the American Nurses Credentialing Center four consecutive times. The global standard total knee replacement was developed at HSS in 1969. An affiliate of Weill Cornell Medical College, HSS has a main campus in New York City and facilities in New Jersey, Connecticut and in the Long Island and Westchester County regions of New York State. In 2017 HSS provided care to 135,000 patients and performed more than 32,000 surgical procedures. People from all 50 U.S. states and 80 countries travelled to receive care at HSS. In addition to patient care, HSS leads the field in research, innovation and education. The HSS Research Institute comprises 20 laboratories and 300 staff members focused on leading the advancement of musculoskeletal health through prevention of degeneration, tissue repair and tissue regeneration. The HSS Global Innovation Institute was formed in 2016 to realize the potential of new drugs, therapeutics and devices. The culture of innovation is accelerating at HSS as 130 new idea submissions were made to the Global Innovation Institute in 2017 (almost 3x the submissions in 2015). The HSS Education Institute is the world's leading provider of education on the topic on musculoskeletal health, with its online learning platform offering more than 600 courses to more than 21,000 medical professional members worldwide. Through HSS Global Ventures, the institution is collaborating with medical centers and other organizations to advance the quality and value of musculoskeletal care and to make world-class HSS care more widely accessible nationally and internationally.