Knee Replacements Pioneered at Hospital for Special Surgery Have Kept Her Active for More Than 25 Years
New York City—May 12, 2011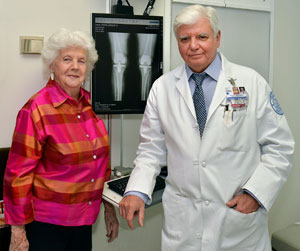 In 1920, three months before women received the right to vote, Lucille Horn was breaking down a totally different kind of barrier.
Two-pound Lucille, premature and a surviving twin, clung to a thread of life at a Brooklyn, N.Y., hospital where there was limited support available for premature babies. Her distraught parents received the discouraging advice that they shouldn't rush the burial of her twin because Lucille's chances for survival were slim. Desperate, Lucille's father sought out a brand new medical device, an incubator, which he saw on display during his honeymoon the previous year on the Boardwalk of Atlantic City.
There were several "baby incubator exhibits" at fair grounds on the East Coast because the device was not yet accepted by the medical community. Lucille's father tracked one down at a Coney Island side show exhibit and rushed Lucille, who was wrapped in a blanket, via taxicab to where she was placed in an incubator and looked after by nurses for the next several months. Despite its location, nearby the Ferris wheel and the Parachute Jump, the care was professional and free as the clinic was financed through entrance fees. Visitors to the exhibition paid five cents to see Lucille and the other babies that were being treated there. Today, incubation of neonates is a standard part of medical care.
Lucille not only lived, she thrived. When she was 19, while attending the 1939 World's Fair she visited an exhibit where incubators were on display. There she met Dr. Martin Cooney, a French physician, and the man responsible for bringing the technology to the U.S. and who had overseen her care at the Coney Island exhibit years earlier, to show him how this invention had saved her life. Several years later, Lucille married, and was raising five children of her own.
Fast forward 45 years. Lucille, age 65, a tennis player and grandmother who was criss-crossing the country visiting family, was suffering from severe knee pain. At Hospital for Special Surgery, doctors examined her and thought that she would be a good candidate for relatively new medical treatment, total knee replacement. Dr. John N. Insall, an orthopedic surgeon, and Albert Burstein, Ph.D., a biomechanical engineer, both working at Special Surgery, had created customized knee implants for a number of patients who could benefit from total knee arthroplasty.
Lucille, no stranger to innovative medical treatment, optimistically agreed to the surgery by Dr. Insall. After her first knee replacement in 1985, she was hospitalized for two weeks, and then went through rehabilitation. The following year, she underwent the surgery again by Dr. Insall, to have her second knee replaced. Three months later, she was able to make a cross-country flight to California to attend her daughter's wedding. Today, nearly 600,000 people in the United States undergo knee replacement each year. Dr. Insall's work at Special Surgery has made these advances possible.
Lucille, now under the care of Dr. Thomas Sculco, the surgeon-in-chief at Special Surgery, was told, when she came in for her yearly exam, that her original implants are still in good shape. Her knee replacements have provided Lucille with mobility for more than 25 years, remaining intact through day-to-day wear and tear as well as an accident where Lucille was hit by a car and landed on her hands and knees. She broke a wrist but her knees came through unscathed, save for a few scrapes and bruises.
Today, at 91, Lucille walks on the boardwalk nearby her Long Beach, Long Island, N.Y., apartment that she shares with her daughter, Barbara. Lucille attributes her vitality and longevity to the fine care she received as a newborn, as well as the time she spends with family and friends and trips south to Florida to visit her sister, Dorothy. She has also always been an avid reader and mall shopper and confesses that she still can't resist a good shoe sale, which might confirm a recent study of 2,000 adults 65 or older that showed that those who shopped frequently lived longer than those who didn't.