TLC's New Series 'Little People: Just Married' Visits Hospital for Special Surgery
NEW YORK—January 16, 2009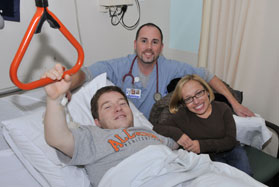 Bill and Jen Klein with their nurse, John Frankelis, RN.
TLC will launch a new series "Little People: Just Married" and Hospital for Special Surgery in New York will play an important role.
The series will feature Mathias Bostrom, M.D., attending orthopedic surgeon at Hospital for Special Surgery, who performed Bill's hip replacement surgeries six weeks apart.
"The primary objective of Bill's hip replacement surgery was to eliminate pain," said Dr. Bostrom. "These procedures will help to improve his gait and increase his level of performance to enable him to resume lifestyle activities like bike riding."
Complex issues are involved in anesthesia for this type of surgery and Thomas Quinn, M.D., attending anesthesiologist at Hospital for Special Surgery, provided counsel on the type anesthesia that would be most appropriate in advance of Bill's surgery. Dr. Quinn is featured administering anesthesia throughout both surgeries as well.
In addition, the series follows the couple from surgery through bedside rehabilitation to discharge. The show highlights the care provided by the following departments: Nursing and Perioperative Services, Physician Assistant, Physical Therapy, Food and Nutrition and Patient/Family Atrium Services.
"Little People: Just Married" began airing on TLC on January 19, at 10 p.m., ET.  It also airs Friday, February 13 at 10pm and midnight. Stay tuned to TLC in the coming weeks for new chapters of the Kleins' story.
<!IoRedDot_hdl_pageTitle>
Media Contacts
<!IoRedDot_hdl_pageTitle>
Social Media Contacts