NEW YORK—January 16, 2009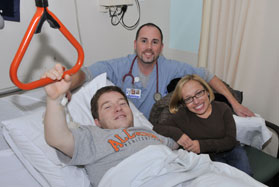 Bill and Jen Klein with their nurse, John Frankelis, RN.
TLC will launch a new series "Little People: Just Married" and Hospital for Special Surgery in New York will play an important role.
The series will feature Mathias Bostrom, M.D., attending orthopedic surgeon at Hospital for Special Surgery, who performed Bill's hip replacement surgeries six weeks apart.
"The primary objective of Bill's hip replacement surgery was to eliminate pain," said Dr. Bostrom. "These procedures will help to improve his gait and increase his level of performance to enable him to resume lifestyle activities like bike riding."
Complex issues are involved in anesthesia for this type of surgery and Thomas Quinn, M.D., attending anesthesiologist at Hospital for Special Surgery, provided counsel on the type anesthesia that would be most appropriate in advance of Bill's surgery. Dr. Quinn is featured administering anesthesia throughout both surgeries as well.
In addition, the series follows the couple from surgery through bedside rehabilitation to discharge. The show highlights the care provided by the following departments: Nursing and Perioperative Services, Physician Assistant, Physical Therapy, Food and Nutrition and Patient/Family Atrium Services.
"Little People: Just Married" began airing on TLC on January 19, at 10 p.m., ET.  It also airs Friday, February 13 at 10pm and midnight. Stay tuned to TLC in the coming weeks for new chapters of the Kleins' story.
About HSS | Hospital for Special Surgery
HSS is the world's leading academic medical center focused on musculoskeletal health. At its core is Hospital for Special Surgery, nationally ranked No. 1 in orthopedics (for the eighth consecutive year) and No. 3 in rheumatology by U.S. News & World Report (2017-2018). Founded in 1863, the Hospital has one of the lowest infection rates in the country and was the first in New York State to receive Magnet Recognition for Excellence in Nursing Service from the American Nurses Credentialing Center four consecutive times. The global standard total knee replacement was developed at HSS in 1969. An affiliate of Weill Cornell Medical College, HSS has a main campus in New York City and facilities in New Jersey, Connecticut and in the Long Island and Westchester County regions of New York State. In 2017 HSS provided care to 135,000 patients and performed more than 32,000 surgical procedures. People from all 50 U.S. states and 80 countries travelled to receive care at HSS. In addition to patient care, HSS leads the field in research, innovation and education. The HSS Research Institute comprises 20 laboratories and 300 staff members focused on leading the advancement of musculoskeletal health through prevention of degeneration, tissue repair and tissue regeneration. The HSS Global Innovation Institute was formed in 2016 to realize the potential of new drugs, therapeutics and devices. The culture of innovation is accelerating at HSS as 130 new idea submissions were made to the Global Innovation Institute in 2017 (almost 3x the submissions in 2015). The HSS Education Institute is the world's leading provider of education on the topic on musculoskeletal health, with its online learning platform offering more than 600 courses to more than 21,000 medical professional members worldwide. Through HSS Global Ventures, the institution is collaborating with medical centers and other organizations to advance the quality and value of musculoskeletal care and to make world-class HSS care more widely accessible nationally and internationally.