Hospital for Special Surgery Celebrates its 150th Anniversary By Ringing The Closing Bell at the NYSE
New York—June 17, 2013
Executives and guests of New York's Hospital for Special Surgery (HSS) visited the New York Stock Exchange (NYSE) to celebrate its 150th anniversary and to ring The NYSE Closing Bell. Louis A. Shapiro, President and CEO, was joined on the podium by Kendrick R. Wilson, III, HSS Co-Chair Board of Trustees and member of BlackRock's Global Executive Committee, and Dean R. O'Hare, HSS Co-Chair Board of Trustees and Retired Chairman and CEO of The Chubb Corporation. Also joining were Thomas Lister, Vice Chair; Thomas P. Sculco, MD, Surgeon-in-Chief; Mary K. Crow, MD, Physician-in-Chief; Steven R. Goldring, MD, Chief Scientific Officer; Bruce Slawitsky, Vice President of Human Resources and Service Excellence; and Christine Carey, CIS Project Specialist, Information Technology and 2012 Employee of the Year.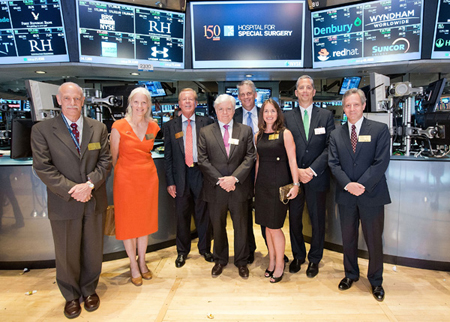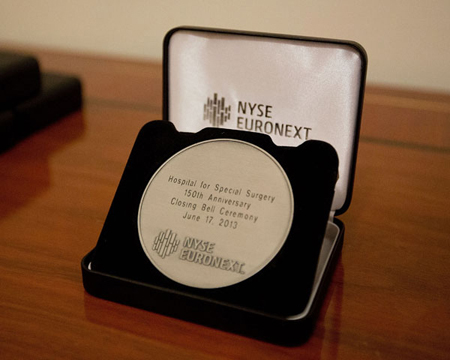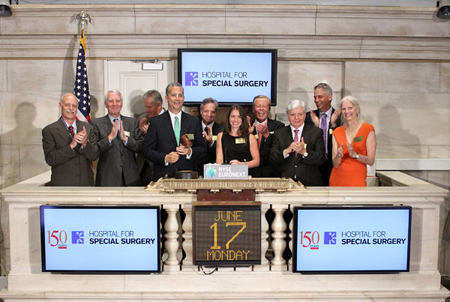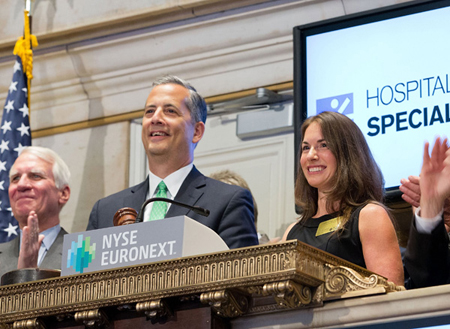 About HSS | Hospital for Special Surgery
HSS is the world's leading academic medical center focused on musculoskeletal health. At its core is Hospital for Special Surgery, nationally ranked No. 1 in orthopedics (for the eighth consecutive year) and No. 3 in rheumatology by U.S. News & World Report (2017-2018). Founded in 1863, the Hospital has one of the lowest infection rates in the country and was the first in New York State to receive Magnet Recognition for Excellence in Nursing Service from the American Nurses Credentialing Center four consecutive times. An affiliate of Weill Cornell Medical College, HSS has a main campus in New York City and facilities in New Jersey, Connecticut and in the Long Island and Westchester County regions of New York State. In 2017 HSS provided care to 135,000 patients from 80 countries and performed more than 32,000 surgical procedures. In addition to patient care, HSS leads the field in research, innovation and education. The HSS Research Institute comprises 20 laboratories and 300 staff members focused on leading the advancement of musculoskeletal health through prevention of degeneration, tissue repair and tissue regeneration. The HSS Innovation Institute was formed in 2015 to realize the potential of new drugs, therapeutics and devices; the global standard total knee replacement was developed at HSS in 1969, and in 2017 HSS made 130 invention submissions (more than 2x the submissions in 2015). The HSS Education Institute provides continuing medical curriculum to more than 22,000 subscribing musculoskeletal healthcare professionals in 125 countries. Through HSS Global, the institution is collaborating with medical centers worldwide to advance the quality and value of care and to make world-class HSS care more accessible to more people.