Also, HSS ranking increased to No. 2 in Rheumatology
New York, NY—August 2, 2016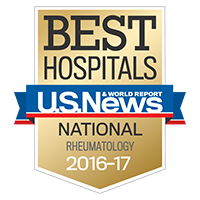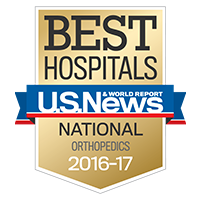 For the seventh consecutive year, Hospital for Special Surgery (HSS) has been ranked the No. 1 hospital in the country for orthopedics by U.S. News & World Report "Best Hospitals 2016-2017" survey. HSS was also recognized as a leader in rheumatology, ranking No. 2 in the nation, up from the previous year's rank of No. 3.
"We are proud to be recognized as the leader in orthopedics with unparalleled consistency," said Louis A. Shapiro, president and CEO of HSS. "HSS is committed to delivering the finest care in the world to patients who want to return to doing the things they love most reliably and efficiently. Our singular focus on musculoskeletal health uniquely enables us to continuously raise the highest standards of quality, performance and value."
U.S. News evaluates nearly 5,000 hospitals nationwide in 16 adult specialties. In most of those specialties, it ranks the nation's top 50 hospitals and recognizes other high-performing hospitals that provide care at nearly the level of their nationally ranked peers.
"What may be most important about this unprecedented honor is its validation of the virtuous circle of focus, teamwork, quality, and value that has defined HSS for more than a century and a half," said Todd J. Albert, MD, surgeon-in-chief and medical director of HSS. "Everyone at HSS, from the front desk to the operating room to rehabilitation, is uniquely focused, integrated and motivated to help our patients get back to what they need and love to do most reliably and efficiently."
In 2015, HSS cared for more than 124,000 pediatric and adult patients with both surgical and non-surgical needs such as joint pain, trauma and sports injuries, osteoarthritis, rheumatoid arthritis, back pain and spinal disorders, and conditions of the hand and upper extremity, and foot and ankle.
"Autoimmune diseases and disorders affect nearly 50 million Americans and patients looking for a specialist want to be confident that their physician has the highest level of expertise and knowledge of the latest advances in the field," said Mary K. Crow, MD, physician-in-chief and chair of Division of Rheumatology. "HSS is the largest academic medical center dedicated to bone, joint and systemic autoimmune conditions, and through pioneering research, innovation, and collaborative care we are advancing treatments and cures for patients everywhere."
HSS also provides care to elite, professional and collegiate athletes and organizations around the world, including USA Basketball, Fédération Internationale de Football Association (FIFA), the Brooklyn Nets, New York Giants, New York Knicks, New York Liberty, New York Mets and New York Red Bulls, among others. HSS is the first designated National Medical Center of the United States Olympic Committee's (USOC) National Medical Network, and the only one in the northeast region of the country.