Dr. Potter will be the organization's first radiologist member
NEW YORK, N.Y.—March 6, 2007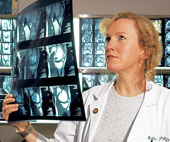 Radiologist Hollis G. Potter, M.D., has been nominated for membership in the Hip Society. Founded in 1968, the Hip Society is dedicated to the advancement of knowledge relating to the hip joint and is composed of prominent leaders in the field. Dr. Potter, chief of the Division of Magnetic Resonance Imaging in the Department of Radiology and Imaging at Hospital for Special Surgery, is the first radiologist to be named to the organization and is also its first female member.
"I am honored to be named to this eminent group, and I am looking forward to participating in expanding the knowledge of imaging as well as sharing some of the exciting advances and technological achievements we have made and will be making over the next few years," said Dr. Potter. "This is recognition that hip surgeons, hip specialists and radiologists collaborate to improve the overall care of patients suffering from hip related injuries and conditions."
In lauding Dr. Potter's nomination, Dr. Eduardo Salvati, a former President of the Hip Society and attending orthopaedic surgeon of Hospital for Special Surgery, noted, "Through her ongoing research and innovations in the field of magnetic resonance imaging, Dr. Potter has made outstanding contributions to the knowledge of hip diseases. Her work is well known and recognized by the distinguished membership of the Hip Society, and with their invitation they acknowledge her pioneering work to advance the diagnosis and treatment of a variety of hip conditions."
The purpose of the organization is to provide a forum to stimulate the exchange of knowledge concerning education, research and treatment of disorders of the hip joint.
For several years now, Dr. Potter has been studying the effectiveness of MRI in imaging total joint replacements. By adjusting the MRI's scanning parameters, Dr. Potter has made the clear and concise imaging of these joints possible so that physicians can diagnose and treat impending complications earlier than is feasible based on X-ray and computed tomography (CT). She is also working on studies using MR to image degenerative changes in cartilage, an early indicator of osteoarthritis.
Dr. Potter is a board-certified radiologist specializing in musculoskeletal magnetic resonance imaging since 1990. She has published 98 scientific articles and 38 book chapters, and she is funded for MR research in both clinical and basic science areas. Dr. Potter is nationally and internationally recognized for her expertise in developing MR applications for orthopaedic conditions.
About Hospital for Special Surgery Department of Radiology and Imaging
Hospital for Special Surgery (HSS) Department of Radiology and Imaging, under the direction of Radiologist-in-Chief Helene Pavlov, M.D., FACR, has the largest and most experienced academic musculoskeletal radiology faculty in the world, each with academic appointments at Weill Medical College of Cornell University. HSS radiologists are all board-certified by the American Board of Radiology and have received numerous awards by honor and professional societies, including the Consumer's Research Council of America Guide to America's Top Radiologists. The department's focus is on both the imaging diagnosis of musculoskeletal conditions and diseases and the treatment of specific conditions utilizing image guidance. More than 185,000 musculoskeletal examinations are performed annually, of which approximately 136,000 exams are conventional radiography. Other imaging includes Magnetic Resonance (MR), Computed Tomography (CT), Ultrasound (US), Nuclear Medicine (NM), and Teleradiology. Approximately 98 percent of all imaging in the Department is acquired digitally.
According to Helene Pavlov, M.D., F.A.C.R., HSS radiologists are committed to excellence and repeatedly prove that "all images and imaging are not created equal." For more information on the Department of Radiology and Imaging at Hospital for Special Surgery, contact 212-606-1132 or send an email to mailto:radinfo@hss.edu.