Two-Day Symposium in New York City Provides International Perspective on Bone and Joint Care
NEW YORK, N.Y.—May 17, 2007
Nine institutions from eight countries are participating in the inaugural meeting of the International Specialty Orthopaedic Collaboratorium (ISOC), hosted by New York City's Hospital for Special Surgery. The ISOC will offer an international perspective to experts in the orthopedic field on specialty musculoskeletal care, research and education.
The two-day symposium will take place Friday, May 18, and Saturday, May 19, 2007.
"The mission of the ISOC is to facilitate the exchange of ideas and best practices among the premier specialty orthopedic institutions in the world," said Thomas P. Sculco, M.D., surgeon-in-chief at Hospital for Special Surgery (HSS). "By bringing together thought leaders in the orthopedic community from all over the world, the ISOC will provide an opportunity to impart knowledge on patient care, education and research-based programs to enhance orthopedic care on a global scale."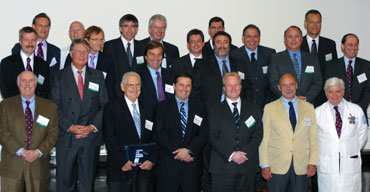 click image to enlarge
Twenty specialists from nine major institutions will participate in this year's ISOC meeting. Institutions represented include Clinica Alemana de Santiago, Chile; Endo Klinik, Germany; Instituto Nacional de Rehabilitacion, Mexico; IRCCS Istituto Ortopedico Galeazzi, Italy; Istituto Ortopedico Rizzoli, Italy; Peking Union Medical College Hospital, China; Royal National Orthopaedic Hospital, United Kingdom; and Schulthess Klinik, Switzerland.
More specifically, the ISOC objectives are:
To promote scientific, clinical, and educational collaboration among participating institutions
To improve quality of patient care through sharing of clinical pathways and treatments
To collaborate on academic programs through the exchange of residents, fellows and faculty
To share strategies on clinical pathways for patients and cost effective measures for economic success of major orthopedic programs
Scientific and academic sessions at the ISOC meeting will highlight advanced clinical practice and innovative research from each participating institution with a specific focus on arthroplasty, bone tumor and basic research.
"As the host institution, HSS will provide a session on the operation and management of our hospital to provide an insight into some of the unique issues we face as a specialty hospital in New York City and the United States," said Dr. Sculco.
For more information about Hospital for Special Surgery, visit http://www.hss.edu/.
About HSS | Hospital for Special Surgery
HSS is the world's leading academic medical center focused on musculoskeletal health. At its core is Hospital for Special Surgery, nationally ranked No. 1 in orthopedics (for the eighth consecutive year) and No. 3 in rheumatology by U.S. News & World Report (2017-2018). Founded in 1863, the Hospital has one of the lowest infection rates in the country and was the first in New York State to receive Magnet Recognition for Excellence in Nursing Service from the American Nurses Credentialing Center four consecutive times. The global standard total knee replacement was developed at HSS in 1969. An affiliate of Weill Cornell Medical College, HSS has a main campus in New York City and facilities in New Jersey, Connecticut and in the Long Island and Westchester County regions of New York State. In 2017 HSS provided care to 135,000 patients and performed more than 32,000 surgical procedures. People from all 50 U.S. states and 80 countries travelled to receive care at HSS. In addition to patient care, HSS leads the field in research, innovation and education. The HSS Research Institute comprises 20 laboratories and 300 staff members focused on leading the advancement of musculoskeletal health through prevention of degeneration, tissue repair and tissue regeneration. The HSS Global Innovation Institute was formed in 2016 to realize the potential of new drugs, therapeutics and devices. The culture of innovation is accelerating at HSS as 130 new idea submissions were made to the Global Innovation Institute in 2017 (almost 3x the submissions in 2015). The HSS Education Institute is the world's leading provider of education on the topic on musculoskeletal health, with its online learning platform offering more than 600 courses to more than 21,000 medical professional members worldwide. Through HSS Global Ventures, the institution is collaborating with medical centers and other organizations to advance the quality and value of musculoskeletal care and to make world-class HSS care more widely accessible nationally and internationally.