NBC Nightly News host Brian Williams serves as toastmaster
New York City—June 16, 2011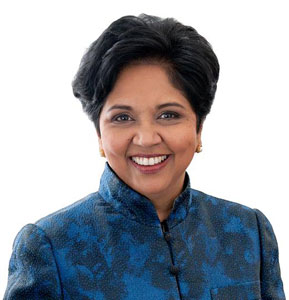 Internationally recognized business leader Indra Nooyi, chairman and chief executive officer of Fortune 500 food and beverage company PepsiCo, will be honored at the Hospital for Special Surgery 28th Annual Tribute Dinner on Monday, June 20 at the Waldorf=Astoria. The gala will feature Brian Williams, anchor of Nightly News on NBC, as toastmaster and will also honor Joseph M. Lane, M.D., renowned orthopedic surgeon, with a Lifetime Achievement Award.
Since Nooyi was named CEO in 2006, PepsiCo has delivered strong business and financial results that place it among the world's top-performing consumer packaged goods companies. Nooyi has also introduced a multi-year growth strategy, called "Performance with Purpose," which is focused on delivering sustainable business growth by investing in a healthier future for people and the planet. As a result of this strategy, PepsiCo is now widely viewed as one of the world's most socially responsible corporations and is listed on the Dow Jones North America Sustainability Index and Dow Jones World Sustainability Index.
"Indra Nooyi is a superior example of socially responsible corporate leadership," said Louis A. Shapiro, president and chief executive officer of Hospital for Special Surgery. "In particular, we are proud to honor her efforts to improve global nutrition by providing products and initiatives that promote a healthier lifestyle—a great responsibility for any CEO."
Indra Nooyi has been with PepsiCo for more than 16 years, first as senior vice president of Corporate Strategy and Development, then serving as president and chief financial officer before she was named CEO in 2006. Nooyi has directed the company's global strategy for more than a decade including the acquisition of Tropicana, merger with the Quaker Oats Company, which brought market-leading brands Quaker and Gatorade to PepsiCo, the merger with PepsiCo's anchor bottlers in 2010, and the 2011 acquisition of Russian dairy and juice company Wimm-Bill-Dann, the largest international acquisition in PepsiCo's history.
In 2010, Nooyi was ranked number six on Forbes' list of The World's 100 Most Powerful Women. She was also recognized as number one on Fortune's 50 Most Powerful Women list for the fifth year in a row.
Nooyi received her bachelor's degree from Madras Christian College in India and earned her master's in business administration from the Indian Institute of Management in Calcutta. She also holds a master's of public and private management from Yale University. Nooyi serves on the boards of the U.S.-China Business Council, the U.S.-India business Council, The Peterson Institute for International Economics, The Consumer Goods Forum, the Grocery Manufacturers Association, Lincoln Center for the Performing Arts and Tsinghua University. She was also appointed to the U.S.-India CEO Forum by the Obama Administration.
About Hospital for Special Surgery
Hospital for Special Surgery (HSS) is the world's leading academic medical center focused on musculoskeletal health. HSS is nationally ranked No. 1 in orthopedics and No. 3 in rheumatology by U.S. News & World Report (2017-2018), and is the first hospital in New York State to receive Magnet Recognition for Excellence in Nursing Service from the American Nurses Credentialing Center four consecutive times. HSS has one of the lowest infection rates in the country. HSS is an affiliate of Weill Cornell Medical College and as such all Hospital for Special Surgery medical staff are faculty of Weill Cornell. The hospital's research division is internationally recognized as a leader in the investigation of musculoskeletal and autoimmune diseases. HSS has locations in New York, New Jersey and Connecticut.
www.hss.edu