NEW YORK, N.Y.—November 12, 2007
A gala dinner to benefit medical education at New York's Hospital for Special Surgery promises to be a fairy tale come true as guests enjoy New York City Opera's production of "Cendrillon," the French adaptation of the classic love story, Cinderella.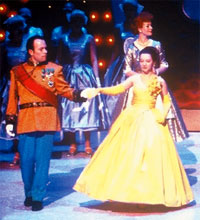 As part of its ongoing commitment to support medical education, Hospital for Special Surgery's Benefit Committee is hosting "A Night at the Opera" at the promenade of the New York State Theater at Lincoln Center. More than 300 guests are expected at the dinner.
"Our comprehensive medical education program has helped the Hospital maintain its leadership role in the fields of orthopedics, rheumatology, radiology, anesthesiology, rehabilitation and sports medicine," said Cynthia D. Sculco, chairperson of the Benefit Committee and wife of Thomas P. Sculco, M.D., surgeon-in-chief at New York's Hospital for Special Surgery.
"Support from this event will permit Hospital for Special Surgery to continue to provide award-winning education and training programs that benefit patients and physicians across the globe," she said.
A key component to their education and training is the HSS Journal, a peer-reviewed journal published twice a year that features articles by Hospital for Special Surgery faculty and alumni. In each edition, the journal presents innovative research, clinical pathways and the latest in techniques to educate physicians and surgeons and to further the Hospital's broad-based education mission.
Members of the Benefit Committee include:
Emme Levin Deland
Mrs. Seymour Flug (Renee)
Christine Frissora-Rodeo, M.D.
Susan M. Goodman, M.D.
Mary B. Goldring, Ph.D.
Mrs. David L. Helfet (Molly)
Karen K. Hsu
Carol Ibsen
Taisa Markus
Mrs. John P. Lyden (Carol)
Dr. Paula J. Olsiewski
Mrs. Stephen A. Paget (Sandy)
Dr. Rock G. Positano
Mrs. Leon Root (Paula)
Susan W. Rose
Jane E. Salmon, M.D.
Mrs. Eduardo A. Salvati (Antonella)
Mrs. Thomas P. Sculco (Cynthia)
Mrs. Louis A. Shapiro
The Honorable Joyce Sparrow
Philip D. Wilson, Jr., M.D.
Harvey Zeichner, Esq., PsyD.
Mrs. David S. Levine (Davena)
Mrs. Russell E. Windsor (Terry)
Mrs. Douglas A. Warner III (Patsy)
Mrs. Michael J. Errico (Angela)
Mrs. David B. Levine (Janet)
Mrs. David W. Altchek (Anne)
Mrs. C. Ronald MacKenzie (Kathy)
Mrs. Daniel S. Rich (Stephanie)
Mrs. Mathias P. Bostrom (Lisa)
Mrs. Roger F. Widmann (Miriam)
Mrs. Frank P. Cammisa, Jr. (Gail)
Mrs. Charles N. Cornell (Priscilla)
Mrs. Edward C. Jones (Mary)
Mrs. Russell F. Warren (Laurie)
Mrs. Scott W. Wolfe (Missy)
Stephanie Hotchkiss, DDS
Mrs. Timothy M. Wright (Kathy)
Arthur Levitt
Mrs. Gregory E. Lutz (Paula)
"A Night at the Opera" will be held on Friday, November 16, 2007. Cocktails will begin at 5:30 p.m., dinner will be served at 6:30 p.m. and the curtain will go up at 8 p.m. For additional information please call 203-563-0007 or e-mail lhevents@optonline.net.

About Hospital for Special Surgery
Hospital for Special Surgery (HSS) is the world's leading academic medical center focused on musculoskeletal health. HSS is nationally ranked No. 1 in orthopedics and No. 2 in rheumatology by U.S. News & World Report (2016-2017), and is the first hospital in New York State to receive Magnet Recognition for Excellence in Nursing Service from the American Nurses Credentialing Center four consecutive times. HSS has one of the lowest infection rates in the country. HSS is an affiliate of Weill Cornell Medical College and as such all Hospital for Special Surgery medical staff are faculty of Weill Cornell. The hospital's research division is internationally recognized as a leader in the investigation of musculoskeletal and autoimmune diseases. Hospital for Special Surgery is located in New York City and online at www.hss.edu.