New York, NY—August 15, 2017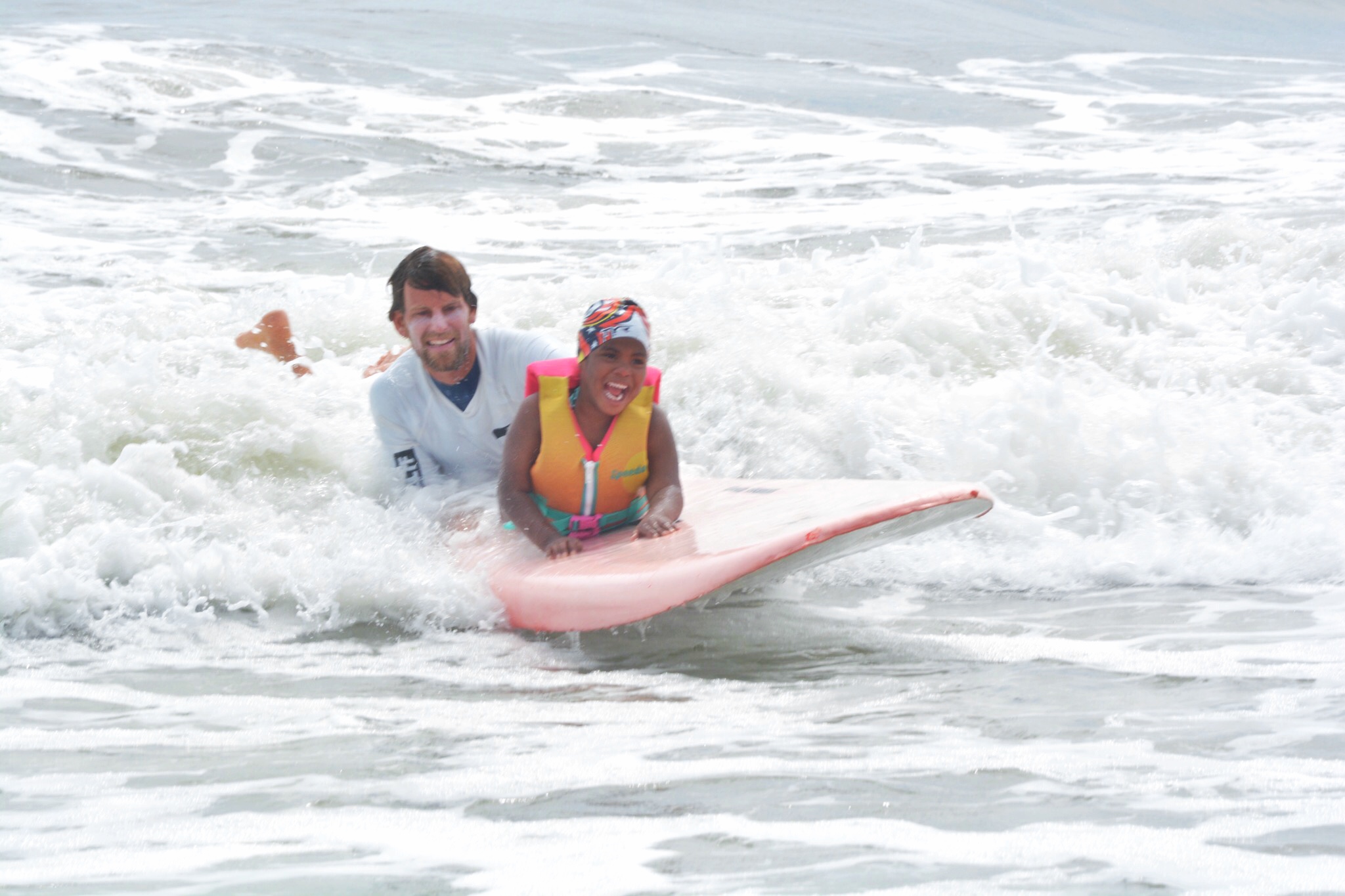 Everyone into the water! Not words you'd expect to hear from a hospital, but young patients were thrilled to experience the big waves in Long Beach, Long Island, when New York City's Hospital for Special Surgery took them on an adaptive surfing trip this week.
Seventeen patients, many with cerebral palsy, got the chance to ride the waves thanks to the Adaptive Sports Academy at the hospital's Lerner Children's Pavilion. "The academy organizes trips and recreational experiences for pediatric patients to build their self-confidence, encourage independence, and increase physical activity and mobility," said Siobhan Clarke, a pediatric physical therapist at the hospital who also surfs and owns a home in Long Beach.
Adaptive sports are competitive or recreational sports for people with disabilities. Sometimes rules or equipment is modified to meet the needs of participants. The hospital program is offered without cost, thanks to the generosity of donors and sponsors. "Adaptive sports not only enable people to experience the benefits of exercise. They always feel empowered after trying a new activity and succeeding," says Clarke.
Patients on the trip ranged in age from 5 to 21. Most have cerebral palsy or another condition that affects body movement, muscle control, posture and balance. Many have had multiple surgeries by pediatric orthopedic surgeons at Hospital for Special Surgery and have been patients for years.
Some of the young people use crutches or a walker to get around and needed a wheelchair to navigate the sand and get to the water. But that didn't stop them from getting on the surfboard. On previous hospital outings, they were thrilled to learn they could climb a rock wall or ski down a slope.
It was the academy's first surfing trip, enabling patients like Sidorela LLeshi to participate in a sport she never dreamed possible. A 21 year-old college student with a lovely smile and gentle way, she soaked up the sun until it was her turn to ride the waves. "It was thrilling… the water was so cool. My muscles are tight, and sometimes I have spasms, but it felt like they loosened in the water."
Twelve year-old Aidan Conroy, hesitant at first, could barely contain his excitement after he rode his first wave. As the event was winding down, he pleaded for one last ride and dashed toward the water when his instructor was ready to go.
The kids learned to surf from the best of the best. World-class surfers Will and Cliff Skudin, well-known and admired among surfing enthusiasts, provided the lessons, along with their specially trained staff at Skudin Surf.
"Outings such as this are a wonderful opportunity for the kids to socialize with other patients and accomplish things they didn't realize they could achieve," says Peyton Katz, pediatric patient and family care coordinator at HSS. "Some kids are not sure at first how well they'll do, but they always exceed their own expectations. Some parents cry when they see what their child can accomplish."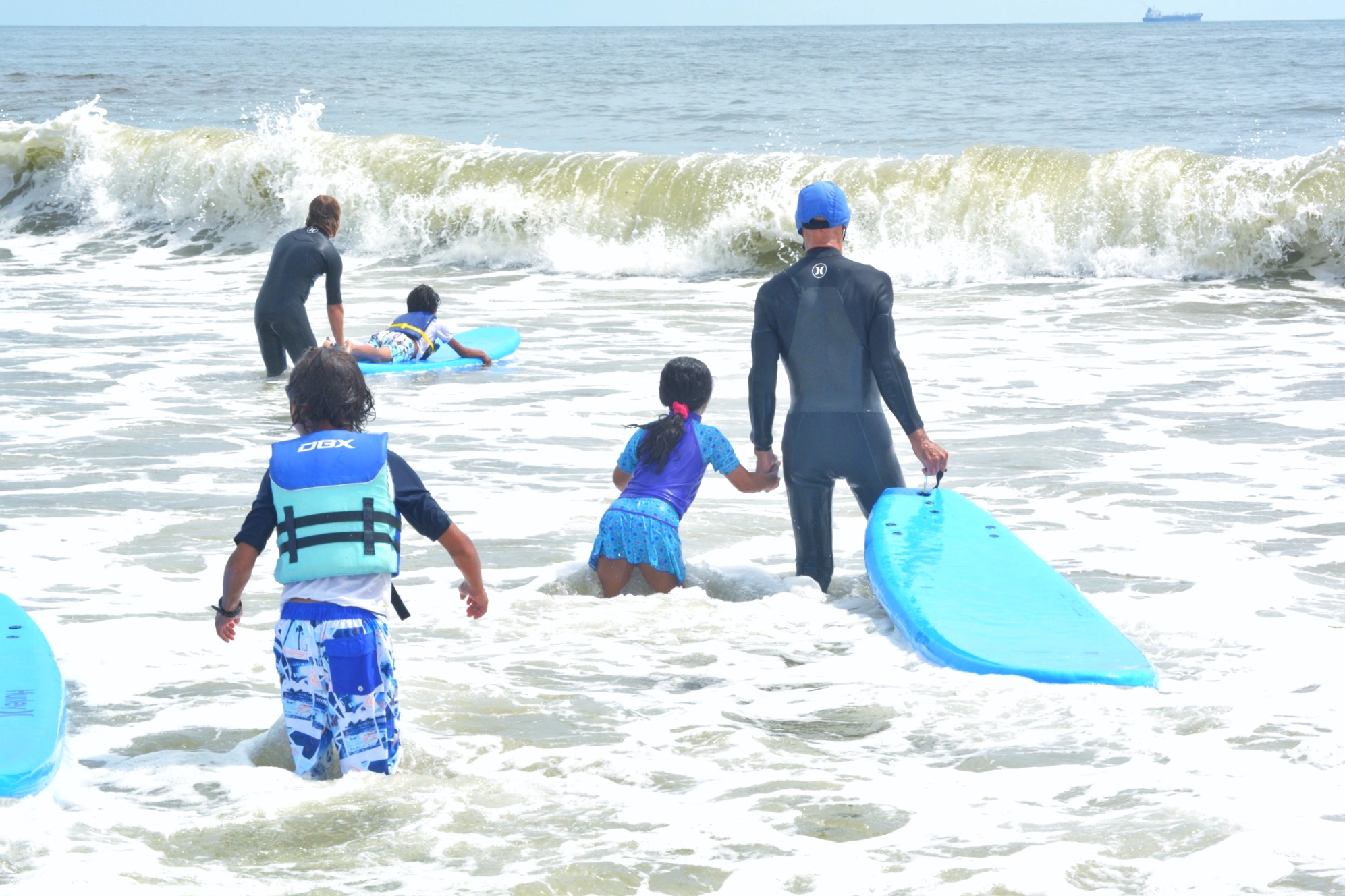 "The Adaptive Sports Academy gives our patients a chance to develop new skills and interests, and it promotes mobility and activity. It also reinforces therapy goals by engaging participants in a new activity and requiring them to use their bodies in a new way," explains Dr. Lisa Ipp, chief of Pediatric Medicine at Hospital for Special Surgery.
Lying face down on her small surfboard, 5 year-old Brooklyn cried out with excitement as she rode a wave onto shore with her instructor. It was fun for her mom, too. "She's having a good time, so I'm having a good time," said Andrea McDonald smiling broadly. "How can you beat this? This is surfing for a child with disabilities. That's as good as it gets."
About HSS | Hospital for Special Surgery
HSS is the world's leading academic medical center focused on musculoskeletal health. At its core is Hospital for Special Surgery, nationally ranked No. 1 in orthopedics (for the ninth consecutive year) and No. 3 in rheumatology by U.S.News & World Report (2018-2019). Founded in 1863, the Hospital has one of the lowest infection rates in the country and was the first in New York State to receive Magnet Recognition for Excellence in Nursing Service from the American Nurses Credentialing Center four consecutive times. The global standard total knee replacement was developed at HSS in 1969. An affiliate of Weill Cornell Medical College, HSS has a main campus in New York City and facilities in New Jersey, Connecticut and in the Long Island and Westchester County regions of New York State. In 2017 HSS provided care to 135,000 patients and performed more than 32,000 surgical procedures. People from all 50 U.S. states and 80 countries travelled to receive care at HSS. In addition to patient care, HSS leads the field in research, innovation and education. The HSS Research Institute comprises 20 laboratories and 300 staff members focused on leading the advancement of musculoskeletal health through prevention of degeneration, tissue repair and tissue regeneration. The HSS Global Innovation Institute was formed in 2016 to realize the potential of new drugs, therapeutics and devices. The culture of innovation is accelerating at HSS as 130 new idea submissions were made to the Global Innovation Institute in 2017 (almost 3x the submissions in 2015). The HSS Education Institute is the world's leading provider of education on the topic of musculoskeletal health, with its online learning platform offering more than 600 courses to more than 21,000 medical professional members worldwide. Through HSS Global Ventures, the institution is collaborating with medical centers and other organizations to advance the quality and value of musculoskeletal care and to make world-class HSS care more widely accessible nationally and internationally.