New York, NY—May 21, 2018
Hospital for Special Surgery (HSS) today was one of eight hospitals and healthcare systems to receive the inaugural Employer of Excellence Award by the American Academy of Physician Assistants' (AAPA) Center for Healthcare Leadership and Management (CHLM).
This is the first and only award program recognizing hospitals and healthcare systems that are top employers of physician assistants and models for organizations nationwide.
"At HSS, we pride ourselves on our teamwork and collaboration across the full patient care spectrum," said Louis A. Shapiro, president and CEO at HSS. "This recognition is a testament to the work of our physician assistants who are a vital part of the medical care team whose shared common goal is to provide high quality, patient-centered care."
This annual program is designed to showcase hospitals and healthcare systems that have implemented practices which create a PA-positive environment and encourage collaborative provider teams. The two-year award was presented on May 20 during the AAPA Annual Conference in New Orleans, La.
"Our PAs are entrenched in quality and safety initiatives that result in positive practice change and improved patient care," said Peter Grimaldi, assistant vice president of the Physician Assistant department at HSS, who accepted the award. "Our department works closely with our medical staff to ensure outstanding patient care and a supportive environment for our academic mission."
PAs have been an integral part of HSS since 1989. There are approximately 350 physicians at HSS and 175 PAs. PAs assist in a variety of specialties including: orthopedic surgery, anesthesia, medicine, rheumatology, radiology, pain management, neurology, primary care sports medicine, etc.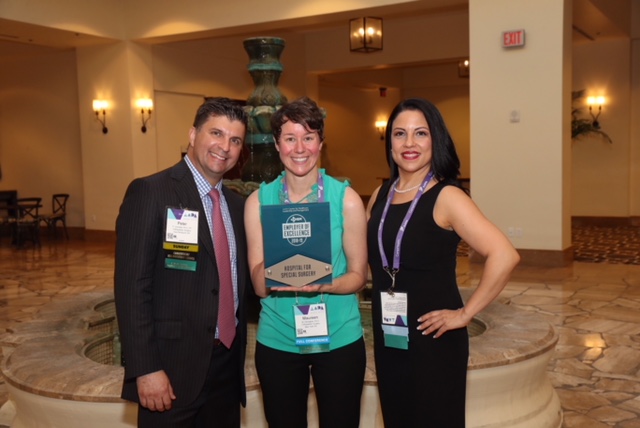 L to R: Peter Grimaldi, assistant vice president of the Physician Assistant department; Maureen Heneghan, physician assistant; Tara Schmidt, physician assistant
"PAs are core to HSS clinical operations whether it's in the operating room, on an inpatient unit or in an outpatient environment," said Todd J. Albert, MD, surgeon-in-chief and medical director at HSS. "We have made it a priority over the past few years to develop a work environment that effectively utilizes PAs and enables collaborative provider teams."
About HSS | Hospital for Special Surgery
HSS is the world's leading academic medical center focused on musculoskeletal health. At its core is Hospital for Special Surgery, nationally ranked No. 1 in orthopedics (for the ninth consecutive year) and No. 3 in rheumatology by U.S.News & World Report (2018-2019). Founded in 1863, the Hospital has one of the lowest infection rates in the country and was the first in New York State to receive Magnet Recognition for Excellence in Nursing Service from the American Nurses Credentialing Center four consecutive times. The global standard total knee replacement was developed at HSS in 1969. An affiliate of Weill Cornell Medical College, HSS has a main campus in New York City and facilities in New Jersey, Connecticut and in the Long Island and Westchester County regions of New York State. In 2017 HSS provided care to 135,000 patients and performed more than 32,000 surgical procedures. People from all 50 U.S. states and 80 countries travelled to receive care at HSS. In addition to patient care, HSS leads the field in research, innovation and education. The HSS Research Institute comprises 20 laboratories and 300 staff members focused on leading the advancement of musculoskeletal health through prevention of degeneration, tissue repair and tissue regeneration. The HSS Global Innovation Institute was formed in 2016 to realize the potential of new drugs, therapeutics and devices. The culture of innovation is accelerating at HSS as 130 new idea submissions were made to the Global Innovation Institute in 2017 (almost 3x the submissions in 2015). The HSS Education Institute is the world's leading provider of education on the topic of musculoskeletal health, with its online learning platform offering more than 600 courses to more than 21,000 medical professional members worldwide. Through HSS Global Ventures, the institution is collaborating with medical centers and other organizations to advance the quality and value of musculoskeletal care and to make world-class HSS care more widely accessible nationally and internationally.