New York, NY—December 15, 2014
It may seem counterintuitive, but exercise can be beneficial for people suffering from arthritis and other muscle and joint conditions. A new study at Hospital for Special Surgery (HSS) finds that older adults experienced less pain, reduced stiffness and less fatigue after participating in a hospital-based exercise program.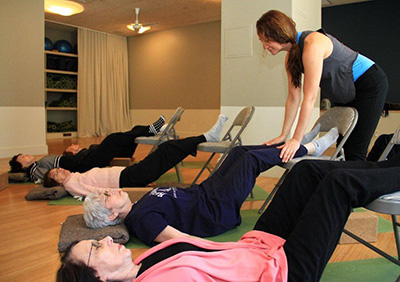 "The study adds to the growing body of evidence that exercise can help people with muscle and joint conditions," said Sandra Goldsmith, MA, MS, RD, director of Public and Patient Education at Hospital for Special Surgery. The research was presented at the American Public Health Association annual meeting in November.
Up to 50 million adults in the United States have some type of musculoskeletal condition, affecting mobility and quality of life. Ms. Goldsmith and colleagues set out to assess the impact of HSS exercise classes on pain, stiffness, fatigue, balance, falls and physical activity.
A total of 1,400 adults participated in various exercise programs at the hospital during the course of the study, which began in 2011. The low-cost classes, led by certified instructors, included pilates mat, therapeutic yoga, yoga-lates (a combination of yoga and pilates), t'ai chi and dance. Classes met once each week and were open to the general public.
"Our data indicate that hospital-based programs can play an important role in pain relief, improved quality of life and improved levels of physical activity in older individuals with musculoskeletal conditions," Ms. Goldsmith said.
"Often patients with musculoskeletal disease are more deconditioned than their disease-free counterparts. Strengthening the muscles around an arthritic joint has been shown to slow the progression of osteoarthritis and reduce pain," said Linda Russell, MD, a rheumatologist and member of the Community Benefit & Services Committee of the Board of Trustees at Hospital for Special Surgery.
The majority of participants in the exercise program were age 75 or older. Thirty-six percent were 75 to 84 years old; 31.2 percent were over age 85; 24.8 percent were age 65 to 84; and eight percent were under 65. Ninety-two percent were women.
A total of 204 individuals handed in questionnaires both before and after completing the program. Survey results covered September 2011 to July 2014.
The study found that after taking the classes, fewer participants reported experiencing a high level of muscle/joint pain from their condition (56 percent before the program started vs. 47 percent after completing the program). The study also reported statistically significant reductions in how much their pain interfered with their general activities, ability to walk, mood, sleep and enjoyment of life.
Eighty-three percent of participants indicated a reduction in stiffness; eighty-two percent said they felt their balance improved; and sixty-seven percent said they experienced less fatigue as a result of taking part in the program.
Health outcomes were also related to the type of exercise class participants chose, with the greatest reduction in muscle/joint pain reported by those who took t'ai chi.
"The survey results indicate that the hospital's exercise programs have a positive impact on the musculoskeletal health of participants," said Ms. Goldsmith. "Hospital for Special Surgery will continue to offer these programs to this community to help them stay active, decrease pain and improve their overall health."
Study: "Improving Quality of Life of Older Adults Through a Hospital-based Exercise Program"
Authors: S. Goldsmith, MA, MS, RD; R. Wiesel, MCHES; L. Roberts, LCSW; M. Meislin, H. Huang, MPA; T. Ologhobo, MPH, L. Robbins, DSW.
Public & Patient Education Department, Education & Academic Affairs, Hospital for Special Surgery, New York, New York

About HSS | Hospital for Special Surgery
HSS is the world's leading academic medical center focused on musculoskeletal health. At its core is Hospital for Special Surgery, nationally ranked No. 1 in orthopedics (for the ninth consecutive year) and No. 3 in rheumatology by U.S.News & World Report (2018-2019). Founded in 1863, the Hospital has one of the lowest infection rates in the country and was the first in New York State to receive Magnet Recognition for Excellence in Nursing Service from the American Nurses Credentialing Center four consecutive times. The global standard total knee replacement was developed at HSS in 1969. An affiliate of Weill Cornell Medical College, HSS has a main campus in New York City and facilities in New Jersey, Connecticut and in the Long Island and Westchester County regions of New York State. In 2017 HSS provided care to 135,000 patients and performed more than 32,000 surgical procedures. People from all 50 U.S. states and 80 countries travelled to receive care at HSS. In addition to patient care, HSS leads the field in research, innovation and education. The HSS Research Institute comprises 20 laboratories and 300 staff members focused on leading the advancement of musculoskeletal health through prevention of degeneration, tissue repair and tissue regeneration. The HSS Global Innovation Institute was formed in 2016 to realize the potential of new drugs, therapeutics and devices. The culture of innovation is accelerating at HSS as 130 new idea submissions were made to the Global Innovation Institute in 2017 (almost 3x the submissions in 2015). The HSS Education Institute is the world's leading provider of education on the topic on musculoskeletal health, with its online learning platform offering more than 600 courses to more than 21,000 medical professional members worldwide. Through HSS Global Ventures, the institution is collaborating with medical centers and other organizations to advance the quality and value of musculoskeletal care and to make world-class HSS care more widely accessible nationally and internationally.