Mount Kisco, NY—August 1, 2018
Fifteen patients from Hospital for Special Surgery's Lerner Children's Pavilion were riding high in July when they were treated to a therapeutic horseback riding trip. The young people, who receive medical care or rehabilitation services for cerebral palsy or another medical condition, sported huge smiles as they experienced the thrill of riding a horse for the first time.
The trip, sponsored by the Adaptive Sports Academy at Lerner Children's Pavilion, offered the outing without cost, thanks to the generosity of donors. Certified riding instructors at Endeavor Therapeutic Horsemanship in Mount Kisco, New York introduced the young people to the activity. Riders were assisted by "side walkers" on each side of the horse, while another staff member or volunteer led the way. In addition to riding, the kids enjoyed brushing the gentle horses in the barn.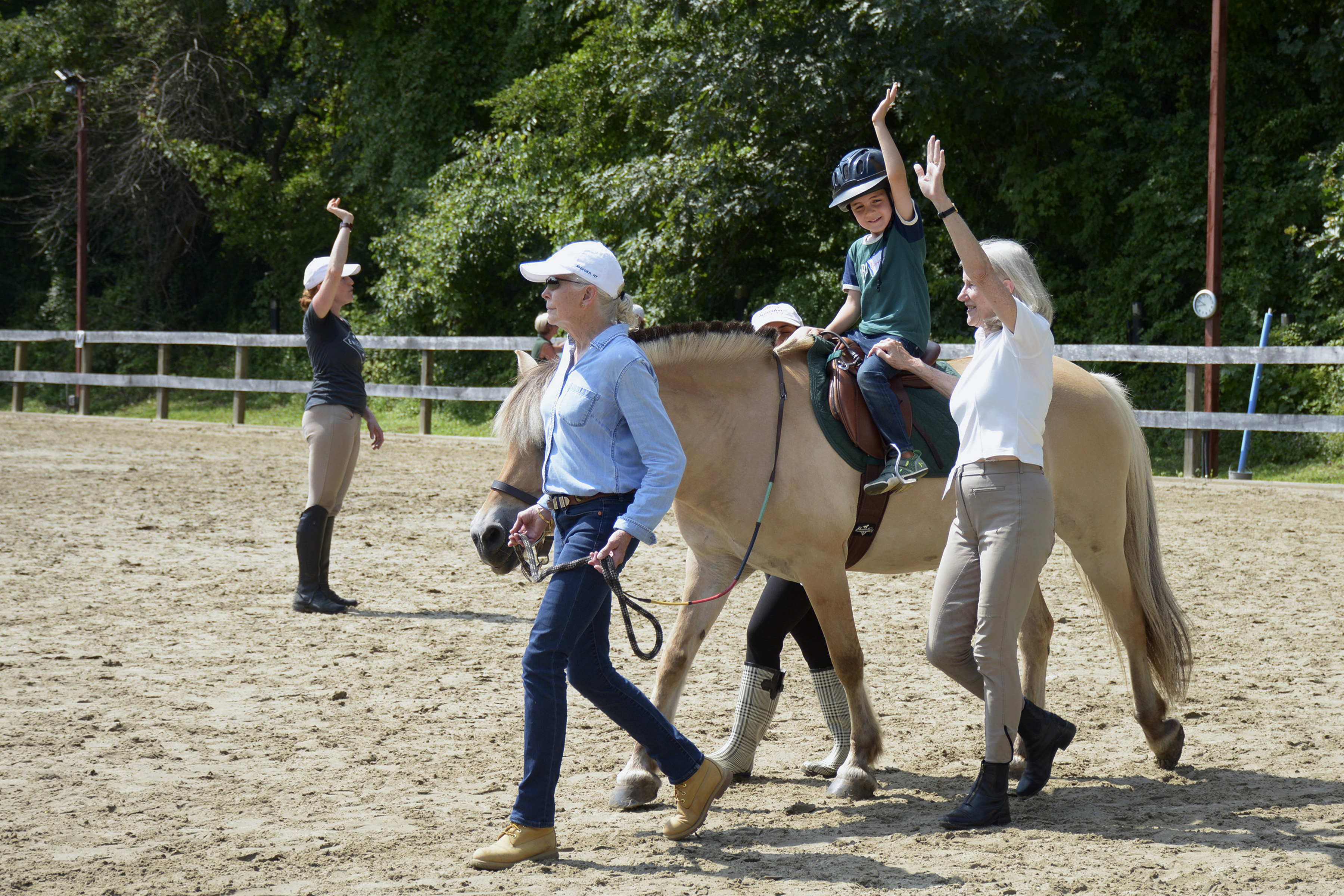 Eleven year-old Edwin Torres had been looking forward to the trip, and the experience did not disappoint. Feeling comfortable and confident riding, Edwin coaxed his handsome horse, Koko with the words "good boy" and practiced commands such as "whoa." He says he enjoyed horseback riding even more than playing video games, one of his favorite activities. "I didn't want to leave the horse, I wanted to ride all day," he said.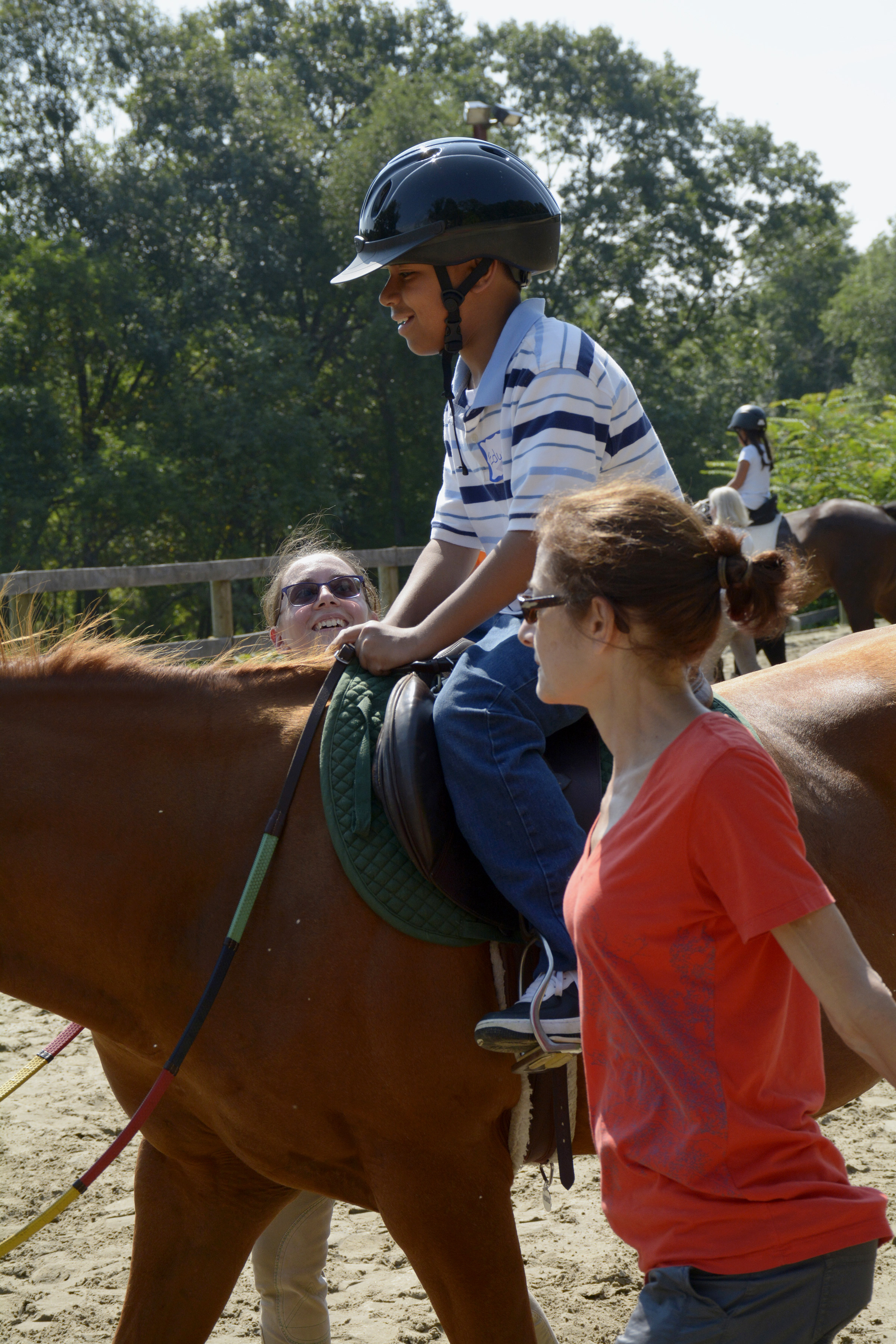 The Adaptive Sports Academy sponsors horseback riding and other trips that enable young patients to participate in activities they never dreamed possible. "Such activities help build patients' self-confidence, encourage independence, and increase physical activity and mobility," says Dr. Lisa Ipp, chief of Pediatric Medicine at Hospital for Special Surgery (HSS).
The excursions also give the children the opportunity to socialize with other patients and make new friends. In addition to horseback riding, the Academy sponsors rock climbing, tennis and even surfing trips, all without cost.
Many of the patients who went horseback riding have cerebral palsy or another condition that affects body movement, muscle control, posture and balance. Some patients receive speech therapy at HSS. Many have had one or more surgeries by pediatric orthopedic surgeons at the Manhattan hospital and have been patients for years. They ranged in age from 2 to 18.
Studies have shown that equine-assisted activities and therapies are beneficial for people with a wide range of disabilities. "The benefits include improvements in posture, muscle tone, balance, strength, and gait patterns," said Michelle Yang, a pediatric physical therapist in the Pediatric Rehabilitation Department at HSS. "Sometimes the children are nervous at first, but once they get on a horse and ride, they love it and feel a huge sense of accomplishment. And it's great for them to be outdoors."
Elizabeth Gerosa, a pediatric speech language pathologist who organized the trip, said riding a horse can also have speech therapy benefits. "The child is positioned on the horse with optimal alignment, determined by their own individualized needs and abilities," she explains. "Performing specific vocalizations or movements while riding a horse can enhance breath support and encourage improved vocabulary and pragmatic language use. New and exciting environments, such as being in nature, can also lead to an increased desire to communicate."
Maria Lynch said she was delighted to introduce her 3 year-old daughter Elixabethe, who receives speech therapy, to the activity. "At first she thought she would be riding a carousel, but she loved riding the real horse. It was so special. And being able to speak commands was great for her."
Prior to the excursion, Endeavor staff and physical therapists review the height, weight and diagnosis of each patient to match each participant with the appropriate horse. "The horses are of various shapes and sizes, and they all have different movements to suit the various needs of riders. Some may need a smoother gait, some riders need a narrower base of support, some a more broad base of support," says Kelly Slonaker, advancement director and instructor at Endeavor. She adds that the horses all have different personalities and love what they do. You can tell the horses love it from their body language, she explains.
The next Adaptive Sports Academy trip will be to the beach. Patients will be treated to an adaptive surfing trip on Long Island in August.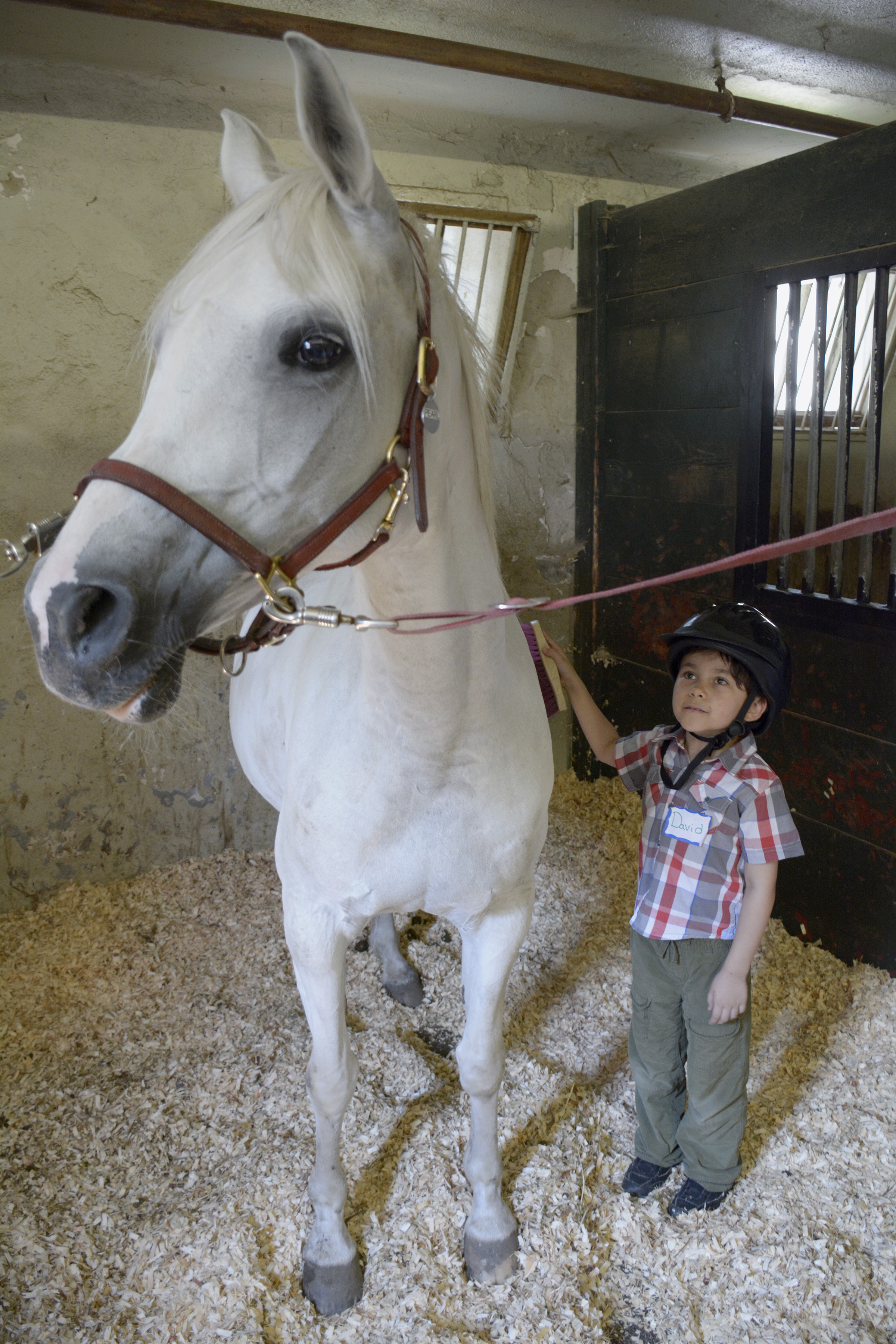 About HSS | Hospital for Special Surgery
HSS is the world's leading academic medical center focused on musculoskeletal health. At its core is Hospital for Special Surgery, nationally ranked No. 1 in orthopedics (for the ninth consecutive year) and No. 3 in rheumatology by U.S.News & World Report (2018-2019). Founded in 1863, the Hospital has one of the lowest infection rates in the country and was the first in New York State to receive Magnet Recognition for Excellence in Nursing Service from the American Nurses Credentialing Center four consecutive times. The global standard total knee replacement was developed at HSS in 1969. An affiliate of Weill Cornell Medical College, HSS has a main campus in New York City and facilities in New Jersey, Connecticut and in the Long Island and Westchester County regions of New York State. In 2017 HSS provided care to 135,000 patients and performed more than 32,000 surgical procedures. People from all 50 U.S. states and 80 countries travelled to receive care at HSS. In addition to patient care, HSS leads the field in research, innovation and education. The HSS Research Institute comprises 20 laboratories and 300 staff members focused on leading the advancement of musculoskeletal health through prevention of degeneration, tissue repair and tissue regeneration. The HSS Global Innovation Institute was formed in 2016 to realize the potential of new drugs, therapeutics and devices. The culture of innovation is accelerating at HSS as 130 new idea submissions were made to the Global Innovation Institute in 2017 (almost 3x the submissions in 2015). The HSS Education Institute is the world's leading provider of education on the topic of musculoskeletal health, with its online learning platform offering more than 600 courses to more than 21,000 medical professional members worldwide. Through HSS Global Ventures, the institution is collaborating with medical centers and other organizations to advance the quality and value of musculoskeletal care and to make world-class HSS care more widely accessible nationally and internationally.