Award among the highest honors presented by the school of medicine and alumni association
New York—November 29, 2012
Dr. Helene Pavlov, radiologist-in-chief at the Hospital for Special Surgery Department of Radiology and Imaging, was honored by Temple University School of Medicine with the prestigious Alumni Achievement Award. Larry Kaiser, M.D., Dean of Temple University School of Medicine and CEO of Temple University Health System, Paul Weidner, M.D., Alumni Association President, and Joseph Torg, M.D., clinical professor (adjunct), Orthopaedic Surgery and Sports Medicine, co-presented the award to Dr. Pavlov on Saturday, October 27, at the 2012 reunion and school celebration.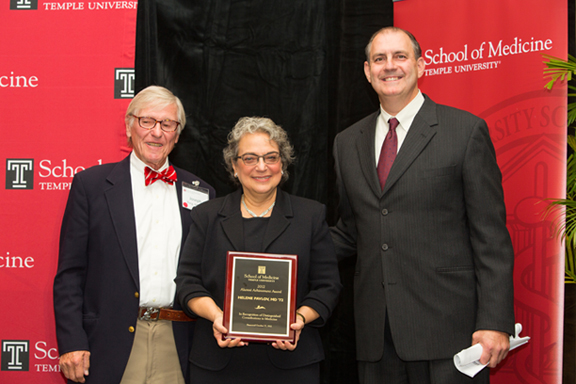 From left, Dr. Joseph Torg, professor of Orthopedic Surgery at Temple University, Dr. Helene Pavlov, and Dr. Paul Weidner, president of the Temple University School of Medicine Alumni Association.
"Dr. Pavlov is one of our most distinguished and accomplished alumni," said Dr. Kaiser. "We are proud to honor her for the accomplishments she has made in clinical and academic musculoskeletal radiology, and for the credibility that her ongoing accomplishments bring to the Temple University School of Medicine."
The awards committee of the School of Medicine's Alumni Association board of directors determines the annual candidates. The team looks at a number of criteria when selecting the award winner, including distinction through a combination of clinical practice, research, scholarly contributions and professional leadership. The committee agreed that Dr. Pavlov exceeded all of the criteria.
In 2004, Dr. Pavlov and Dr. Torg, along with Albert Burstein, Ph.D., Hospital for Special Surgery, were the recipients of the Kappa Delta Elizabeth Winston Lanier Award for research in orthopaedics for their manuscript, "The pathomechanics, pathophysiology and prevention of reversible and irreversible cervical spinal cord injury: Results of a 30-year clinical experience."
In addition to her many accomplishments, Dr. Pavlov was also selected to receive the award because of her ongoing service to Temple University. She is a member of the school's Board of Visitors, a carefully selected, high-level board of professionals who advise the school on strategic positioning in medical education.
"I am truly honored by this distinction and proud to be a Temple University School of Medicine alumna," said Dr. Pavlov. "This award is the culmination of many years of dedication to a field of medicine I am passionate about. I am deeply appreciative and owe great thanks to the many professionals with whom I have worked throughout my career—and the Temple mentors who guided me during the early years of my training.