New York, NY—January 31, 2012
Just before Christmas 2008 Nancy Abbate and her husband were traveling to a family event in the Poconos when the car hit a patch of ice, crashed into a tree, severely injuring Nancy. Her husband did not survive.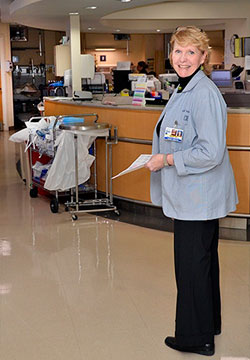 Rushed to a nearby hospital, Nancy was stabilized while her family contacted Dr. David Altchek, co-chief in the Sports Medicine Service at Hospital for Special Surgery. Before retiring, Nancy had worked with Dr. Altchek for 22 years, first as a head nurse in ambulatory surgery and then as a fundraiser for the Institute for Sports Medicine Research. Immediately, Dr. Altchek arranged to have Nancy airlifted back to New York City for care at Special Surgery. He contacted Dr. David Helfet, director of the hospital's Orthopedic Trauma Service, who was leaving for a holiday trip to South Africa.
When the flight landed in New Jersey's Teterboro Airport, an ambulance was waiting to speed Nancy to Special Surgery in a record-breaking 11 minutes, thanks to Nancy's nephew. As part of the security detail for the New York State governor, he was able to arrange to have both the George Washington Bridge and the FDR Drive closed to all traffic except for Nancy.
Immediately, Dr. Helfet went to work repairing her numerous orthopedic injuries: many of the large and small bones of her legs were broken in several places, including near her knees; her foot and ankle were crushed; she had several broken ribs; and four cervical spine fractures.
Nancy stayed at the hospital through the holidays and into January while she recovered. "The nurses and everyone at the hospital were so wonderful to me and I felt so cared for," recalls Nancy. "A small Christmas tree was brought into my room and everyone went out of their way for me." One evening during Nancy's stay, a night nurse came in and took her history. As he listened to her story and learned about her accident, he began to cry and said, "I was five cars behind you."
By February, Nancy moved to a rehabilitation center to undergo physical therapy. Over the next year and a half Nancy underwent additional surgeries in hopes of regaining more mobility.
Continuing her physical therapy with Special Surgery PTs, in September of 2010, Nancy stood up from her wheel chair and walked, a year and nine months following her accident and after having undergone more than 17 surgeries. At that point the doctors confided that they had been doubtful that she would ever be able to walk again. "It's a good thing they never told me that because I always believed that I would be able to get up and walk," says Nancy.
By November, Nancy had returned to Special Surgery, this time as a volunteer in ambulatory surgery, working first one day and then three days a week. "When I realized that I could walk again, I wanted to give something back," says Nancy. "First, I loved working at HSS -- they were always a home away from home for me. Plus, after being so well taken care of there, it was the least I could do."
As a volunteer, Nancy is in the unique position of having both treated hospital patients and been cared for by the very people with whom she once worked side-by-side. "I know how things work at HSS and at the same time I can empathize with patients about what they are going through. I think my experience helps both the patients and the hospital," she says.