New York, NY—January 13, 2010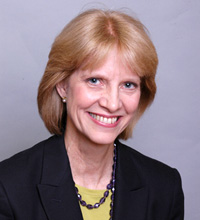 Hospital for Special Surgery today announced that Mary K. Crow, M.D. has been appointed Physician-In-Chief and Chair of the Division of Rheumatology.  This appointment is effective as of April 1.  Dr. Crow, who is an internationally recognized research scientist and a leader in the field of rheumatology and autoimmunity research and clinical practice, will bring her expertise to her new role at Special Surgery.
Dr. Crow, who has been Associate Chief, Division of Rheumatology and Director of Rheumatology Research at Hospital for Special Surgery since 2001, succeeds Stephen Paget, M.D.  Dr. Paget, who will become Physician-In-Chief Emeritus, will assume a new leadership role with responsibility for a wide range of educational and training endeavors as well as the further development of external support for the institution.
In announcing this appointment, HSS President and CEO Louis A. Shapiro said, "Dr. Crow's prolific and profound scientific contributions to autoimmunity and rheumatology  research and its translation to patients, coupled with her extraordinary leadership skills make her uniquely qualified for this key position."
Thomas P. Sculco, M.D., Surgeon-in-Chief and Chief Medical Officer at HSS added, "We are fortunate to have someone of the caliber of Dr. Crow on our staff who can step into this important role.  She is a distinguished and respected scientist whose work provides a model for bench to bedside research which will lead to great improvements in patient care."
Over the coming months, Dr. Crow will work closely with HSS executives and colleagues to ensure a smooth transition into her new role.
Dr. Crow has a long relationship with HSS and its academic affiliates.  She received her M.D. degree from Cornell University Medical College in 1978.  She subsequently completed her internship and residency at New York Hospital-Cornell Medical Center in 1979 and 1981 respectively, and her fellowship at Hospital for Special Surgery in Rheumatology and at Rockefeller University in Immunology Research in 1984.  She is a tenured professor of medicine at Weill Cornell Medical College.  In addition to her research and clinical responsibilities at HSS, Dr. Crow has been a mentor and role model to many medical students and young scientists at the institution.
"Dr. Paget has been an exceptional leader, and I am honored to be given this opportunity at this extraordinary academic institution that has been such a central part of my life," said Dr. Crow.  "I look forward to working closely with my colleagues and am committed to continuing the work that carries the potential for major breakthroughs that can dramatically improve the lives of patients with autoimmune diseases."
Dr. Crow's work at HSS has established her as an international leader in the study of autoimmunity and systemic lupus erythematosus. One such study focused on identifying interferon-alpha as a significant marker and mediator of systemic autoimmune diseases.  Her work has been a stimulus for development of new therapies that target interferon by blocking its action or inhibiting its production.   In addition to studies of lupus, she investigates the immunologic mechanisms involved in rheumatoid arthritis and scleroderma and the predictors of response to therapy in these diseases, and most recently the mechanisms of progression of osteoarthritis and the role of inflammation in OA.  The studies she is conducting are contributing to a new understanding of the underlying immunologic mechanisms and mediators that account for systemic autoimmune and inflammatory diseases and are pointing to promising molecular targets for new therapeutic approaches.
Dr. Crow continues to publish extensively in peer reviewed journals including the leading rheumatic disease journal Arthritis & Rheumatism, and recently published an editorial in The New England Journal of Medicine that describes the genetics and immunologic mechanisms of lupus.
"We are extremely excited to have Dr. Crow in this leadership role," said Steven Goldring, M.D., Chief Scientific Officer.   "I have been very fortunate to work with her for many years during my time at Harvard and more closely since I joined HSS, and her strengths and abilities in the fields of academic medicine, education, patient care and research are exceptional."
Dr. Crow will remain co-director of the Mary Kirkland Center for Lupus Research and director of the Autoimmunity and Inflammation Research Program at Hospital for Special Surgery.  Her contributions also extend beyond the walls of HSS.  For the past two years, she has served as President of the prestigious Henry Kunkel Society, which is dedicated to fostering the development of clinical investigators focused on hypothesis-driven, patient-oriented research particularly in the field of immunology and related subjects.  She has served as President of the American College of Rheumatology, is Chair of the Scientific Advisory Board of the Alliance for Lupus Research, a member of the Scientific Board of Arthritis National Research Foundation and has been a guest speaker at numerous national and international medical conferences.  She has served on the Editorial Boards of Arthritis & Rheumatism, the leading journal in rheumatology, Annals of Rheumatic Diseases and Autoimmunity.  Among the numerous honors and awards she has received, the most recent include Paul J. Bilka Endowed Lecturer, Mayo Foundation; Kare Berglund Lecture, Lund University in Sweden; and Katherine Swan Ginsburg Visiting Professor at Brigham and Women's Hospital.
The selection process involved an international search conducted by representatives from the scientific and clinical community at Hospital for Special Surgery and NewYork- Presbyterian Hospital.