Long Island, NY—May 24, 2013
Dr. William W. Briner Jr., a primary care sports medicine physician at the Uniondale office of Hospital for Special Surgery, has been named team physician of the New York Lizards, the Long Island-based lacrosse team.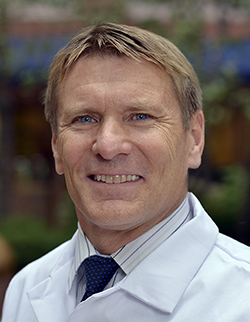 Hospital for Special Surgery (HSS), located on Manhattan's Upper East Side, has also been designated as the team's official hospital. The partnership provides the New York Lizards with access to one of the world's leading centers for orthopedics and sports medicine, according to the major league lacrosse team.
"We are very excited to have Hospital for Special Surgery partner with us to provide expert care to the New York Lizards. HSS represents the best in their field, something the Lizards strive for as well," said Jeffrey Rudnick, Lizards CEO. "Dr. Briner, along with other physicians and staff at HSS, has a long history of treating professional athletes and this partnership reinforces our commitment to player health."
"Lacrosse is one of the fastest-growing sports in the country and is a fast-paced game," said Dr. Briner, who sees patients at HSS's Long Island Office. "We are committed to providing the New York Lizards with quality care to help maintain a healthy team and provide a safe return to the game if injuries do occur."
Dr. Briner, a primary care sports medicine physician at HSS, specializes in the nonsurgical treatment of orthopedic injuries in professional, elite and amateur athletes. In addition to serving as team physician for the New York Lizards, Dr. Briner is head team physician for the U.S. National Volleyball Teams and chairs the Sports Medicine and Performance Commission for USA Volleyball. He has experience working with the WNBA Chicago Sky, U.S. National Soccer Teams and high school and collegiate athletics.
For more information about Dr. Briner and Hospital for Special Surgery's Long Island Office, visit: www.hss.edu/longisland.
About HSS | Hospital for Special Surgery
HSS is the world's leading academic medical center focused on musculoskeletal health. At its core is Hospital for Special Surgery, nationally ranked No. 1 in orthopedics (for the eighth consecutive year) and No. 3 in rheumatology by U.S. News & World Report (2017-2018). Founded in 1863, the Hospital has one of the lowest infection rates in the country, and was the first in New York State to receive Magnet Recognition for Excellence in Nursing Service from the American Nurses Credentialing Center four consecutive times. An affiliate of Weill Cornell Medical College, HSS has a main campus in New York City and facilities in New Jersey, Connecticut and in the Long Island and Westchester County regions of New York State. In 2017 HSS provided care to 135,000 patients from 80 countries, and performed more than 32,000 surgical procedures. In addition to Patient Care, HSS leads the field in research, innovation, and education. The HSS Research Institute comprises 20 laboratories and 300 staff members focused on leading the advancement of musculoskeletal health through prevention of degeneration, tissue repair, and tissue regeneration. The HSS Innovation Institute was formed in 2015 to realize the potential of new drugs, therapeutics and devices; the global standard total knee replacement was developed at HSS in 1969, and in 2017 HSS made 130 invention submissions (more than 2x the submissions in 2015). The HSS Education Institute provides continuing medical curriculum to more than 15,000 subscribing musculoskeletal healthcare professionals in 110 countries. Through HSS Global, the institution is collaborating with medical centers worldwide to advance the quality and value of care, and to make world-class HSS care more accessible to more people.