Grateful Mom Nominates Dr. Alexa Adams for "My Doc Rocks" Award
New York—October 12, 2012
Dr. Alexa Adams, a pediatric rheumatologist at Hospital for Special Surgery, says she is just doing her job. But Queens mom Theresa Tineo says Dr. Adams goes above and beyond.
Tineo nominated Dr. Adams for special recognition by the Arthritis Foundation, and she was chosen to receive the "My Doc Rocks!" honor. It's a way for the foundation to help people honor the relationship they've built with their doctor, according to the organization.
Tineo's daughter Juliana, who turns four on Halloween, has juvenile arthritis. "Dr. Adams has not only provided outstanding medical care; she treats my daughter as if she were a member of her own family," she says.
Little Juliana presented Dr. Adams with a "My Doc Rocks" plaque at a ceremony at Hospital for Special Surgery in Manhattan on Sept. 19. The plaque recognizes Dr. Adams as "an outstanding medical professional who values her relationship with her patients."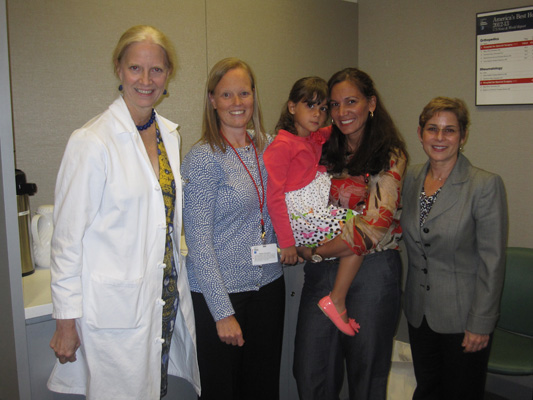 Dr. Alexa Adams (second from left) received "My Doc Rocks!" honors from the Arthritis Foundation at a recent reception at Hospital for Special Surgery. Dr. Adams is pictured with her young patient, Juliana Tineo; the child's mom, Theresa; Dr. Mary Crow, Physician-in-Chief and Chair of Rheumatology at Special Surgery; and Linda Selvin, executive director, Arthritis Foundation, New York Chapter.
"I was incredibly honored and grateful to the family for this recognition," Dr. Adams said. "I think it's crucial to put the child and the family at ease so that they'll call you with any concerns they may have."
Studies show that finding the right doctor can make a world of difference in how a patient fares, especially when managing a chronic illness that can be controlled, but not cured. Good communication skills, empathy and compassion, often referred to as "bedside manner" are important traits. In addition to possessing these qualities, Tineo says Dr. Adams constantly monitors her daughter's treatment and progress, and is truly happy when Juliana does well.
"The diagnosis of juvenile arthritis when Juliana was just one and a half was overwhelming, but Dr. Adams has made it so much easier to deal with," Tineo explained. "The bond that she formed with my daughter is amazing. So much so that my Juliana now says 'I want to be a doctor like Dr. Adams when I grow up.'"
Juvenile arthritis is an umbrella term that refers to a number of autoimmune and inflammatory conditions that can develop in children ages 16 and younger. It causes pain and swelling in the child's knees and other joints.
"Dr. Adams is exceptional in returning phone calls within 15 minutes even when I've called way after hours to ask a question," Tineo said. "She has contacted my daughter's pediatrician and formed a relationship with him to allow the pediatrician a better understanding of Juliana's disease. She also sends progress reports to Juli's pediatrician so that her file is accurately updated."
When nominating her child's physician for the "My Doc Rocks!" award, Tineo wrote: "I am forever grateful to Dr. Adams for the progress my daughter has had. There have been times when she could barely walk, and during those days, it was Dr. Adams who would take time out of her personal schedule to check on her, see her, and make sure that she was receiving the proper dosage of medicine or treatments to make her better."
Juliana is now doing well and plans to go trick-or-treating on her birthday. She'll also receive an honor of her own in December. The Arthritis Foundation has chosen Juliana as an honoree at the organization's Jingle Bell Run/Walk for Arthritis at Riverside Park in Manhattan on December 1.
About HSS | Hospital for Special Surgery
HSS is the world's leading academic medical center focused on musculoskeletal health. At its core is Hospital for Special Surgery, nationally ranked No. 1 in orthopedics (for the ninth consecutive year) and No. 3 in rheumatology by U.S.News & World Report (2018-2019). Founded in 1863, the Hospital has one of the lowest infection rates in the country and was the first in New York State to receive Magnet Recognition for Excellence in Nursing Service from the American Nurses Credentialing Center four consecutive times. The global standard total knee replacement was developed at HSS in 1969. An affiliate of Weill Cornell Medical College, HSS has a main campus in New York City and facilities in New Jersey, Connecticut and in the Long Island and Westchester County regions of New York State. In 2017 HSS provided care to 135,000 patients and performed more than 32,000 surgical procedures. People from all 50 U.S. states and 80 countries travelled to receive care at HSS. In addition to patient care, HSS leads the field in research, innovation and education. The HSS Research Institute comprises 20 laboratories and 300 staff members focused on leading the advancement of musculoskeletal health through prevention of degeneration, tissue repair and tissue regeneration. The HSS Global Innovation Institute was formed in 2016 to realize the potential of new drugs, therapeutics and devices. The culture of innovation is accelerating at HSS as 130 new idea submissions were made to the Global Innovation Institute in 2017 (almost 3x the submissions in 2015). The HSS Education Institute is the world's leading provider of education on the topic on musculoskeletal health, with its online learning platform offering more than 600 courses to more than 21,000 medical professional members worldwide. Through HSS Global Ventures, the institution is collaborating with medical centers and other organizations to advance the quality and value of musculoskeletal care and to make world-class HSS care more widely accessible nationally and internationally.