New York, NY—March 30, 2015
Adele Boskey, PhD, a senior scientist at Hospital for Special Surgery (HSS) in New York City, has received the Distinguished Investigator Award from the Orthopaedic Research Society (ORS)/Orthopaedic Research and Education Foundation (OREF). She accepted a commemorative plaque at the ORS Awards Gala Dinner in Las Vegas on March 29.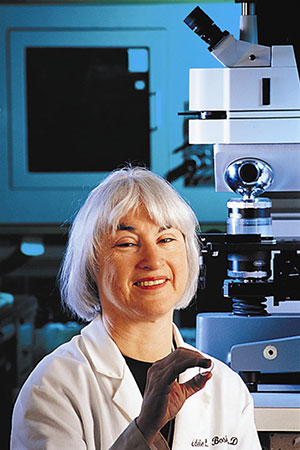 Dr. Boskey, the Starr Chair in Mineralized Tissue Research at HSS, is the first woman to receive the award. According to the ORS, the Distinguished Investigator Award honors an individual with a record of innovative work as evidenced by publications, presentations and sustained research support. The award recognizes a scientist who has also demonstrated outstanding mentorship of research trainees, service to the professional community and academic collegiality.
"I am deeply honored to receive this award from two organizations with which I have been involved for more than 40 years. And all the more so, because I am both the first woman and the first PhD to receive this prestigious award." Dr. Boskey said. "I hope that I can serve as an example to young women involved in orthopedic research and service to the ORS and OREF."
In a letter to Dr. Boskey, Sheldon Lin, MD, Chair of the ORS Awards and Recognition Committee, wrote, "This is the eighth year that we have selected a recipient of this prestigious award, and we are particularly honored to add your name to that list in recognition of your outstanding contributions and commitment to orthopedic research and education."
Dr. Boskey, program director of the Musculoskeletal Integrity Program at Hospital for Special Surgery, has spent the past 45 years studying how bone mineralizes and how bone structure, composition and mineral formation influence bone strength and fracture risk.
Having received National Institutes of Health (NIH) funding to support her research over more than four decades, her studies have contributed to the understanding of a number of musculoskeletal diseases, including osteoarthritis, osteoporosis, osteogenesis imperfect and growth plate abnormalities. Dr. Boskey's work includes more than 350 peer-reviewed publications and three patents.
Osteoporosis and other bone diseases affect millions of Americans. An understanding of the underlying mechanism of these conditions is critical to the development of new and better diagnostic tools and treatments. Bone mineralization is one of the most important areas in bone disease research today, and Dr. Boskey is a pioneer in the field. Her current work suggests that measuring bone quality, rather than bone density, promises greater accuracy and could better identify patients at high risk for a fracture.
Dr. Boskey has served as a mentor and a trailblazer throughout her career. She was the first female president of the Orthopaedic Research Society and serves on a number of committees dedicated to mentoring young women in science. She has served as a reviewer and chaired two different OREF study sections, and she has represented the OREF on the American Academy of Orthopedic Surgeons Committee on Research.
Her distinguished career has been marked by numerous awards and recognition from her peers. In 2010, she received the Orthopaedic Research Society/American Orthopaedic Association Alfred R. Shands, Jr. Award, which honors a scientist who has made significant contributions to the understanding of musculoskeletal disease.
In 2011, she received the Women's Leadership Forum Award from the Orthopaedic Research Society, and in 2014, the ORS honored her with the Pioneers in Innovation Award.
###
About Hospital for Special Surgery
Hospital for Special Surgery (HSS) is the world's leading academic medical center focused on musculoskeletal health. HSS is nationally ranked No. 1 in orthopedics and No. 2 in rheumatology by U.S. News & World Report (2016-2017), and is the first hospital in New York State to receive Magnet Recognition for Excellence in Nursing Service from the American Nurses Credentialing Center four consecutive times. HSS has one of the lowest infection rates in the country. HSS is an affiliate of Weill Cornell Medical College and as such all Hospital for Special Surgery medical staff are faculty of Weill Cornell. The hospital's research division is internationally recognized as a leader in the investigation of musculoskeletal and autoimmune diseases. Hospital for Special Surgery is located in New York City and online at www.hss.edu.